This story is set on Adhara Space Station unlike my last story Better Off Dead which although set in the same universe was set aboard a spaceship and featured one of my favourite characters Huglier Thanthou. Lottery is a completely separate and I hope much more lighthearted story than the last. I created all of the illustrations myself (unfortunately for me I'm not great a drawing, so they're a bit rough but I think ok. Anyway, enjoy!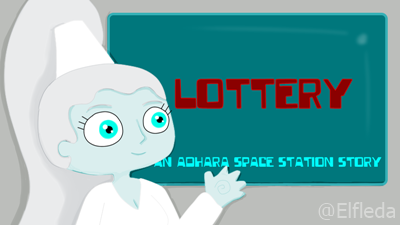 "30, 3, 5, 44, 14, 22 and 10. The girl on the screen put one hand to her ear and a shocked expression appeared on her face. "I don't believe it!" she gasped barely able to speak as she looked directly into the camera. "We have a winner."
In his office Gul smiled to himself and took his wallet from his drawer, it was finally over. For the last year he had been using his powers to manipulate the Big Dipper Lottery. He had made sure that the result of each draw was a roll over and finally when the amount he needed for his retirement on Adhara had been collected, 1 Trillion Zodiacs, he had made sure that his ticket was the sole winner. It had taken all of his Jinnian powers to pull it off, as week after week no winner was announced and the jackpot grew larger more and more people had bought tickets. Thankfully he had always been talented.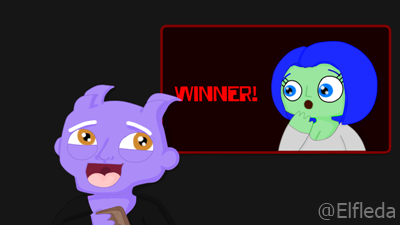 Eventually even The Alliance had shown an interest in the strange, impossible turn of events and a team had been sent to officially investigate. Admiral Gul had made sure that they found nothing untoward and so they had left. Now all Gul had to do was collect his winnings and get to hell off of this shithole station once and for all. He couldn't wait to spend the rest of his life in the luxurious surroundings on Adhara where he would mingle with the creme de la creme of Alliance society. At last his dream had come true.
Gul opened his wallet and looked inside. The ticket was gone.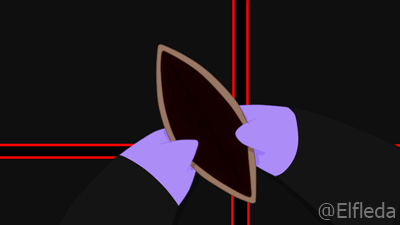 ***
Arturo looked at the screen and then at the ticket in his hands. The numbers were the same. A tear seeped from his eye and he felt his nose beginning to run as he kissed the ticket again and again. Two days before he had been sitting in his usual spot on Portebello Road begging when Admiral Gul had passed by. "Please sir, spare a poor fellow some change?"
Admiral Gul stopped in his tracks and sighed. "I don't have any change."
"I-Am bless you and keep you." Arturo had replied and then turned to look for someone else. He was accustomed to this kind of reaction, money was tight for everyone on The Big Dipper. People gave when they could but if the truth be told most probably had nothing to spare.
It had been years since he had lost his job and spent all of their savings trying to keep his family afloat until he could find another which never came. Now he, his wife and children were homeless moving from one shelter to the next. He wished that he could go back to Thoth but he never seemed able to muster the travel expenses and none of his family members on the homeworld could afford it either.
"Take this." the admiral said handing Arturo a piece of paper before walking away.
"Thank you." Arturo called to Gul's retreating back. He looked at the paper the admiral had handed him, it as a lottery ticket. "What are the chances of me winning this?" he chuckled and slipped the ticket into his pocket.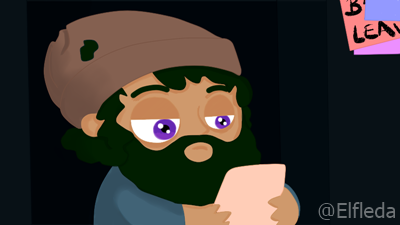 Adhara Space Station was abuzz with gossip. A new family was about to arrive on the station and the Adhara Times had reported that they Del Bosques coming from The Big Dipper after winning an indecent amount on that station's lottery thanks to a ticket that had been generously given to them by the station's commanding officer Admiral Gul. "Well this should be interesting." Adhara said to Admiral Shagsmoore Thanyu her new commanding officer and his daughter, head of station security Captain Roxzamora as they watched the ship dock.
"I'm not sure that interesting is the word I would use." Shagsmoore replied thoughtfully.
The hologram of Adhara bobbed up and down in the air with laughter, "Really? Which word would you use?"
"Deadly!" Roxy cut in, not a hint of amusement on her face or in her voice.
Shagsmoore nodded, "Yes, 'deadly' seems like precisely the right word for this situation."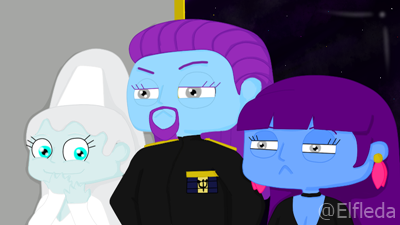 To be continued...
Hopefully I'll be posting the conclusion of this story (when I finish writing it...) tomorrow but until then if you have any comments or critiques I'd love to hear them so please consider posting in the comment section below.