The first Christmas tree
It was through the Gatekeeper that I got to know the first Christmas tree. The ruthless winter was about to begin. My shadow remained captive, and I was giving up.
One morning the big bearded man with a golden-beast fur coat approached me. He was holding a bunch of keys and a hand axe.
''Follow me –he said- his voice was that of a man who has just woken up.
I saw the empty fields of this hazed limbo. No signs of the beasts. Just spectral trees with long withered branches like desperate fingers scratching their way out of a pit… except for one.
''This is the last survivor" –said the Gatekeeper.
It was a sword-shaped shrub of about the same high as the Gatekeeper, the strangest plant I had ever seen in my life. It was apparently half dried. The Gatekeeper drew his axe and cut the stem, then lifted the tree with all his power and put it over his right shoulder. A rain of dew fell over me; it smelled like an old lady´s perfume.
We made our way back through the fading forest, heading town. I tried not to look at the frozen bones of the beasts piled on the sides. The Gatekeeper walked in front of me in complete silence, carrying the fragrant shrub with no effort. Once we passed through the village gate, he drew his keys and locked it.
We headed to his cabin. I glanced concealed at my shadow; he was still sitting in that baleful chair, his ankles chained. Again, that vision made me feel a deep sorrow. In the living room, the Gatekeeper dropped the bush and said:
''Behold our first Christmas tree".
**
"The Pagans use the wild-pine-tree-of-the-mountains to aromatize their home and induce deep and transcendental dreams. This practice was later strengthened among rural populations, evolving and transforming until it became the Christmas symbol of our days."
History of Religions. Tome I. Hard-Boiled Wonderland Skulls Library.
**
Days after the bringing of the tree the Gatekeeper told me:
''You have to do something, you know. He´s gonna die".
With his big rustic hands he was defoliating one branch, his agile fingers grinding the flowers. Then he rolled a joint and gave it to me.
''I´m going to smoke us away out of here –I replied".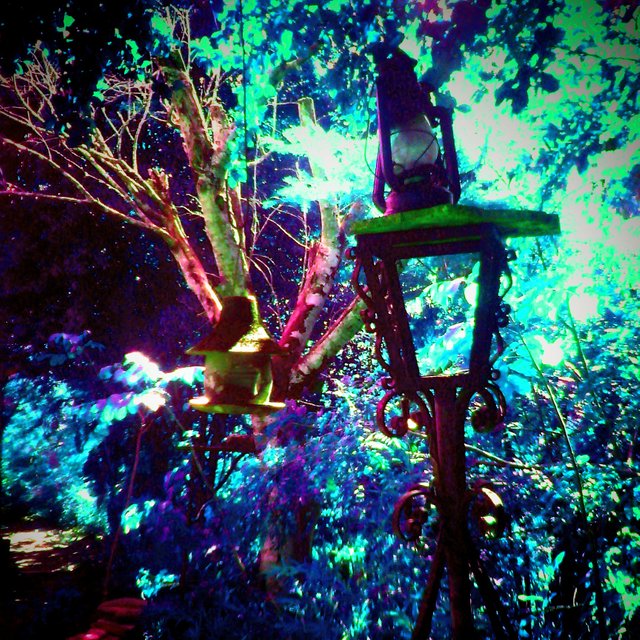 The previous story is a tribute to "Hard-Boiled Wonderland and the End of the World", a Haruki Murakami´s novel. You can also read my "Open letter to Haruki Murakami". Thanks for sharing.
The image is from my personal Instagram account.