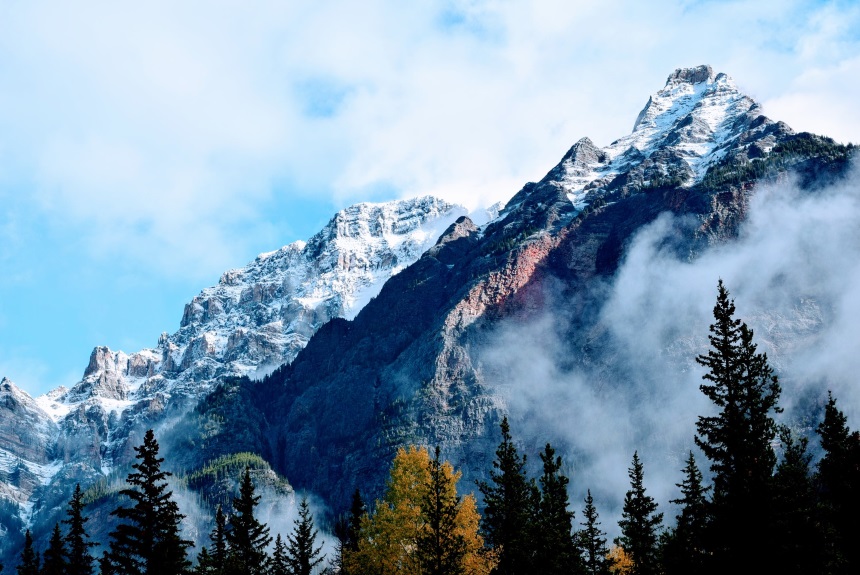 The bright sun felt good on his shoulders as he walked out of the forest. Small birds chirped from the branches of the fir trees that lined the path. The path slowly changed from dirt and dust to stone. The stone was worn smooth as if thousands or tens of thousands of people had hiked this very path. Yet, James knew this wasn't true. Maybe one person in a generation or two from Hemlin ever chose to climb The Owl. Most never returned.
James felt his stomach grumble. The sun no longer felt just warm on his shoulders, it felt as if it was trying to bake him like a wheat cake in an overly hot oven. He wiped beads of sweat from his forehead. The tree lined path was wide enough for four full-grown men to walk shoulder to shoulder. The trees were tight along the side of the path, allowing nothing larger than a small rabbit or a slim fox between them. The sun, more than halfway through its daily journey, was directly in front and above James, its brightness forcing James to squint as he walked.
Hungry and thirsty, James continued walking along the sunlight path. James looked around, searching for a convenient bit of shade where he could rest and refresh himself. Up ahead, a tree lay fallen across the path. James smiled. There, he could squeeze out from along the path. He sped up his pace. Within minutes he arrived at the fallen tree.
The tree was so wide, there would have been no way for James to wrap his arms around the trunk had he so wished. He stepped gingerly up onto the tree where it lay. He clambered down the trunk and jumped down from the base of the tree into a bright meadow that lay on the other side of the tree lined path.
The meadow was wide and quiet. Small ponds dotted the landscape for as far as James could see. Dark green grasses grew between the ponds. They waved and rustled in the slight breeze. The whispering of their leaves sounded like so many children shushing each other before class. Scattered among the grasses were thick patches of reedmace, their brown heads slowly moving back and forth like upside-down pendulums keeping their own private time. Dust motes floated through the thick and syrupy sunlight. Birds of all types flitted and flittered through the air. Blue, red, green, and even yellow, the birds called back and forth to one another, shrieking with joy and surprise at every new-found seed or ripe, red berry.
James smiled. It was if he had walked into a private sanctuary dedicated to peace and tranquility.
He walked over to a large, flat, circular rock surrounded on one side by several birch trees. James removed his pack and set it down. He set down his spear. Then he sat, leaning against one of the birch trees. From where he sat, he could see across the entire meadow. The semi-circle of trees created a natural amphitheater, highlighting and accentuating the calls of the birds, the sounds of the grasses, and the whisper of the wind.
James pulled out his wheel of hard, white cheese. He cut a wedge off with his maple-handled knife, the handle felt smooth and cool on his hand as he carefully cut the cheese. He removed one of the loaves of rye bread. It felt heavy in his hand. He lifted it close and inhaled deeply. James loved the smell of fresh-baked rye bread. Even still, a hint of the smell remained. He smiled, simply happy he had food to eat.
James tore a small piece off the bread. He broke a small corner of the white cheese and ate. Chewing slowly, he looked around the meadow. He couldn't imagine a more peaceful setting.
After he ate, he took a long drink of water from his bottle.
He carefully put the remaining bread back in his pack, along with his knife and the wheel of cheese.
He felt tired.
He lay his head down on his pack, adjusting it slightly to get comfortable.
His eyes closed.
James slept.
The sun slowly crept through the sky. The shadows lengthened. The air cooled.
A mist began to rise from the many ponds. It swirled and swayed as it rose. Inexorably, the patches of mist met and combined forces. As the sun cast its final rays across the trees and into the meadow, the only thing which could be seen was a vast sea of mist rising up towards the very tops of the trees.
With a start, James awoke. He rubbed his eyes. He sat up. From his vantage point, all that could be seen was a great, thick mist. Thick in some areas, thin in others, it swirled around him. James shivered.
In the deepening dark of the rising mist and the falling evening, James was unable to see anything beyond the large, flat, circular rock upon which he had supped and then slept. He looked up. The mist was thick.
The dark didn't scare James.
He considered his options. With the growing realization he would have to wait until morning, James pulled out his blanket and prepared to sleep again.
He wasn't tired yet, so he wrapped the blanket around him and sat with his back against the familiar birch. The birch felt warm and solid against his back.
James stared out into the rising mists.
As he watched, small lights began to appear within the mists. The lights swirled and swayed, but seemed to keep a different rhythm than the mist. At times, the lights would move close to each other and spin around as if they were two children spinning across the town square. Then, the lights would break apart and dance to a solitary beat. After a time, it seemed to James there were hundreds, if not thousands of the lights, spinning through the mists like so many stars in the night sky.
One light moved closer to James. It approached him and then spun away. The light did this countless times. Each time, it came just a bit closer.
Then, it came right up to James and perched on his left shoulder. He turned his head, slowly so as to not frighten the light.
There, sitting on his shoulder with her legs crossed, dressed in a tiny red frock, sat the smallest woman James had ever seen. She had the long, graceful limbs of a dancer. Her eyes were crystal blue. Her nose was pert and looked perfect on her pretty little face.
"Who are you?" she asked. Her voice was soft and high. It made James think of tiny chimes and soft, fluffy sheep.
"I'm James."
"I'm Eoland," she said and stood up on his shoulder. She raised her arms up above her head and twirled on James shoulder.
He could feel here tiny feet as they spun.
"Why are you here?" she asked.
"I want to climb the mountain," answered James.
Eoland quit spinning. She put her tiny hands over her mouth. "Oh, but you mustn't," she said.
"Why?"
"I can't say."
James sat and waited. He wasn't sure what to say.
"Don't you want to know what I can't say?"
James nodded.
Eoland floated over next to James ear. "There is an evil sorcerer," she whispered. Her voice tickled his ear.
"I thought you weren't supposed to say."
Eoland shrugged. "I am an independent being," she said. She put her hands on her hips and glared at James. "I do what I want, when I want to."
James smiled.
"Do you have a problem with that?"
James laughed. "No, Eoland."
"Are you sure?" she demanded.
James shook his head up and down, "I'm sure. I think everyone should do what they want to do," he told Eoland. "As long as it doesn't hurt other people," he added as he thought of the Queen of the Forest and the grey beast along the trail.
"Good, because I want to be friends with you."
"That would be nice," said James.

My earlier novella, An Assassin's Tool, is available for free download right here . You can also purchase it on Amazon for just $0.99 if you prefer.
© 2015, Stone Golem Publishing, All rights reserved--no part of this may be used without express written consent.
**All pictures used are labeled for reuse. They come from Pixabay
Follow @bigpanda for more flash fiction.