Kalna is a municipal area of East Burdwan district of West Bengal and the headquarters of the Kalna subdivision of the district. Located on the west bank of Bhagirathi, this city is known as Ambika Kalna. This place was named Ambuya or Ambua Muluk in the fifteenth-sixteenth century. Named after the local goddess Ambika. Kalna is situated about 95 km from Howrah and about 65 km from the city of Bardaman. There are many sights which are the Kalna Rajbari, Pratapeshwar Temple, Krishnachandraji Temple, Lalji Temple and the 108 Shiva temples, Gopalbari, Siddheshwari Temple, Shakti poet Sadak Kamalakanta and Bhava Pagala Vita. Ambika Kalan is a very rich in magnificent terracotta crafts, and the place is actually called "Temple City." One of the best puja in this city is Maheshmardini Puja and Saraswatipuja.
---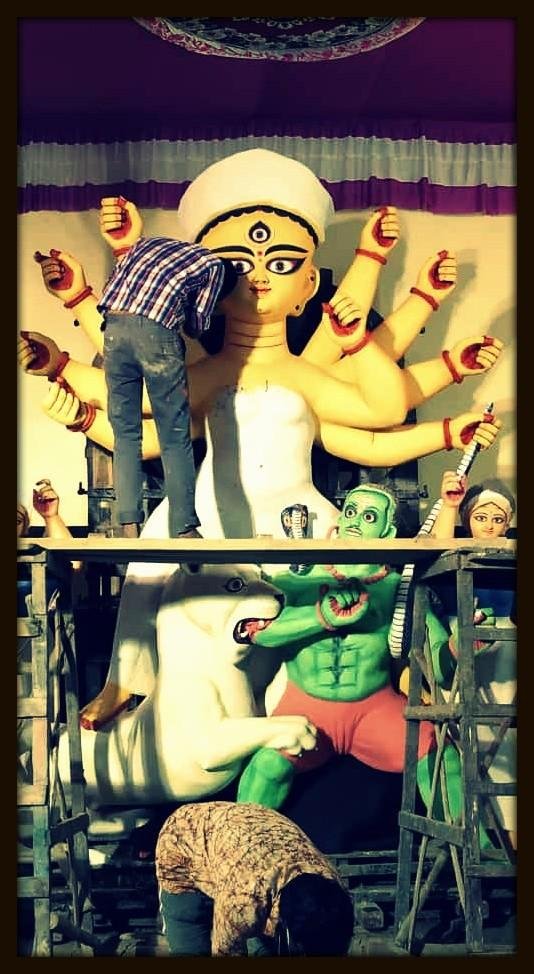 ---
Maheshmardini Pujo, the mother of the ancient Ambika Kalna tradition of more than 200 years. In fact, it is the worship of Ranaghat's Palachaudhuri house. It is about 400 years old. Many years ago, from the Ranaghat Thakur's Patatan reached the gallows of Kalna Ghat, passing through the hostile audience of the Ganges. He got a dream and rescued it. He established the puja of Maheshmardini Tagore in the basement of Talpata ( Palm Leaf).
---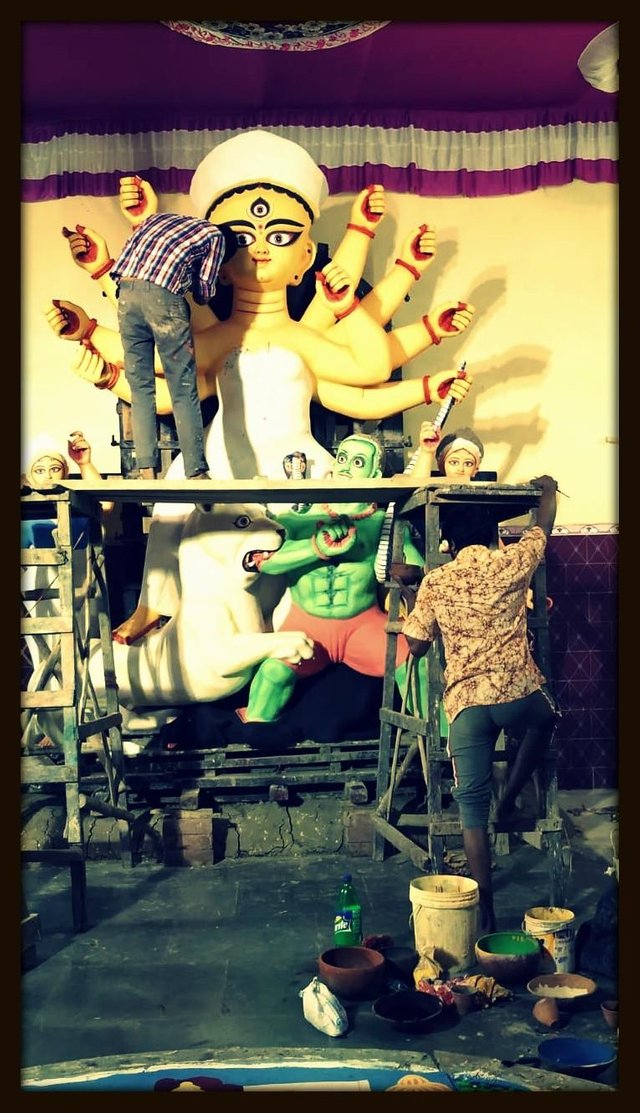 ---
On the floor of Mahismardini, there is a huge stage made of tin sheds, passing through the stage of the hall. There is a structure in the hall. And in that structure, the goddess idol is worshiped every year on the Shukla 7th day of the month of Sravana. On the occasion of this puja, a large fair is held. Many people from far and wide come to see Maheshmardini Puja. Maheshmardini Tagore has his own Dharamshala temple. One of the most notable is the puppet dance of Maheshmardini Puja. Every day, the day of Puja is a mythical turn in the morning to give people joy.
---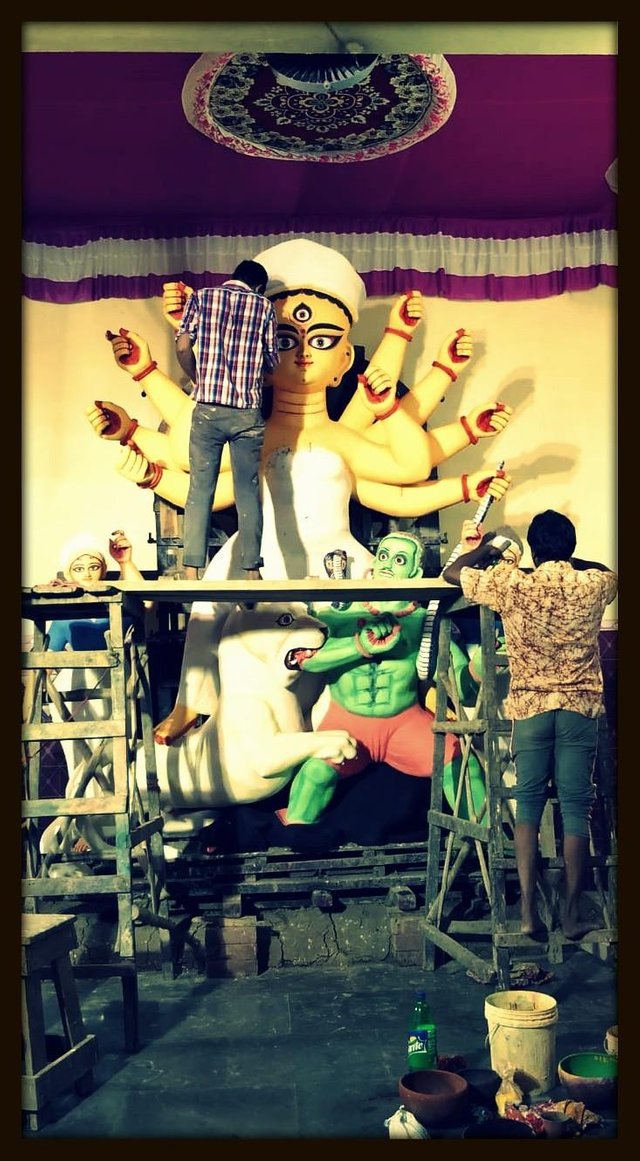 ---
In below images you have found people are decorating mother Mahismardini. Because puja is going to be start from tomorrow. If you want to come to see this puja, this is the right time.
---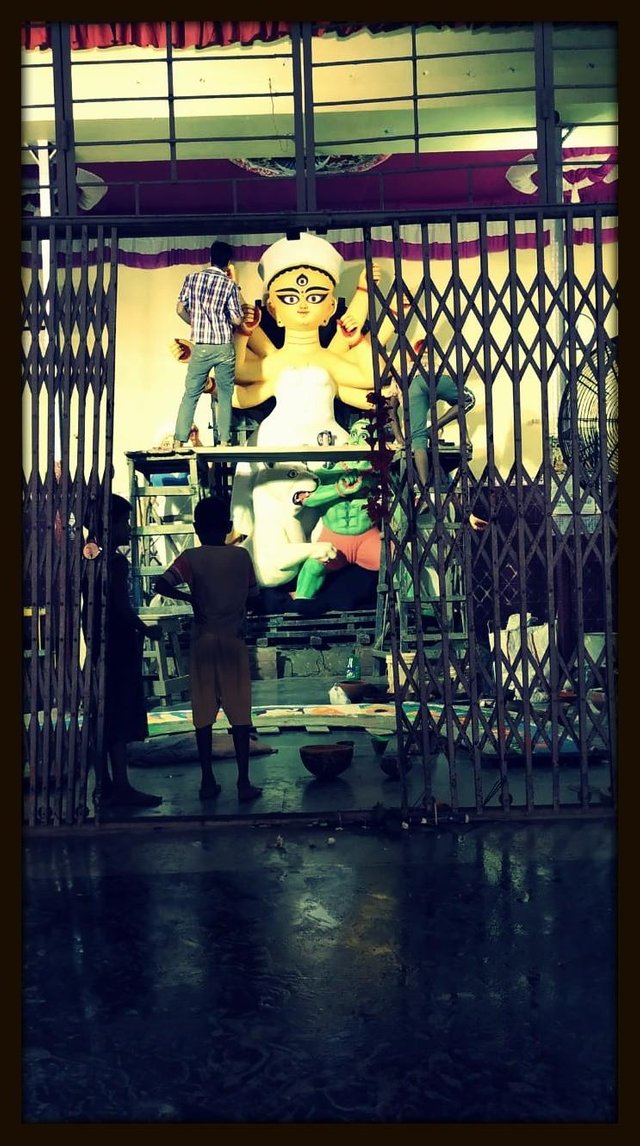 ---
Soooo.. lets enjoy
---
---
---
---