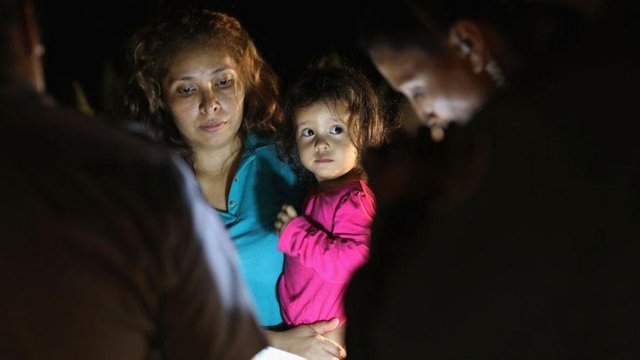 source
"I never thought we were going to suffer in this way, but you know that if we did not leave Honduras, you and I would run a lot of danger".
This message, which BBC Mundo reproduces literally, is part of the letter that a woman from Honduras, locked up in a detention center in Texas, has asked her lawyer to send to her daughter.
The United States immigration authorities separated her from the girl when she was arrested and put in custody for "having crossed the border illegally" with Mexico.
The woman, whose identity BBC Mundo does not reveal for safety, is part of the thousands of migrants separated from their children on the southern border of the United States. since the government of Donald Trump began to implement its policy of zero tolerance against immigration.
Some 2,300 minors who have arrived in this country since last May have been separated from their parents, according to the latest data published by the US authorities.
The family separation imposed by the US president has attracted widespread criticism from civil rights organizations, the United Nations, foreign governments and even leading figures of the Republican Party, of which Trump himself is a part.
The first lady, Melania Trump, also recently manifested against these separations and this Wednesday the president signed an executive order with which he said he wanted to put an end to a situation that had aroused widespread rejection.
But, despite Trump's announcement, whose effects remain to be seen, the drama of families continues.
"No one is going to hit us anymore or do more damage"
The author of the letter reproduced by BBC Mundo has not seen her daughter since she was arrested and communications between both are restricted.
In the text, the woman describes a situation of mistreatment at the hands of her partner in Honduras.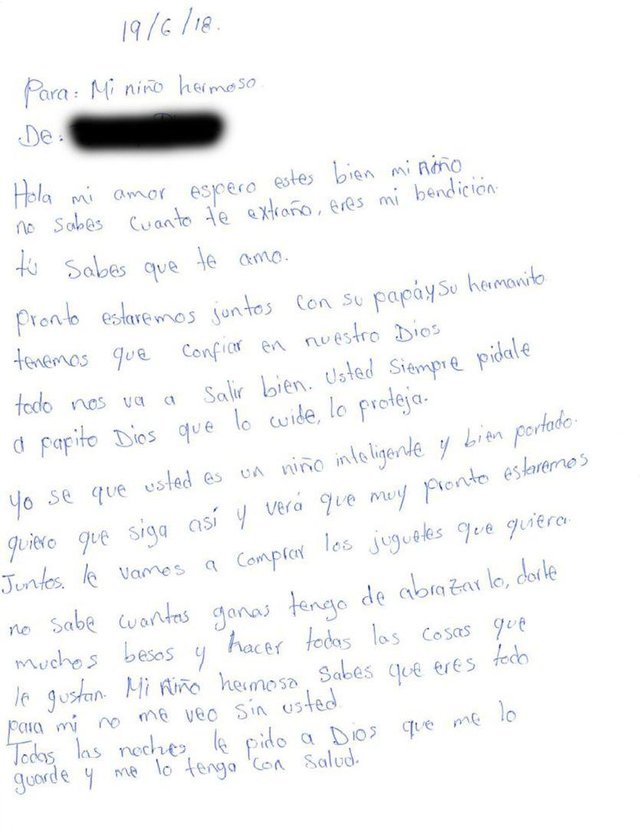 [source] (https://www.bbc.com/mundo/noticias-internacional-44555470).
"No one is going to attach me (sic) or throw things to us on the street (sic) we are going to aproteger (sic). No one will agrite us (sic) or aser (sic) more damage".
"I just wanted to protect you," the mother tells her daughter, whom she encourages despite the difficult circumstances that are happening away from each other and both in the hands of the US authorities.
"Here we will be asalvo (sic)", he assures.
Attorney Richard De Anda, from the De Anda Law Cabinet, who represents this and other immigrant women in the Laredo area, hopes to be able to achieve his release soon and ensures that he meets all the requirements to obtain asylum in the United States.
Support organizations for immigrants and the Office of the United Nations High Commissioner for Refugees (UNHCR) have pointed out that in many cases immigrants are women belonging to vulnerable groups who are fleeing violence in their countries.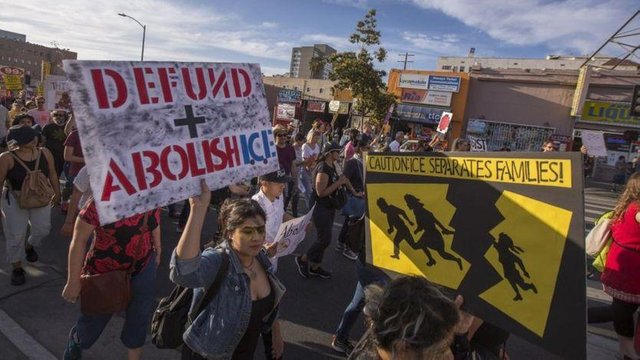 [source] (https://www.bbc.com/mundo/noticias-internacional-44555470)
"As a lawyer, one is used to seeing delinquents in jail, sometimes 19-year-olds who were caught with drugs, but what he does not expect is to find a woman who has not done anything wrong," he says in conversation with BBC World.
According to him, it is easier for him to get bail from "a criminal that everyone knows is a criminal, than get one of these women out of jail."
"For them there are no options."
Another of De Anda's clients is interned in the same penitentiary center and he also gave the lawyer a handwritten letter to be delivered to his son, a 6-year-old boy who was taken by Immigration agents when they intercepted him.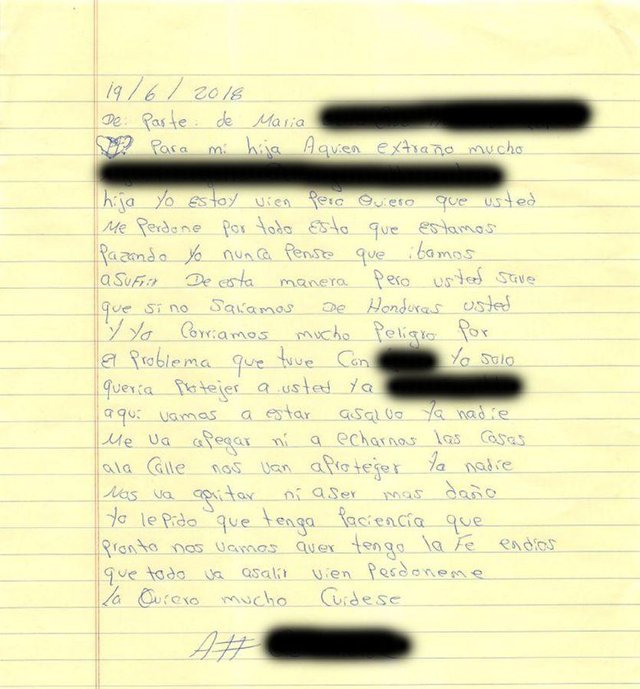 [source] (https://www.bbc.com/mundo/noticias-internacional-44555470)
The child remains detained away from his mother, so he accepted the suggestion of his lawyer to deliver a handwritten letter that he would send him.
The situation of this family is, according to the lawyer, "terrible".
"The couple, with a 3-month-old baby and a 6-year-old boy, left Honduras after a relative was killed on the road between Reinosa and Monterrey, in Mexico, the 6-year-old mother and child were kidnapped and the father had to pay a ransom to free them. "
Then they continued the trip separately.
"You are my blessing"
To the father with the 3-month-old baby, the US border agents let him cross in order to appear in Dallas, where he said he was going.
But the mother, who was traveling with the 6-year-old boy, was arrested after crossing the Rio Grande on June 1 and sent to the detention center where she is now interviewing her lawyer and where she wrote the letter.
"You do not know how much I miss you, you are my blessing," he tells his son.
The woman, whose identity also protects BBC World as a precautionary measure, promises the child: "Everything is going to be good for us, you always ask God to take care of him, protect him".
The woman says to the child: "He does not know how many times you (sic) have to hug him, give him lots of kisses and do all the things he likes".
It also refers to a conversation that the child recently had with the father in the center where he is staying.
"Your dad told me that ah (sic) talked to you and that you are (sic) behaving well, I am proud of you."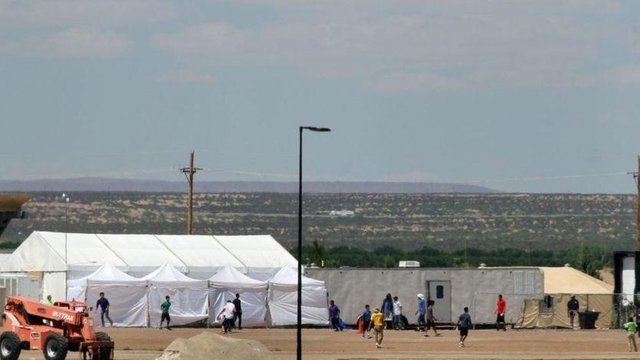 [source] (https://www.bbc.com/mundo/noticias-internacional-44555470)
Lawyer De Anda emphasizes that the fact that they receive legal assistance alleviates somewhat the situation of these immigrants. "Many of them do not have anyone."
"Even so it is very difficult to maintain a session with them without tears running, many tears."
However, De Anda is determined to give the battle and believes that soon you can get his release. "We hope that they can process their asylum application and live a normal life like any other person."
"Remember that we will be together soon," says one of the mothers to the son she misses.