Many historical questions remain unanswered around the mysterious treaty between William Penn and other Delaware chiefs in 1683. While people have argued over whether or not such an event even took place, Philadelphians have long enjoyed a park that is allegedly on the location of just that treaty.
This post will #exlpore1918 and look back to Penn's Treaty by looking at a view from 1918 and the way it is remembered in the present day.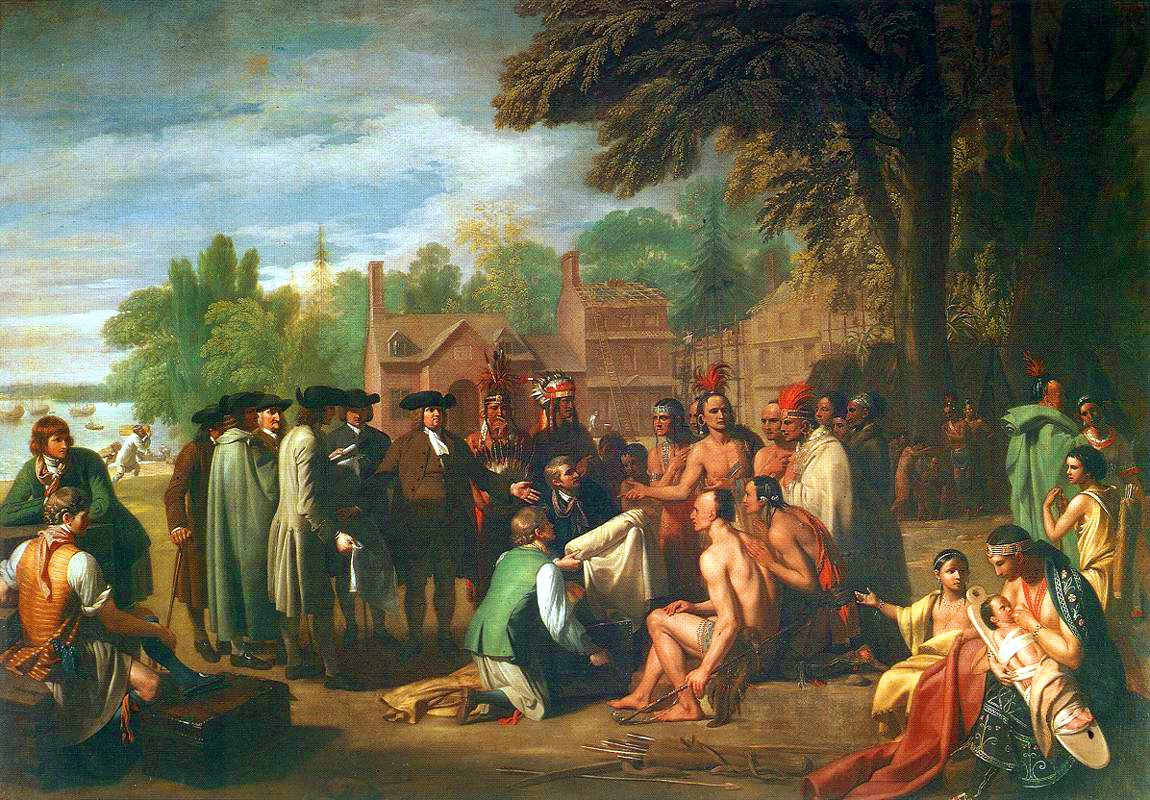 Did this happen?
What did they think in 1918?
Using Robert Shackleton's The Book of Philadelphia, published in 1918, I will look back at how Philadelphians potentially viewed Penn's Treaty. Shackleton looks at the treaty early in his book, which is part history part travel guide, in an early chapter called "Quakers and Meeting Houses"
In that chapter, Shackleton explains, That the treaty is memorialized with a nice elm-lined park where a simple pyramid monolith stands to commemorate the treaty. He explains that at the park, which is near Kensington, a section of Philadelphia that Shackleton found confusing and "old-world", still has verdant grass and a view of the Delaware. To Shackleton, the park is a good commemoration of "...probably the only treaty of the world's history which was not broken when temptation and opportunity came hand in hand."
What do people think in 2018?
Now, one does not need to publish to have show their views on an area. With that in mind, I turned to Google maps and Google reviews to see what historians in the current day think of the park. At Google Maps, the "most helpful" review explains "Penn Treaty Park is the perfect place to go for a short walk or just sit, relax and take on the scenery. The location is convenient it's just big enough to offer plenty of room for everyone. It's not so small that it's just some grass around a monument and not so big that you could get lost."
Of course, that sample is just one of 421 reviews. Many are positive and some deal with history. Another writer explains," I call this my healing place. I come here to be alone and think. Especially in the winter months. It was a gathering place for the Lenape tribe 3 centuries ago and has a great view up and down the Delaware."
According to the city "Today, a statue of William Penn greets picnickers and dog walkers, and throughout the year, people come from all over the city and beyond for special events, including Shadfest, which celebrates the historical and environmental significance of the Delaware River and the fish that once ran thick through its waters."
Conclusions
It is clear that some things, like the grass and the river in the park have remained important even as time has gone on. As for history, some attention is paid to the treaty, but observation of the monument has featured as important both in the past and today. Apparently, a simple pyramid statue was replaced with a William Penn statue. With this information, we might be especially mindful of the monuments that we put in parks to commemorate events. That, and focus on landscaping.
What monument do you think should be in Penn Treaty park?
100% of the SBD rewards from this #explore1918 post will support the Philadelphia History Initiative @phillyhistory. This crypto-experiment conducted by graduate courses at Temple University's Center for Public History and MLA Program, is exploring history and empowering education. Click here to learn more.