Crowdsourcing History
One of the things historians talk about is how bias affects historical scholarship. Even when we try to be as objective as possible we can never fully escape the Biases in the sources themselves, in whatever historical method we choose, in our language, in the culture and time we belong to, and even in each individual historian. Steemit could make a good platform for reducing some of these biases—with a worldwide base and diverse community, many individuals could give their own takes on a primary source, contributing to a better understanding of it. Of course, this method will likely introduce biases of its own. However, I'd like to give it a try. So in this post, instead of looking at sources myself and writing a short history, I'm going to share some primary sources, my initial notes about them, and invite you to share your notes and thoughts on them in the comments.
I decided to do a search for today in the Inquirer. This is one article I found: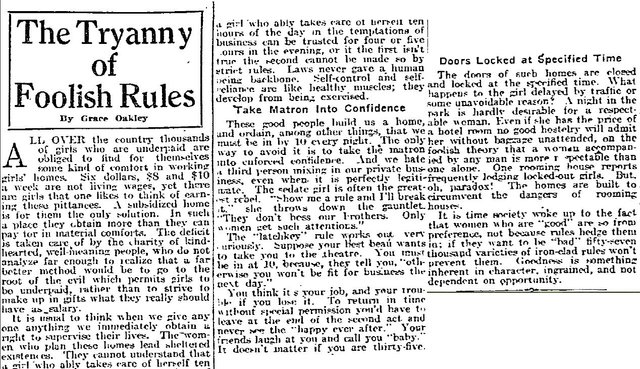 Source: Grace Oakley, "The Tyranny of Foolish Rules," The Philadelphia Inquirer, February 13, 1918. © This entire product and/or portions thereof are copyrighted by NewsBank and/or the American Antiquarian Society. 2004. Used for educational/academic purposes.

Here are some of my notes.

-Who is Grace Oakley? Seems like she might live at one of these homes—more research is needed
-What does this tell us about 1918 America?
Young unaccompanied women were assumed to be up to no good, while young unaccompanied men are not—or if they are, it's ok
Women aren't being paid enough to be self-sufficient
-How can this be made relevant to the present day?
Wage issues can be connected to current issues
Low-income housing today imposes many restrictions on residents—including warrantless searches of residences for guns and other prohibited items
Please share your thoughts, ideas and notes in the comments!
100% of the SBD rewards from this #explore1918 post will support the Philadelphia History Initiative @phillyhistory. This crypto-experiment conducted by graduate courses at Temple University's Center for Public History and MLA Program, is exploring history and empowering education. Click here to learn more.