Fat down, Money up
Working my way toward my New Year's Resolution.
---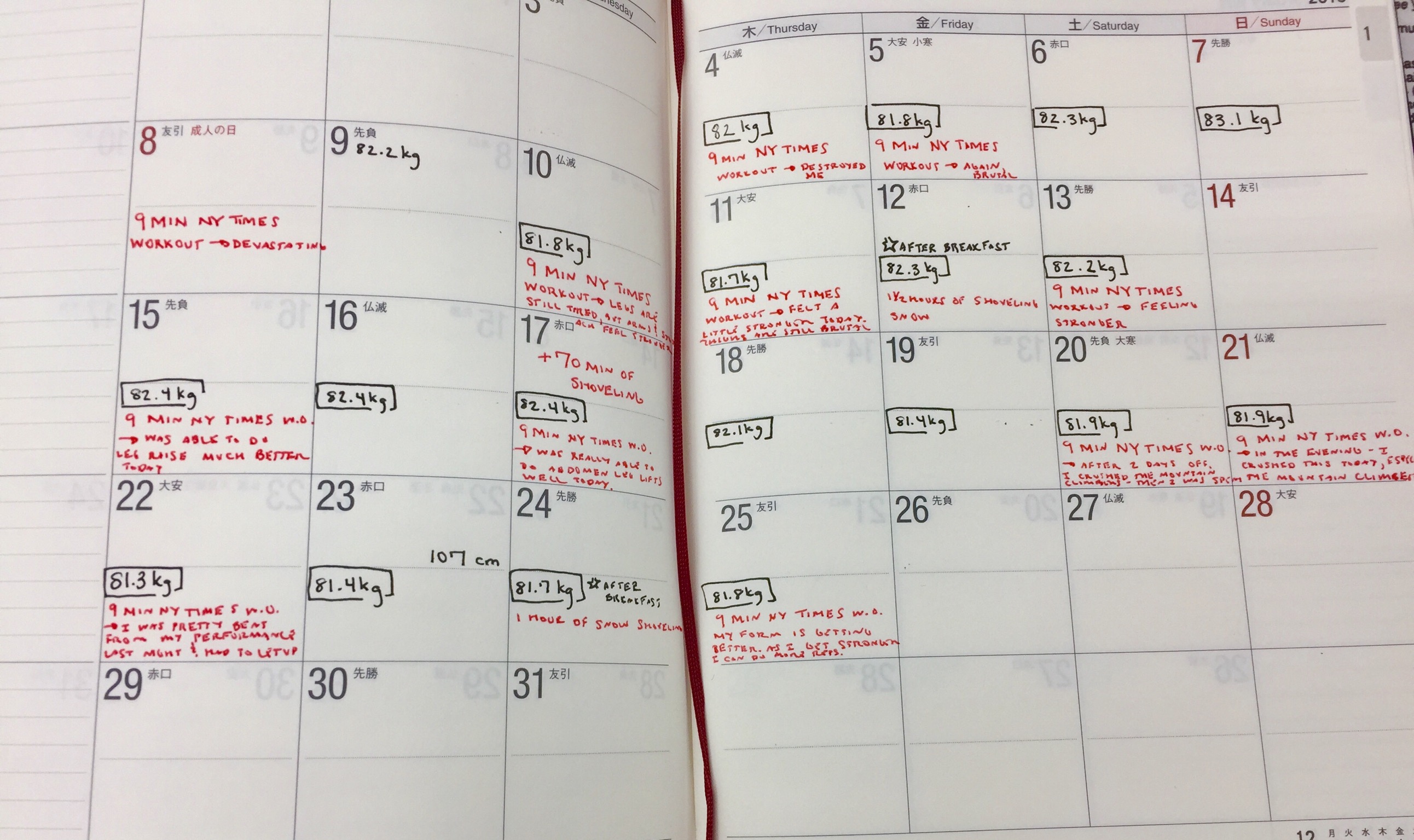 ---
This week I would like to talk about why I am doing this?
Of course, there are many reasons to begin exercising and to lose weight, for me, though, the main reason for putting exercise on my list of priorities is that I have really felt my body age over the past couple of years; and by age, I mean that I feel stiffer than I have ever felt before, and more prone to injury as well. It also seems to me that my stomach, which really isn't that big, is interfering with my movements more and more. When I bend over to tie my shoes, I feel it pushing into my legs and pressing inward against my organs. When I move quickly up or down a staircase, I feel it moving heavily in the opposite direction of my body: up when I'm going down, and down when I'm going up.
I don't like this. I don't like not being able to crouch down comfortably. I don't like feeling like there is something getting in the way of my natural movements. And I don't like the way that my hips, legs, and back feel after dealing with the extra weight that I am carrying.
As I have said, I'm not that big, but if I know that if I don't begin making changes now, the problem, which I am already uncomfortable with, is only going to get worse.
For much of last year, I saw a physical therapist. He treated me for what appeared to be a case of frozen shoulder. It began without incident and gradually became worse—an ache in my shoulder that led to a severe lack of motion for more than six months. It's hard to say what began where and which problem led to which, but throughout much of last year, I suffered from increasing stiffness in the hip and shoulder joints on the left side of my body and also from an increasing stiffness in my lower back.
Everyone ages differently, I know, but at 38, I can't help but feel that some of the issues I'm encountering are premature. I don't want to lose mobility. I don't want to become stiffer. And I don't want to go to my annual checkup this summer and be told that I'm another kilogram or two heavier, or that my waist is a few centimeters bigger. These two very things have been said to me year after year for the past five or six years and I'm finally ready to make sure that I don't hear them again.
We may not have complete control over how and when we age, but our actions definitely have an impact on these two things. This year, I'm determined to start doing things a little differently. I'm determined to act and behave in a way that will have a positive impact on my body so that I can be loose and flexible, quick and energetic, and so that I can move with ease and comfort.
---
This Week's Accountability Report
Exercise: Four out of seven days
Weight: Slight weight loss (from 82.4 kg to 81.3 kg and back to 81.8 kg this morning)
Waist Measurement: 107 cm
Thoughts: Exercising everyday continues to be a difficult goal to achieve. I'm not convinced that it's one hundred percent necessary to exercise everyday to achieve the results I am looking, but it's an ideal that I initially decided to work toward (even though I don't have a particular reason for doing so).
Over these past three weeks, I have felt myself get stronger. The added strength shows in my workouts. I can do more reps now than I could three weeks ago, and I have much better control over my movements. I don't yet feel like I'm ready to change my current routine because the increased number of reps that I am doing keeps the workout challenging. At some point, though, maybe when the weather gets better and the sun comes up a little earlier, I want to add a cardiovascular activity to my current exercise routine. If I do that, I think it will be much easier to exercise everyday because I will be able to walk or jog on days when I am not doing nine minutes of interval training. We will see.