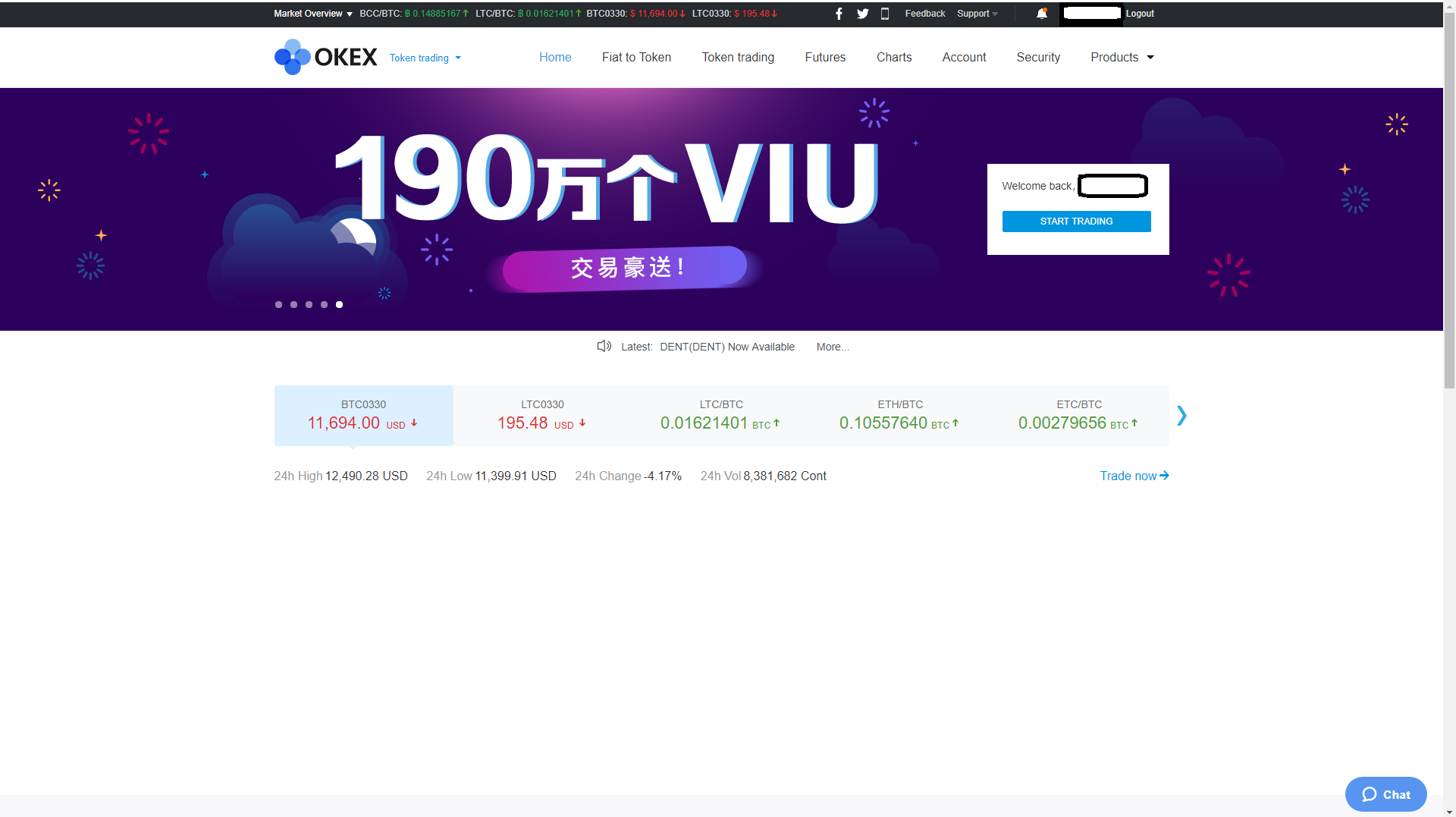 ---
Long story short OKEx is a chinesse based cryptocurrency exchange. So, my story starts about 1-2 weeks ago when I've found about Nebulas (NAS) and I looked for ways to buy into that beautiful token. After no further logical reasoning I decided to follow @foodnature path and buy it from OKEx exchange.
Once I've documented my self about the token I was really excited and acted on FOMO. So, without any further research about the exchanges that nebulas can traded on, I've signed up on OKEx and deposited my ETH in order to buy NAS. The moment I've started trading / using the site for a short period of time I 've noticed that the site looks a little fishy due to the fact that a lot of elements are not translated from chinesse in english and the site is actually pretty slow.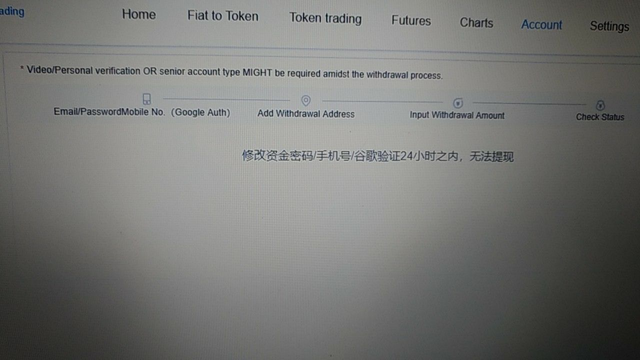 After I bought my NAS and I was looking for a way to withdraw, but I was getting a message similar to this. The translation of it was saying something like this: " In order to withdraw you need to verify your email and google auth and wait 24h ". Of course I've panicked that my money would be stuck on the site for a short period.
---
While waiting for those 24 hours to pass I've started researching the site, thing I had to do before I've invested in the site certainly. Going for first google search I am seeing this ...

At first I've panicked pretty hard that my money would be lost considering all these bad reviews/threads upon OKEx but I started researching even deeper. Going on coinmarket I looked up to see what OKEx marketcap is and how much volume it has. Once I've seen these stats I relaxed my self completely.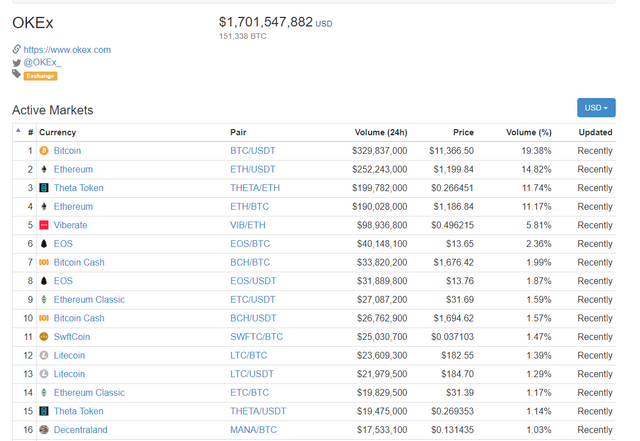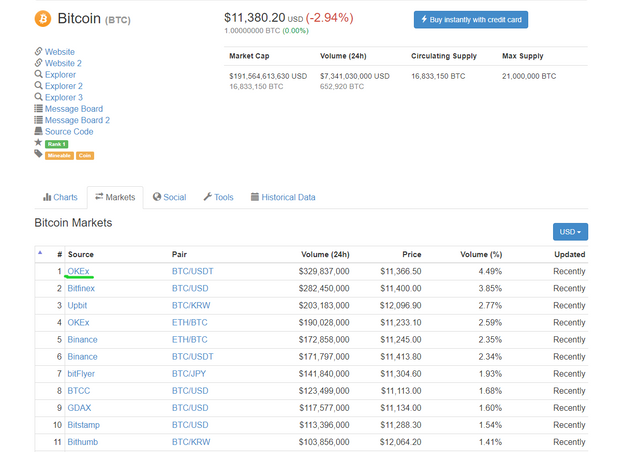 ---
Just in case to double-check if the site is "legit"I've decided to join their telegram group to see if other people had problems with the site / withdrawals in the past. The admins are really active and friendly.( most of them live in Hong Kong so they only chat in the UTC+08:00 Hong Kong timezone )
Watching the chat and communcating with different members I've noticed that the most common problem was the withdrawal one. On OKEx you don't need personal verification in order to withdraw unless you want to withdraw more than 100 BTC from the site, which may not be the case for most of us. 😭
Although no personal verification is needed in order to withdraw, most of the people are struggling with the withdrawals and they think they need to verify their identity to the site. All of that happens because they get this chinesse message I've posted above. In order to be able to withdraw is very simple - you need to go to settings in the top right corner and you gotta be sure everything is checked on green.
don't forget to click on others button in order to verify everything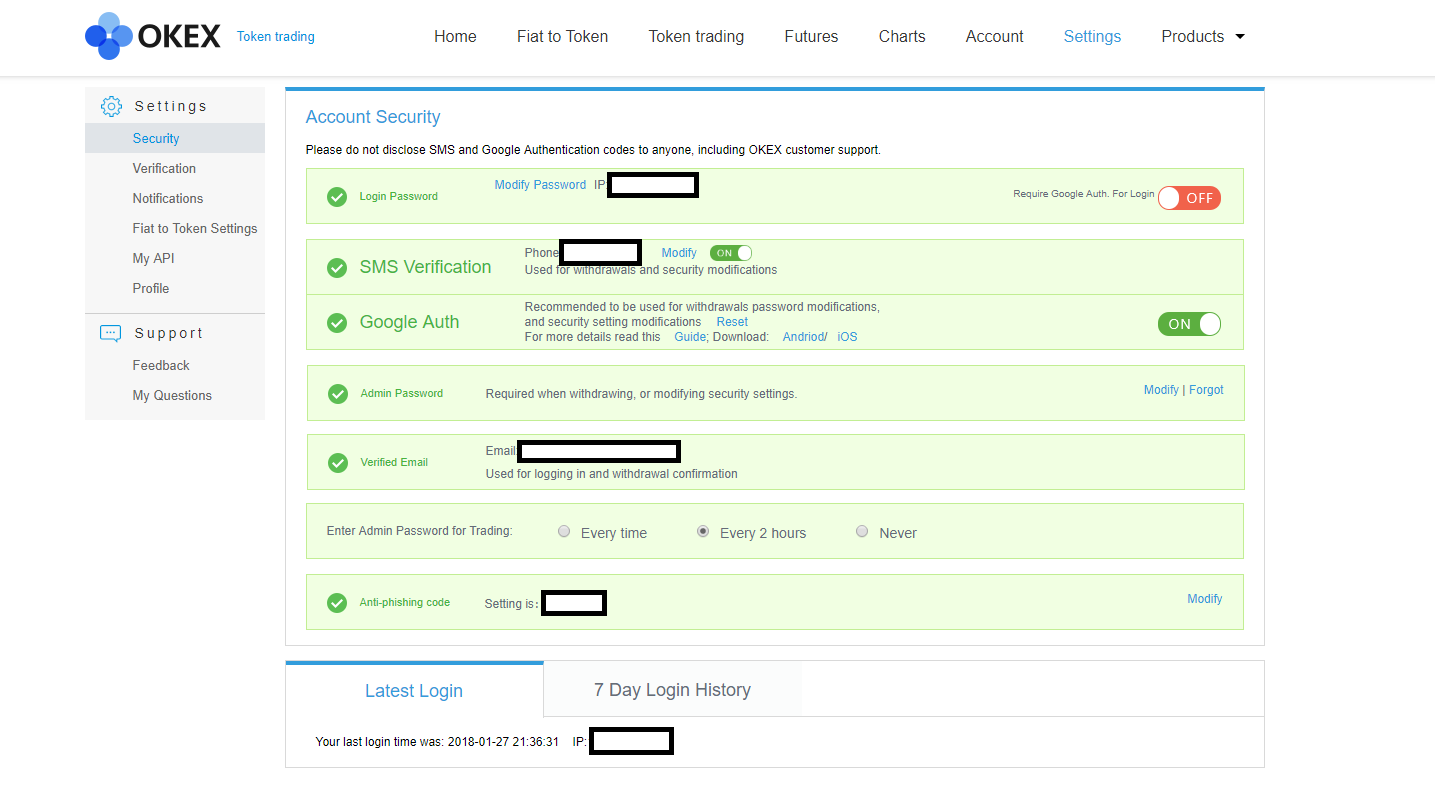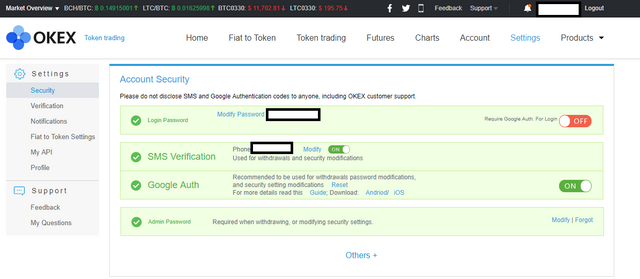 ---
OK, so once you've verified everything you just need to wait up to 24 hours and you will be available to withdraw. Overall this is the main problem with OKEx. Also, there have been technical problems when some tokens/coins that they couldn't be deposited or withdrawn, but these were solved within 2-3 days.
---
Main issue of the site is that it is really unfriendly for new users. Also, site has some bugs and glitches here and there and the support system is kind of superficial as you need to wait a lot to get in a queue with a customer support specialist and sometimes the queue just restarts. The best way in order to get some support from the site is the telegram group, as I've said earlier.
---
Overall the site has its problems but it is
LEGIT
, has a lot of issues that needs to be solved and may be caused due to the fact that they want to add as many new features/coins as possible for the community. I also tend to think that there is not such a long time since they've started to provide support for international customers.
---
I'll link down below some proofs to see that I've succesfully withdrewn from the site! Thank you for reading this and I hope it helped at least one person! Steem on!

---




---
Disclaimer:

This is not financial advice or any sort of financial guidance!
I don't want to put the site in a good or bad light. This is just my personal experience and hopefully someone will get helped from reading this article.
I suggest you should never keep your assets on an exchange as long term investings ❗❗