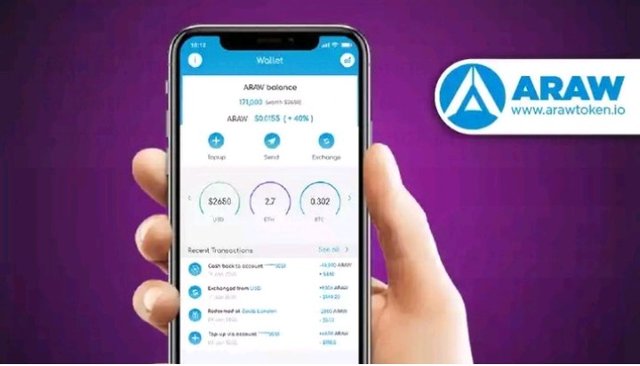 INTRODUCTION
With the emergence and acceptance of internet and blockchain technology, almost every sector or industry seeks to be in tune with the recent developments as the world is gradually turning to a global village. The e-commerce industry is a big and evolving one as they have embraced the use of internet to better serve their customers well but then the issue of identity theft, failed transactions, unnecessary credit/debit cards deductions etc has been a major set back for this industry. There then exist the need to improve the mode of operations of the industry to better serve its customers hence Araw, backed by blockchain technology was birthed to help solve these salient yet important problems of the e-commerce industry by providing a unified reward system and marketing solutions for e-commerce industry and also increase the footprints of subscribers/Retailers/customers, as such everyone wins.
ARAW PLATFORM
ARAW token is the brain child of ARAW UK Ltd. The platform's native token and currency known as ARAW Token is based on blockchain technology and smart contract to provide a decentralized payment ecosystem for all its subscribers. They are poised to target more than one channels to increase the acceptance of the blockchain technology in our day-to-day online and in-store shopping. They are also in the process of rewarding loyal subscribers and users of the platform with the ARAW tokens which will serve as marketing tool for them as this reward system will keep old customers and draw the attention of new customers and also bring a fair play ground between payment and e-commerce industries. Having said this, it is safe to say that ARAW token is a unified rewards system and marketing solutions for the retail, payment and e-commerce industry.
Invariably, ARAW offers to solve a whole lot of problems for the e-commerce industry as such they replace the traditional restrictive reward system in use, reduce token costs due to transactions cost, put an end to excessive regulations and encouraging all to use cryptocurrency in our day-to-day activities.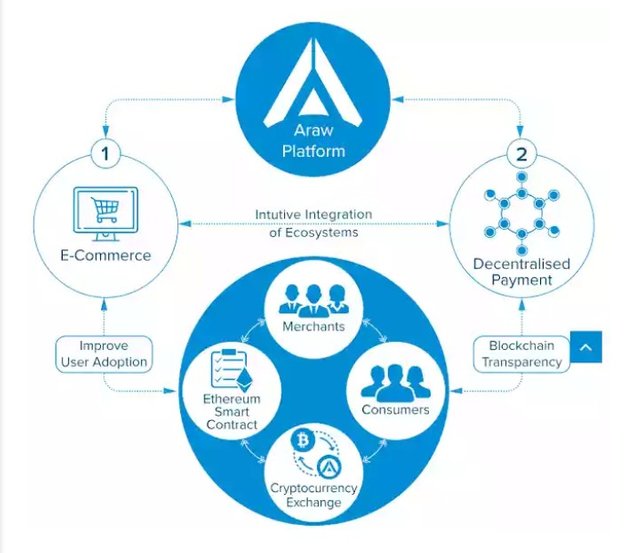 THE ARAW ECOSYSTEM
The ARAW ecosystem was created to serve as support system for all its users where they can make their transactions in a safe, secured, easy to use and effective atmosphere. On the ecosystem, customers and different brands/companies can interact effectively without restrictions. The ARAW ecosystem is a combination of striking, yet unique features which helps them functions well they are as follows:
ARAW Pay will be an open marketplace as it will be accessible to all online anywhere in the world and will be used to accept payments in ARAW tokens. Talk and process are in top gear to make the ARAW pay, ARAW mobile and web wallet to hasten and fast track all transactions. The Ethereum Blockchain technology and smart contract will be employed to make transactions and exchange of goods process faster and secured. With the e-commerce marketplace, the needs of every user not minding their location are met and the users gets instant access to global audience and having seamless transactions. Consequently, the ARAW card (Touch and Pay card) contains a radio-frequency identification (RFID) which help to track all cards and enables the users to make even micropayments at our day-to-day online and offline shopping. The ARAW platform runs an Open API platform which makes it user friendly, accessible to all, taking away the stress of trying to read unending programming. Using the Banking system and Cryptocurrency Exchange integration feature of the ecosystem, users are able to buy ARAW tokens using their linked bank accounts and also affords users to be able to exchange their ARAW tokens for other cryptocurrencies, and also convert their cryptocurrencies for fiat.
The unified reward system will help put an end to the traditional customers rewards system given to loyal customers as they will be able to tokenize their rewards. These and many more are the features that put ARAW far above its competitors.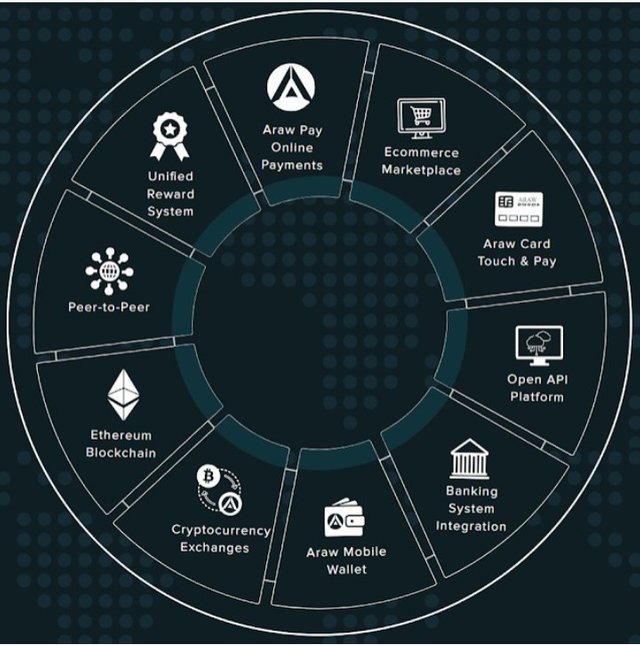 TOKEN AND ICO INFORMATION
Token Symbol : ARAW
Token type: ERC20
ICO token price: 1 ARAW = $0.01
Total tokens: 5,000,000,000
Available for token sale: 3,500,000,000 (70%)
Whitelist: YES (15 May – 30 June)
Know Your Customer (KYC): YES
Pre-sale start date: 1 JULY
Public sale start date: TBD
Soft cap: 2,000,000 USD
Hard cap: 25,000,000 USD
Accepts: ETH
TOKEN DISTRIBUTION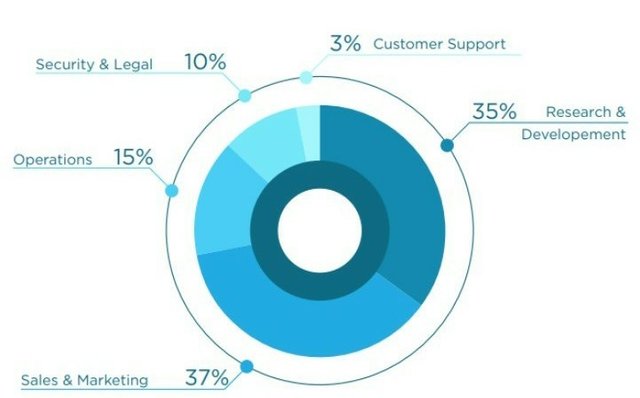 FUND DISTRIBUTION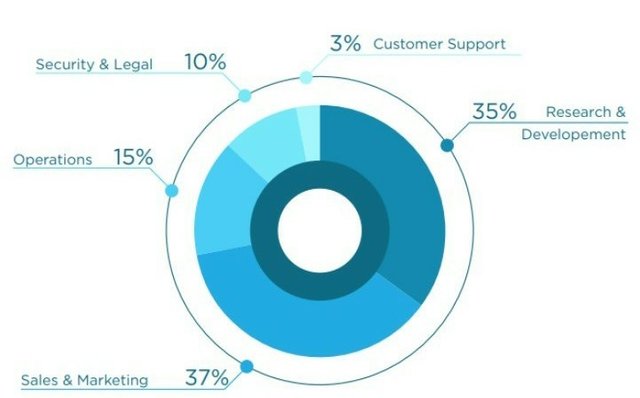 ROADMAP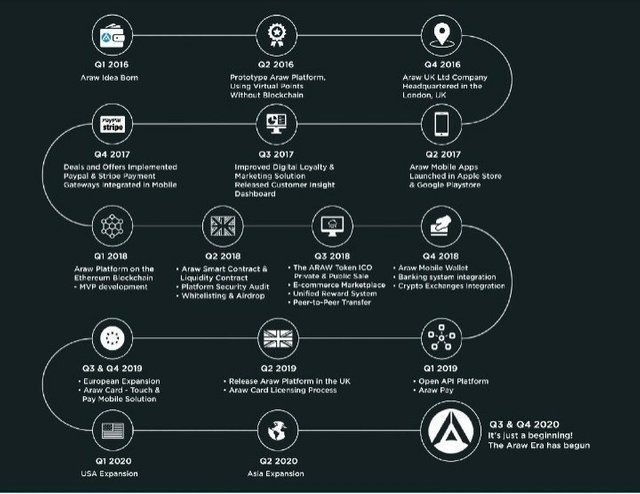 TEAM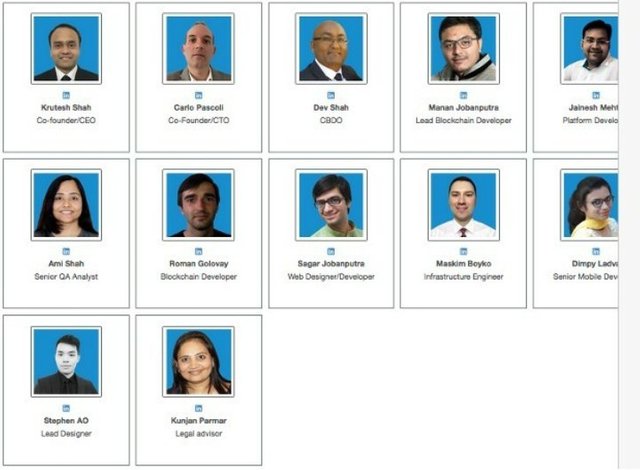 For More Information
Website: https://arawtoken.io/
Whitepaper: https://arawtoken.io/assets/araw_whitepaper.pdf
Facebook: https://www.facebook.com/arawtoken
Bitcointalk: https://bitcointalk.org/index.php?topic=3497194.0
Medium: https://medium.com/@TheARAWToken
Youtube: https://www.youtube.com/channel/UC3QKDkSt7UbhqWlAm2T5Abg
Telegram: https://t.me/ArawTokenOfficial
Reviewed by : Joygalzz1
Bitcointalk url : https://bitcointalk.org/index.php?action=profile;u=1984580