New American startup hopes to redefine journalism and reporting of news with an Ethereum-based decentralized platform. Tom McGeveran former Politico reporter left the organisation in January this year to co-found a New York-based, 'Civil' which hopes to create a self-sustaining journalistic system that is free from the media bureaucracy as we know it—fake news, huge advertising spends and external influence.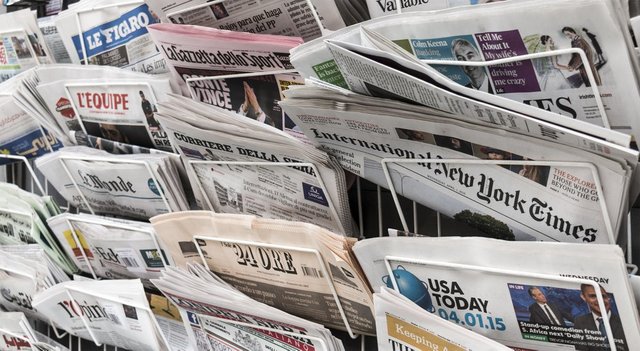 Source
McGeveran hopes to disrupt the industry which he left behind only recently, and blend modern Ethereum blockchain based smart contracts with newsroom journalism, to effectively cut out the media bureaucracy plaguing the industry.
Blockchain enabled newsroom startups could one day potentially redefine the media industry!
In a statement released today, McGeveran has said and I quote:
"We see in crypto economics the possibility of decentralizing this package, stripping it down to the relationship between readers and journalists/producers, reducing the cost base for these basic services and freeing it from incentives that match the interests of third parties but not citizens or readers or journalists."
Journalism Of The Future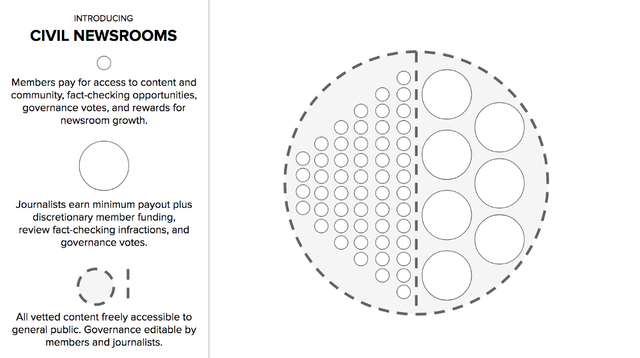 McGeveran has released a whitepaper which organises his idea of blockchain based journalism into three core aspects to create an atmosphere of self-sustaining journalism.
Newsrooms
This will allow crowdfunding to support coverage for specific topics and as the crowd funding increases, higher number of journos are likely to cover the topic. This allows the bureau to scale up proportionally to serve topics of national and international significance.
Stations
This makes it possible for journalists to create a dedicated audience and receive tips similar to Patreon or Kickstarter example. It gives any journo using the platform a way to monetise from their loyal community on the platform.
Fact-checking-as-a-service
Simple errors in journalism can be omitted by allowing citizens and journalists to collaborate together on improving the quality of the news reported. This powers the system by preventing plagiarism and misinformation amongst other things with a crowd-sourced effort, so to speak.
Introducing the CVL Token
Civil will have it's own token as the organisation plans on releasing a new token (CVL) that will allow it to service various functions including but not limited to the influence on newsroom decision making, penalising fake news and inaccurate content. It is likely to allow access to it's content through a CVL token based subscription system.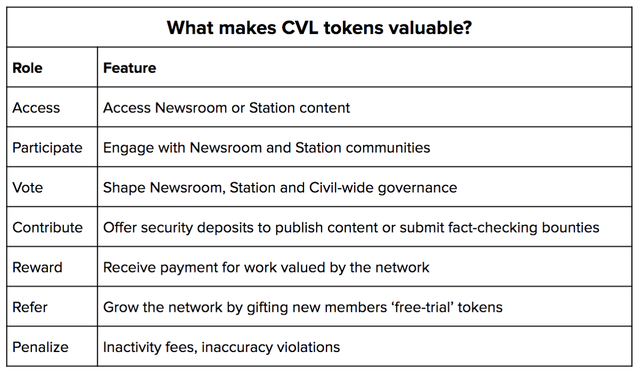 The Ethereum blockchain based startup hopes to use the smart contract system effectively to build a journalistic environment of high integrity, something the traditional news-media industry is lacking today!
In an official comment Civil founder Matthew Iles said:
"There's costs involved in the centralized business model that we don't think go towards the creation of valuable journalism, and we think there an opportunity to create efficiencies in that business model that would enable journalism to exist where it currently can't."
This new start-up could potentially pave way for a crypto token driven system that could help in exponentially reducing the costs of setting up a traditional news agency.
The startup is hiring experienced industry heavyweights as advisers. Names include former managing editor of the New York Post, Lauren Ramsby, in addition to the editor-in-chief of a popular local news site DNAinfo, John Ness.
Having worked in the media industry, I think this is an exciting new project that could potentially change the way business is done. It would be great to see the media industry grow a spine and I hope Civil can re-imagine a new, "business as usual."
Do you think the world needs a better, decentralised and blockchain based journalism that reports facts as they are?
---
You may also continue reading my recent posts which might interest you:
Thank You Steemians! I've Crossed the 3000 Followers Milestone! Top Author from India and a Quick Recap!
---