Ethereum Classic Gets More Interesting: More Developers and a New Monetary Policy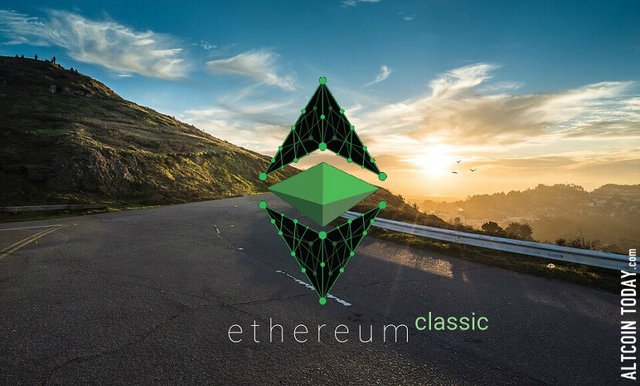 Ethereum Classic (ETC) was one of the first major revolts of a successful cryptocurrency community, the point of contention being the hard fork bailout of The DAO. The core Ethereum project, founded and led by Vitalik Buterin, considered the $70 million compromise too big of a deal to let unfold in order to stick to the principle of impartiality. On July 20th, Ethereum hard forked and essentially erased the hack from its blockchain. 
Most in the Ethereum (ETH) community supported the move, but a minority considered it a violation of one of the key principles of cryptocurrency: immutability. Immediately following the fork for the original project, on block 192001 Ethereum Classic was born.

Here's a good article to help with understanding the DAO attack.
Immediately following its birth, ETC shot up to a market capitalization of almost $225 million, but has since fallen to about $85 million. Given that the project initially only had one core developer, many market participants considered it mainly a speculative pump-and-dump and steered clear.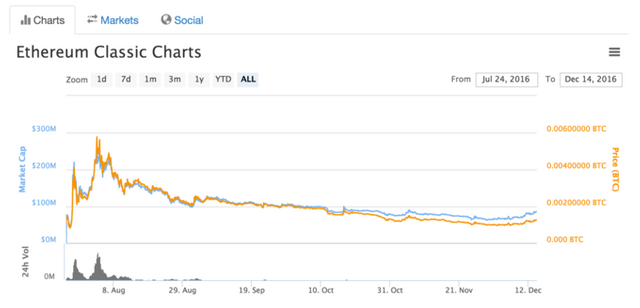 All that seems to be changing. In "Ethereum Classic Forges New Path; Revamped Monetary Policy Could Be Next" Bitcoin Magazine points out two important new developments:
There are now 34 developers with commit rights to Ethereum's GitHub, up from the initial 1.
ETC is considering a major divergence in monetary policy from ETH to impose scarcity on its tokens.
I'll add a third difference that many in the community care about: ETH is migrating to Proof-of-Stake, while ETC is committed to maintaining Proof-of-Work. @heiditravels does a great job explaining the difference between Proof of Work vs Proof of Stake.
The jump in number of core developers for ETC speaks for itself. Every cryptocurrency lives and dies by those with the right talents developing its software.
Investors should take note of ETC's proposed change in monetary policy, the original inherited from ETH essentially has unlimited token production over time.
Ethereum's emission schedule releases a stable amount of new tokens each year. The project started off with a 72 million ether premine, allocated to presale investors, the Ethereum Foundation, and developers. Since then, about 13 million new ethers are mined each year; theoretically forever.
The ETC team is now proposing "a 20 percent reward reduction about every 2 years, so the supply will level off at some 200 million ETC around the year 2070 — with a hard cap of around 210 million ETC."
Speculating on ETC's Future
Forecasting is mostly art, some science; this is especially true for cryptocurrencies that lack valuation models. Nonetheless, recent developments and proposed changes in ETC seem bullish from a speculative perspective. 
More developers joining the community, a core team with a solid vision, and a token supply reduction are all positively related to value. What that value ultimately means is another question! At $85 million is the project already fairly valued? 
My hunch is that ETC's relative value to ETH will increase, perhaps substantially. This could mean ETC increasing faster than ETH, or ETH declining as part of that community migrates over to Classic. Or none of the above!
What are your thoughts? 
If you like this post, please upvote, resteem, or share below! Please check out my other articles and follow @finpunk to keep in touch with future content.
---
Rob Viglione is a PhD Candidate in Finance @UofSC with research interests in cryptofinance, asset pricing, and innovation. He is a former physicist, mercenary mathematician, and military officer with experience in satellite radar, space launch vehicles, and combat support intelligence. Currently a Principal at Key Force Consulting, LLC, a start-up consulting group in North Carolina, and Head of U.S. & Canada Ambassadors @BlockPay, Rob holds an MBA in Finance & Marketing and the PMP certification. He is a passionate libertarian who advocates peace, freedom, and respect for individual life.  
---
Image source: http://www.altcointoday.com/ethereum-classics-value-hypothesis/
Price chart source: https://coinmarketcap.com/