How to Convert Sai to Dai with TREZOR or Redeem ETH Collateral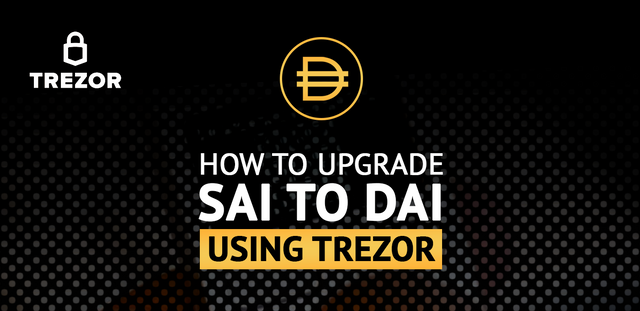 The Multi-Collateral DAI (MCD) is the newest upgrade from MakerDao that was released on November 18th, 2019. This new update includes many new features, minor name changes, and additional security. The Multi-Collateral token is now known as DAI, while the Collateral Debt Positions have been renamed to Vaults.
DAI token holders now have the ability to earn interest in their funds without any extra fees. The source of this interest is available due to the Stability Fees paid by anyone using Vaults to obtain loans. Additional crypto assets will also be included, as a vote from the community will determine which new token will be available.
On May 12th, 2020 the Single-Collateral protocol has been shutdown. If you are still holding Sai, you can redeem the collateral used to mint it.
The best method to upgrade your tokens is to download the browser extension MetaMask, which is available on Chrome, Firefox, Opera and Brave. Once you've installed it, set it up by entering a password for MetaMask. To connect your Trezor wallet, simply click on the right circle avatar, in the dropdown menu, select "Connect Hardware Wallet" and follow the instructions from there.
How to Convert Sai to Dai on TREZOR or Redeem ETH
Connect your Trezor to MetaMask browser Extension.
Click here to goto the Collateral Redeem Portal and connect with MetaMask
Enter how much Sai you want to redeem.
Submit the transaction, and your ETH will show up in the same Trezor Ethereum wallet after the Smart Contract transaction is confirmed.
Use your ETH to buy the new DAI from any decentralized exchange such as Oasis.
Trezor Hardware Wallet
Hardware wallets such as Trezor are one of the most convenient and safest options out there for storing your cryptocurrency. It's is a type of cryptocurrency wallet where you can store your private keys in a secure physical device, also known as a Cold Wallet.
Trezor was the very first cryptocurrency hardware wallet to hit the market, forming the basis of more intense and successful forms of security. This huge positive leap towards improved security has given the Trezor a great reputation, with instant success. Interestingly, it offered users the ability to use both secure cold storage as well as providing them with the convenience of a hot wallet.
The wallet itself is well-designed, water-resistant and tamper-proof making it a very reliable form of wallet making it incredibly popular with cryptocurrency investors. It comes in USB form, allowing it to be used on a computer or supported mobile device. Much like the Ledger, the Trezor also supports multiple currencies (over 1180 to be precise) making it fantastic for managing multiple forms of cryptocurrency simultaneously.
With a hardware wallet, even you don't see your private keys, these are stored in the device and you gain access to your crypto wallets by using a pin that you set up and have to physically enter on to the device.
In addition to a 24-word seed phrase and PIN access which are standard in most hardware wallets, Trezor also combines several other security measures in their wallets.
Recently reported, Kraken Security Labs has reported a way to extract seeds from both cryptocurrency hardware wallets offered by Trezor, the Trezor One and Trezor Model T. It's important to make sure to update the software to patch the bugs.