Jarvis Exchange. No borderline in trading📊
Good day, Steemians! Weeks had already past and today I'll gonna share with you guys, a newest project with a distinctive concept. Introducing, Jarvis! Yeah, sounds cool right? Not an Ironman nor Marvel character, but it is a unified blockchain ecosystem giving you access to a borderless financial world, that will;
Collateralize your Ether to borrow Dollars✓
Buy Apple stocks with Bitcoin✓
Trade Forex from a Litecoin deposit✓
Send Monero to an Ethereum address✓
Create, manage and share multi-assets portfolio with ease✓
Pay your bill with Google stocks✓

This framework allows to manage one's assets in a centralized or decentralized way, to access fiat, crypto, stocks, Forex and CFDs trading and a wide range of DApps. Users assets can be utilized as a medium of exchange or of payment, as collateral or as a liquidity pool.
The Jarvis Technology Framework includes licensed centralized and semi-decentralized exchanges with a multiple wallet structure with escrow functions and thats a very important when you put in an exchange. Also, the technology connects and makes interoperable a network of centralized and decentralized liquidity pools and protocols.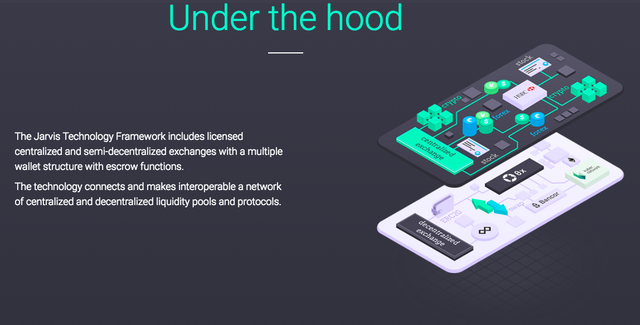 What we gonna expect was: Network of liquidity pools, Interoperability, Fiat and payment gateway, Asset collateralization, Centralized and decentralized, Infinitely scalable, Secure by design and Open API. Those things that I've notice when it comes to the uniqueness of the platform's features.


Interface
This features was also important as part of user friendliness. As mentioned on their cool website, the framework automates every process to deliver a seamless user experience similar to a centralized application. Its capabilities are delivered through two large-scale public facing applications. Both embed a conversational AI and are designed to abstract details of the underlying technology to allow everyone derive value from them.
One thing that I've notice on part of thier Special User Interface was the automation on how you communicate and transmit information in timely matter, and that was only via messaging type. Really nice!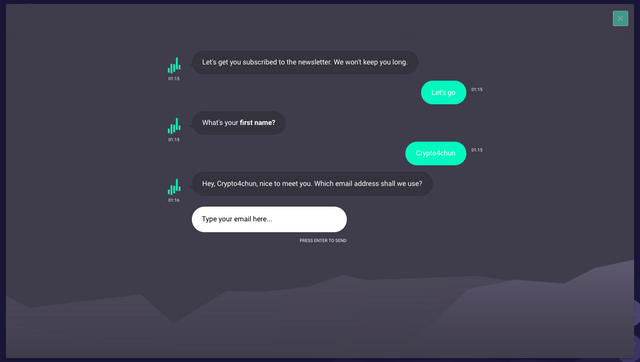 Jarvis Trader. Replace your broker and exchange. The web/desktop application gives access to any financial markets from users wallets with innovative trading and analytics tools. Another great features for me that all traders or even a non trader people was looking for, where we can navigate thru web/desktop application confidently.
Trade Forex, stocks, commodities, tokens, cryptos
Margin trading, auto-trading, stoploss order etc.
Connect it to other exchanges and brokers
Share and discuss with other traders

Jarvis Wallet. Replace your Fintech app. The mobile application puts users finances at their fingertips to enable quick deposits, exchanges, transfers or payments. This was the easy access thing, where anyone can do things, just by using the App installed to your handheld devices.
Link any asset to NFC/Jarvis Card
Collateralize asset to pay with a credit
Change your portfolio allocation in one click
Save and invest your spare change

Conclusion
There are a lot of exchanges already been stablished before, but the functionalities was very limited to every user. This time! Jarvis will gonna disrupt those. As every traders, investors or even user that started learning things that going around in financial technology can use it simultaneously and learn things beyond limitations by the help of this platform. I've been doing crypto the past year and I can say it for now that I just find out on what I'm looking for. It's just my personal insights and everyone of us has it's own perspective. Have a great weekend ahead!
Owh! wait, watch their cool video on instagram; https://www.instagram.com/p/Bp1I-aAiAdm/
Link on what I've been discussing: https://www.jarvis.exchange/
Their healthy telegram group: https://t.me/jarvisexchange
Facebook: https://www.facebook.com/jrvdg/?ref=bookmarks
Twitter: https://twitter.com/Jarvis_Edge
Medium: https://medium.com/@jarvisedge
Instagram: https://www.instagram.com/jarvis_io/
Bitcointalk: https://bitcointalk.org/index.php?topic=5062063.msg47520011#msg47520011