Time is not on your side, it is on no one's side,except you drag it.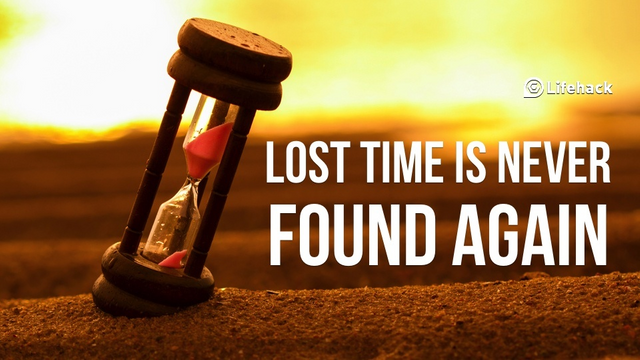 Time is a standard of measurement. It is no man's friend. I doubt if it intentionally tries to stay on anyone's side, unless you go by its rules. Time is like money. It slips away when you don't make a proper account of it. A human being can go bankrupt on time usage if you spend it lavishly on things that add no value or on things that doesn't save you enough time.
Mind you, little things, like checking the time when it is not necessary are big time wasters. If this is a time waster, then you probably now have an idea of how easy time can be squandered and mismanaged on TV, unnecessary calls, mood swings, e.t.c. When the little things add up, we would realize we wasted an aggregated time amounting to weeks if our time were to be edited thoroughly at the end of each year. At 50, many people would have wasted more than a year doing nothing productive.
More so, everything you do with your time ,no matter how much you are trying to make it happen within a particular frame will always try to make itself last longer than you pegged for it. This makes time wasting easy. That is why a whole day can go by, yet nothing truly productive has happened.
How can we be productive with our time:
Perform each of your daily tasks under the barest distraction, if possible, lock out distractions completely. This protects us from spending more time on things that were meant to take lesser time. It also reduces the possibilities of errors that can lead to unnecessary correction which creates new activities that eat away our time.
Have a daily goal of activities with a time frame attached to it when each of the activities will be achieved.
Separate Work and Play. Work first and play afterwards.
Try to do things that save you more time. If you have the money, employ a Personal Assistant, automate some of your work, use more of technologies and innovation that saves time and increases efficiency.
Respond less to your dopamine. Just because you have an instinctive feeling to always check your messages, mails and more does not mean you should. Have a time for checking mails, if it is not that time, no point checking unless you receive urgent mails. In case you receive urgent important beeps, learn to ignore the worthless messages and mails and try not to check your mails all the time. Make it periodic; checking your mails and messages every four to six hours each day is a good one for me.
Lastly, at the end of each day, take account.
Image Source: lifehack.org