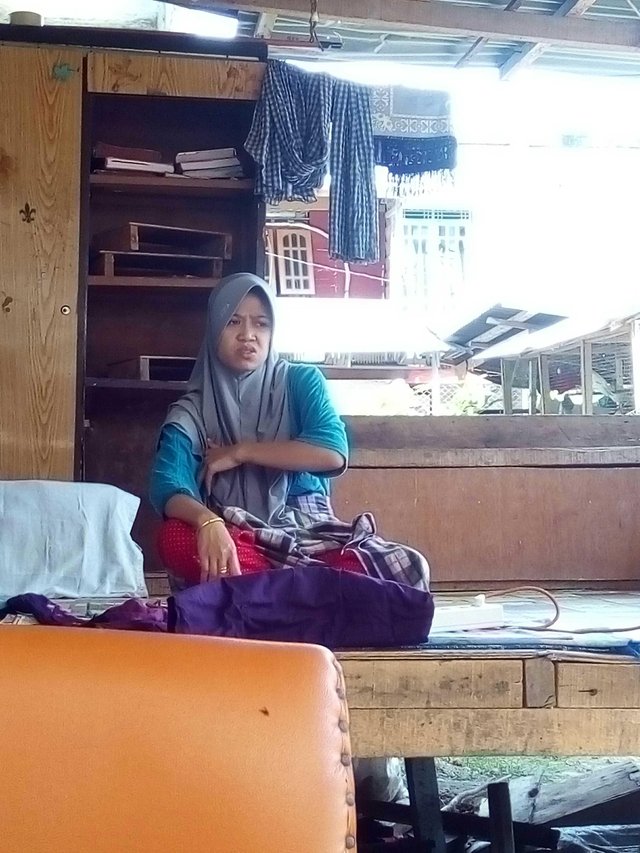 Everyone has never been asked to be loved, but it's okay to make it if that feeling is present. Feelings where you always want to meet him, always calm when looking and being near him. As a normal human being, of course he wants to feel this can be avenged by the people we love. But we never know whether he has the same feeling / not. I also never asked to feel what fell in love.
For the past few weeks my eyes have always been on one of the older brothers. Yes, he who is so kind, smart, serious, quiet, never makes trouble on campus, and he who looks spiritual. A tall, thin body, tanned skin, with glasses, and an oriental face. That figure is always imagined in this mind.
I was the one who saluted him when one of the students was always shunned because the student was seen as physically retarded and at that time only he wanted to accompany him. Himself is so good, like an angel. Yes, angels who always decorate this thought.
In one campus activity, some students have been obliged to take part in the camp and incidentally this activity involved me with him. The activity is like a camp in a villa that aims to increase the spirituality of each student. Indeed, I never thought in this camp I was a group with him. In my heart I thanked the Almighty because I had the opportunity to get to know him even further.
This heart cannot be expressed with anything when there is always beside me. Sitting beside him really makes me cool. We went through the session after the session, the game that made us closer. When there was a wet-wet game in the pool, he asked for help to bring his shoes because he was afraid of getting wet, because the other group members were silent, so this was my chance to attract his attention by helping to bring his shoes. Inwardly said "maybe this time I can only bring her shoes, but later I will help bring everything she has, whether her clothes, her briefcase and all her personal equipment", yes maybe that was something that crossed my mind and thought a bit silly. In fact, when I fell in love, everything changed to be beautiful, like snow falling in a city. And there was one more game that made me work together only and I never thought we won the game, maybe that's where we started to get chemistry.
It's been three days since the camp activities have passed, and today it's time to go home. It feels very tired, but I don't want to finish this activity because I still want to continue spending time together. Never mind finally arrived at home, only a few hours after I remember it again. Finally I ventured to start chatting with him. Starting from pretending to ask our group friends, that's where the conversation gets farther away and doesn't seem to be getting closer.
What I remember the most is when he said that he was lucky to be able to meet me at the basketball court yesterday afternoon. That's what makes me so prone to feeling something that can't be described with anything.
Once, he went out of town to meet his brother, I asked to bring souvenirs from him. Apparently it was true when he was back, he brought me souvenirs. He invited me to meet in a place to give the gift, but unfortunately it happened that that day I was having an obstacle, so I just gave the gift to be given to his neighbor.
Because his figure was so good, I finally ventured to express my feelings to him. The response only said that he was happy if someone was honest, but he could not give much. What puzzled me was what he said that he could not give much, I did not understand what he meant at all. Or maybe it's a subtle refusal, but I know it should be a risk because I have ventured to tell him.
But from the moment I expressed my feelings, he even avoided me. Why? Is it wrong if I have a taste with him? This heart has fallen too deep in his work, but why is it as if he is leaving? If only he knew how I felt when I first ventured to approach a man. I always try to start talking with him, always thinking about what topics I should discuss, and always try to get his heart. But all of that might just be a zero struggle.
Now every time we met, he seemed to not see me, always pretending not to see, he always turned his face away. From there I often cry. Why do you have the heart to move away from me? What's wrong with me? Is it possible that in your eyes I am not perfect, not pretty, not attractive? What is my fault so you go away?
Even though you move away from me, this heart does not reduce the slightest bit of my love for him, not at all, even the slightest bit I'm not hurt. Yes, I want to stay afloat, stay faithful, wait until you believe how much this love is.
I here can only hope that you can reciprocate my feelings.
My struggle may be in vain in your eyes but I always hope that your heart can choose me.