So today may mark the beginning of a new chapter for me with Steem! I am writing this post not from my browser in steemit.com, but from the new desktop application for Steem called Surfer, put together by @good-karma - the creator of the eSteem app for mobile devices.. So what's all the fuss about?
Well, for a start, the text editor I am typing this on is more complete/advanced than the editors I am used to using for steem - No more Markdown codes needed for for text formatting or inserting images!
Installation from the downloaded files in Github for the project was simple and quick. You can grab the files from here.
Here's a screenshot of the text editor: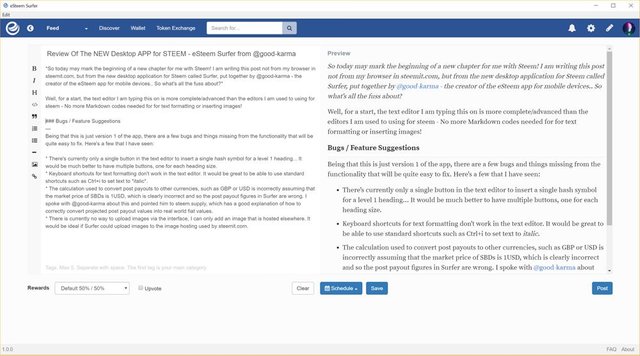 Great features
---
Here's a few of the highlights I have seen so far in the app (I have tested both on Linux and Windows 10 and so far haven't found any difference between them):
Posts can be scheduled, so that they post at a specific time, which is really great if you know which times are most effective for you in your timezone. Maybe you post in English but live somewhere that English is not the main language, for example - you need to post at a time when most English speakers are going to be awake, but you might be asleep at that time!
My web browser doesn't need to be open for me to use Steem, which means that I can use low computing resources to use Steem, which means that I can use my computer to do other resource intensive things and still use Steem.
The text editor almost removes the need for markdown code (but not quite).
I can save multiple drafts, meaning that I don't need to use an external editor to manage my posts before I post them! Bonus!
I can switch betwen different pages/sections in the app and return back to my draft without losing work.
I can convert post payout prices into my local currency automatically! Great!
I can bookmark pages in a bookmark list.
I can add friends to a favourites list.
A trading graph for Steem / BTC is provided in the interface.
It is possible to view all mentions, votes, replies and other activity in their own list (Finally!)
Specific values are now shown in the wallet for Delegations IN and OUT, instead of a summed total.. Which is useful to know what is going on with your delegation level.


Bugs / Feature Suggestions
---
Being that this is just version 1 of the app, there are a few bugs and things missing from the functionality that will be quite easy to fix. Here's a few that I have seen:
There's currently only a single button in the text editor to insert a single hash symbol for a level 1 heading... It would be much better to have multiple buttons, one for each heading size.
Keyboard shortcuts for text formatting don't work in the text editor. It would be great to be able to use standard shortcuts such as Ctrl+i to set text to italic.
The calculation used to convert post payouts to other currencies, such as GBP or USD is incorrectly assuming that the market price of SBDs is 1USD, which is clearly incorrect and so the post payout figures in Surfer are wrong. I spoke with @good-karma about this and pointed him to steem.supply, which has a good explanation of how to correctly convert projected post payout values into real world fiat values.
There is currently no way to upload images via the interface, I can only add an image that is hosted elsewhere. It would be ideal if Surfer could upload images to the image hosting used by steemit.com.
Clicking 'save' for a draft more than once, results in new drafts each time. This is not the expected behaviour, as in every other app doing this would result in the saved version of the current draft being updated, not a new draft (copy) being created.
Tooltips over the shortcuts next to the text in put field would be nice.
If I upvote posts I can only upvote at 100%, there is no slider for lower percentages.
If I unvote a post, the value for the post payout and also the number of votes for the post are not updated (reduced).
There is an option to view 'Leaderboard' activity which shows users with a number / score next to them, but I have no clue what this refers to. More descriptive information is needed there.
I have not yet seen any kind of realtime notifications in the app, such as for replies or upvotes - that would be great.
The 'Discover' page is a bit odd in that it includes people I am already following so I can't really 'discover' them. Also, when I click on the user images on that page, nothing happens, even though the cursor turns to a hand.
If I search for my username in the search tool, I see myself in the list of profiles at the top, but the actual list of posts that appears underneath contains nothing by me or that mentions me.. soo.. it's not very useful!
A posting signature would be AWESOME! All we need is a way to store a small amount of text in the app and for it to be (optionally) auto added to new post drafts at the end. :)
Adding a new line in the text editor does not always result in a new line being visible in the preview (and presumably in the finished post. I have had to add BR HTML elements in a few places to get the spacing right. Steemit.com does not have this issue.
It would be great to be able to see the global URL for the post once it has bee posted to the blockchain. If I want to link people to my post in comments, I'm not sure how to get it's address to point them to it).
The scheduled post I made did not actually post and I had no notification that it didn't post. When I converted it back to a draft, the list of tags had been changed so that commas were in the tag list instead of spaces.
Summation
---
Overall, I am impressed with this latest addition to the Steem Eco-system. I will definitely be looking at testing out the mobile Esteem app on my tablet soon too. :)
You can read more details about this app in @good-karma's post about it here.
Wishing you well,
Ura Soul
Vote @ura-soul for Steem Witness!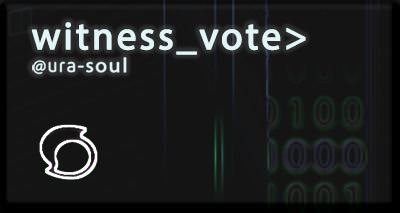 (Witnesses are the computer servers that run the Steem Blockchain.
Without witnesses there is no Steem, Steemit, DTube, Utopian or
Busy... You can really help Steem by making your 30 witness votes count!
Don't forget, there are more than the 50 witnesses you see on the witness voting page in steemit.com)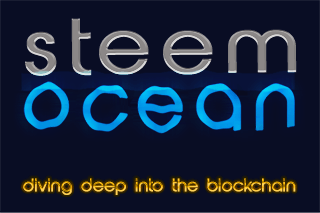 Find out your voter rank position at steemocean.com!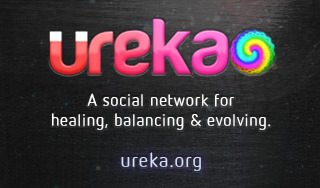 I run a social network too!