Food for suriah 🍪 Makanan Untuk Suriah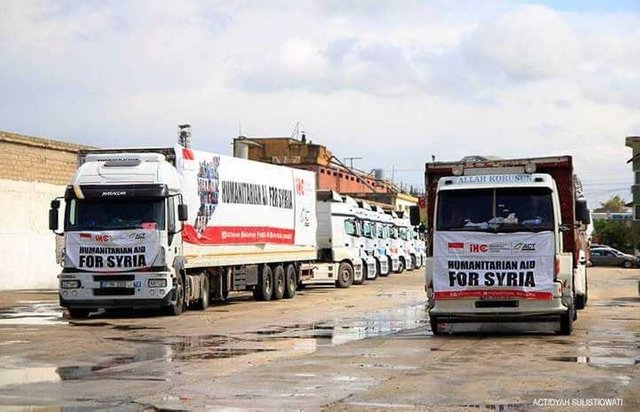 In 2018, the three-week ACT supported Syrian refugees, to get a response to the high intensity of conflict that re-integrated in Syria. Tens of thousands of ready-to-eat meals along with other basic necessities will be given to them, the aid will go into refugee camps, towers, or underground protection.
Along with that, a long-term humanitarian aid program for Syrian refugees was rolled out. Indonesia Humanitarian Center (IHC), a food and logistics supply hub for Syrian refugees, officially operates on Friday (16/3). Five trucks carrying about 75 tons of logistical aid entered the IHC warehouse in Reyhanli, Turkey.
Pada 2018, ACT tiga minggu mendukung pengungsi Suriah, untuk mendapatkan respon terhadap intensitas konflik yang tinggi yang kembali terintegrasi di Suriah. Puluhan ribu makanan siap saji bersama dengan kebutuhan dasar lainnya akan diberikan kepada mereka, bantuan akan masuk ke kamp pengungsian, menara, atau perlindungan bawah tanah.
Seiring dengan itu, program bantuan kemanusiaan jangka panjang untuk pengungsi Suriah diluncurkan. Pusat Kemanusiaan Indonesia (IHC), pusat pasokan makanan dan logistik bagi para pengungsi Suriah, secara resmi beroperasi pada hari Jumat (16/3). Lima truk yang membawa sekitar 75 ton bantuan logistik memasuki gudang IHC di Reyhanli, Turki.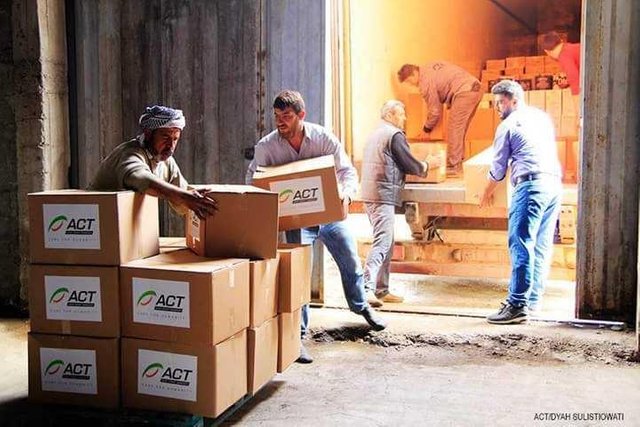 The process of loading and unloading the logistics from the truck into the IHC warehouse will start on the first day of IHC operations. Tens of tons of logistical aid is converted into 5,000 packages containing food and other basic necessities.
Please pray and best support from friends
@staemians
glorious, hopefully in the month of Ramadan tomorrow IHC will always be with the Syrian refugees on the border of Turkey and Syria. Insha Allah, thousands of food packages will be distributed back to Syrian refugees to undergo Ramadhan.
Proses pemuatan dan pembongkaran logistik dari truk ke gudang IHC akan dimulai pada hari pertama operasi IHC. Puluhan ton bantuan logistik diubah menjadi 5.000 paket yang berisi makanan dan kebutuhan dasar lainnya.
Tolong doakan dan dukungan terbaik dari Sahabat @staemians yang mulia, semoga di bulan Ramadan besok IHC akan selalu bersama pengungsi Suriah di perbatasan Turki dan Suriah. Insya Allah, ribuan paket makanan akan didistribusikan kembali ke pengungsi Suriah untuk menjalani Ramadhan.