Product Description P226 and Glock🎯Penjelasan Produk P226 dan Glock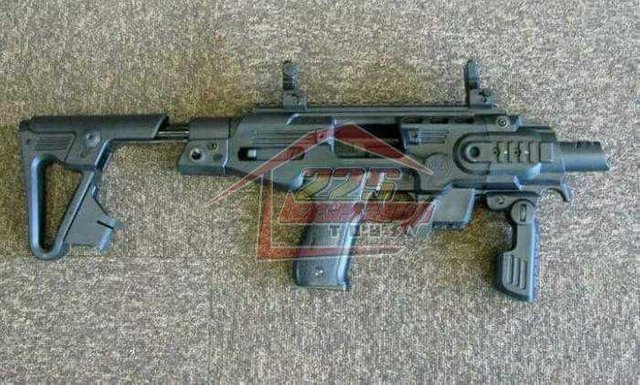 Description :
The RONI SI1 Pistol-Carbine Conversion is ergonomic designed and equipped with ambidextrous front and rear sling mounts, and large charging handle. Charging the weapon is easy and it is user friendly to both left and right handed operators.
It is integrated with a CNC machined Aluminum top and 2 side rails for mounting accessories, and a Nylon Fiber lower rail to mount any forearm grip. The RONI is equipped with an adjustable 3 position buttstock, and features a spare magazine holder for faster reloading. The adjustable cheek rest on the buttstock is removable. The RONI Pistol Carbine Conversion includes a pair of flip-up sights, a detachable folding forearm grip and a charging handle.
Keterangan:
Konversi RONI SI1 Pistol-Carbine dirancang secara ergonomis dan dilengkapi dengan dudukan depan dan sling, serta pegangan pengisian besar. Pengisian senjata itu mudah dan mudah oleh kedua operator tangan kiri dan kanan.
Hal ini terintegrasi dengan bagian atas mesin CNC Aluminium dan 2 sisi untuk pemasangan aksesoris, dan rel Nylon Fiber yang lebih berbeda untuk menciptakan pegangan bawah. RONI dilengkapi dengan buttstock 3 posisi yang dapat disesuaikan, dan dilengkapi dengan pemegang untuk cadangan yang lebih cepat. Istirahat pipi yang dapat diatur pada buttstock dapat dilepas. The RONI Pistol Carbine Conversion termasuk flip flip, pegangan lengan lipat dilepas dan pegangan pengisian.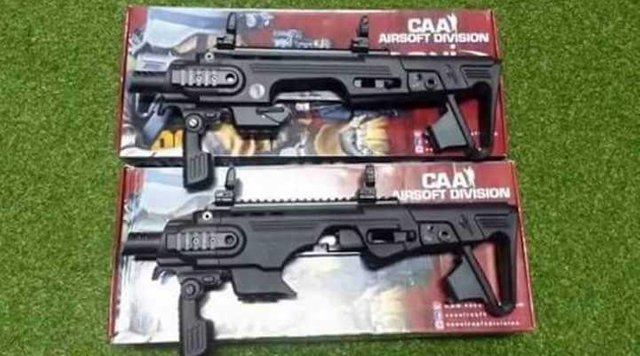 For P226 Compatible with:
Tokyo Marui; WE; KJ Works Gas Blowback P226 Simple modification is needed for KSC; KWA Gas Blowback P226.
- Top rail for mounting sights or aiming devices
- 3 Side / Bottom rails for additional accessories
- Retractable stock with adjustable cheek pad
- Removable folding foregrip- Folding sight set included
Main Material:
Nylon Fiber; Aluminum Weight: 3000g, Min. Length: 500mm, Max. Lenght: 575mm
Untuk P226 cocok dengan:
Tokyo Marui; KITA; KKS Bencana Gas P226 Modifikasi sederhana yang dibutuhkan untuk KSC; KWA Gas Blowback P226
- Rel atas untuk memasang bidikan atau perangkat yang mengarah
- 3 Side / Bottom rails untuk aksesori tambahan
- Retractable stock dengan pad pipi yang dapat disesuaikan
- Foregrip lipat dilepas
- Setel pandangan disertakan.
Bahan Utama:
Serat Nilon; Aluminium Berat: 3000g, Min. Panjang: 500mm, Max. Lenght: 575mm
For GLOCK :
Nylon Fiber & Aluminum Construction
- Package Include G17 Airsoft GBB Pistol
- For Tokyo Marui G17, 18C / KSC G17, 18C, 19, 23F / WE G17, 18C, 19 Series Airsoft Gas Blow Back GBB Pistol
- Easy Installation (Gun Disassembly is not required)
- Extendable Buttstock equipped (Adjustable the Cheek rest)
- Picatinny 20mm Top & Side Rail for optics, flashlight, laser, etc.
- Foldable Foregrip
- Black Color
Untuk GLOCK:

Konstruksi Serat & Aluminium Nylon
Paket termasuk G17 Airsoft GBB Pistol Untuk Tokyo Marui G17, 18C / KSC G17, 18C, 19, 23F / WE G17, 18C, 19 Seri Airsoft Gas Blow Kembali GBB Pistol
Instalasi Mudah (Gun Disassembly tidak diperlukan)
Pernahpanjang buttstock dilengkapi (Adjustable sisa Pipi)
Picatinny 20mm Top & Side Rail untuk optik, senter, laser, dll.
Lipat Foregrip
Warna hitam
Reservations can Wa.081283030389 The response is slow.
Link source