22 May The Catholic Church mentions Saint Rita of Cascia - patron of difficult and hopeless matters.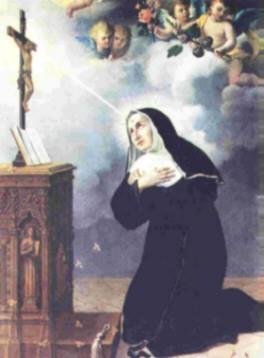 source
The name Rita comes from the Italian name Margarita.
Rita was born in 1381 in the Italian town of Rocca Porena, near Cascia in Umbria, as the only child of Antoni and Amta Lotti.
At the age of 12, she was married to a fiery and brutal man. She gave birth to two sons.
When she was 28, her husband was murdered. Both sons who inherited the father's violent temperament wanted to avenge his death. Rita, as a very devout person, could not accept it, so she begged God to take her sons to her. Her prayers were answered, both sons died of plague.
Rita, despite her problems, was admitted to the Augustinian monastery in Cascii. It was an unusual matter, because up to now only virgins could enter the convent. Legend has it that Rita's entry into the convent had a wonderful character - she was moved to the monastery during sleep by St. John the Baptist and Saint Augustine.
One day during the sermon of the Lord's passion, on the forehead of Rita appeared stigmata reminiscent of wounds that arose due to the imposition of a crown of thorns on the head of Christ.
Rita's head wounds never healed. Rita was also suffering from tuberculosis, but despite this she lived a very severe life, she prayed and fasted a lot.
Rita died in 1457 in Cascii. There her untouched body remains to this day.
Apparently, for a long time around was the smell of roses.
Her cult was approved in 1628 by Pope Urban VIII, and she was canonized in 1900.


my post on whaleshares




My articles can also be found on Publish0x.com
https://www.publish0x.com?a=3YaOypGdxq
Earn HYDRO and BNTY tokens