They Need Help part II by @muhammadarif22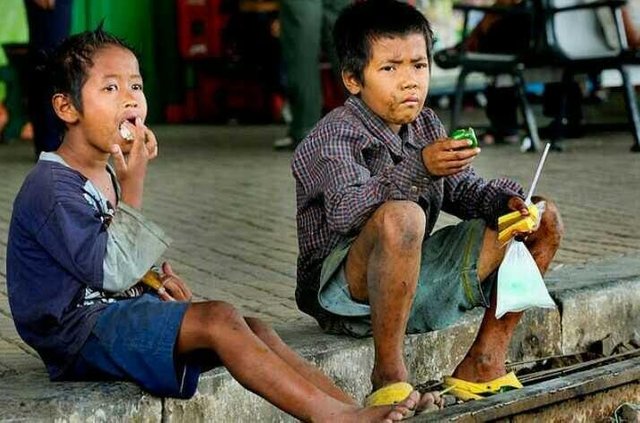 ---
---
The problem of street children is never inexhaustible. Broken grows lost change, dead one grows a thousand. The proverbs may illustrate how difficult it is to reduce street children in Jakarta. Data shows that the number of street children roaming the capital reaches 4,000 children. Other sources actually showed a more fantastic figure, the figure reached 12,000 children up 50% from year to year before that only 8,000 children. This number is high compared to the average number of street children in 12 major cities reaching more than 100,000 children.
Street children in Jakarta are scattered in various strategic locations, but the most accessible location of street children is around the red lights. Usually they are singing, begging, cleaning glass car, or other activities that can bring rupiah. It is said that the children are mostly large from outside Jakarta.
The story of the sweetness of Jakarta life, inviting the migrants from various parts of Indonesia and from various walks of life. Not to forget also the immigrants of children who only capitalize determination alone. They came with millions of hopes to try their fortune in the capital. But whatever the power of Jakarta is not as friendly as they think. "Who sends Jakarta to come", that is a fragment of the temple of the song that might illustrate how unfriendly Jakarta for the migrants.
In addition to the immigrants, there are also those who become street children because abandoned by their parents. They fought themselves to live in this pitiless city.
Facing the waves of street children are so big, DKI Jakarta Provincial Government has actually made various efforts. From curbing efforts, coaching, giving training to providing shelter for them. However, it seems that efforts have been made is not enough. It's still so easy to find street children all around us.
The government seems to have to work even harder. The constitution mandates that the poor and abandoned children are kept by the state. This means that those who live abandoned (including children living on the streets) must also be of concern to the state. However, it should also be understood that the ability of the country today is limited.
Solutions that can be done to overcome street children include:
Restrict urbanization flows (including the inflow of children) to Jakarta, by promoting yustisi operations, strengthening coordination with home areas, returning street children to their home regions.

Identify the root of the problem to solve the problem of street children by touching on the source of the problem.

Returning street children to school. It's not easy. There should be special treatment for them. Each street child certainly has a specific problem. So the approach taken to return them to school must also be done in a specific way too.

Providing protection to street children as stated in Law No. 23 of 2002 on Child Protection also mandates that child protection should be conducted with the aim of ensuring the fulfillment of children's rights in order to live, grow, develop and participate optimally in accordance with human dignity, and protection from violence and discrimination, for the realization of quality Indonesian children, morality and prosperity.

Creating programs that are responsive to child development, including street children.

Enforcing the law against anyone who exploits the existence of street children in the capital.

Building a common awareness that the problem of street children sesunggungnya is a shared responsibility between government, community, family and parents.
THANK FOR VISIT MY BLOG BEST REGARDS @muhammadarif22