SUMMER ZOODLES 🥑🌿🥑
Hello my Dearest Foodies,
It's been a long time since I made zoodles, which was last summer around this time. Well this is the only time I crave this type of food, because it's light and refreshing. But of course, very flavorful too full of nutrients and protein. The only downside it has, it is short lasting. Which means, it has to be eaten fresh, so don't make more than you can eat right away. Although, it's still edible the next day, it just doesn't look so fresh anymore. But I am sure you are not going to have that problem, because there will be nothing left once you make it, 🥑😄🥑
Wish you a wonderful weekend 💛😊💛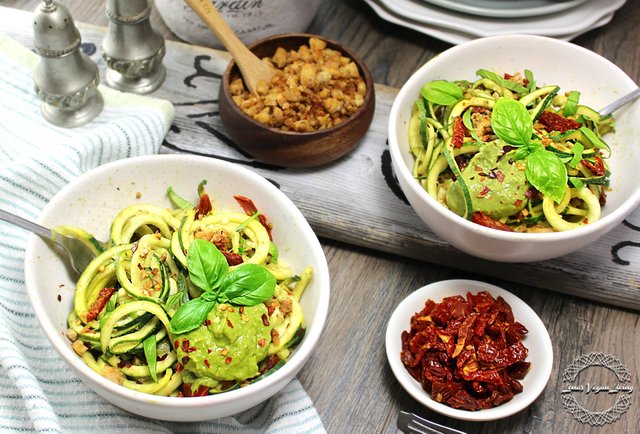 SUMMER ZOODLES
Zucchini Noodles with Pesto, Tempeh Bacon Bits & Sun dried Tomatoes
Vegan – Gluten Free
Author: Lena's Vegan Living
INGREDIENTS for 2 SERVINGS
• Zucchini 2
• Sun dried tomatoes ¼ cup (sliced)
• Dried chili peppers to taste
• Himalayan pink salt to taste
PROCESS
• Wash and cut the ends of each zucchini.
• Spiralize with SPIRALIZER.
• In a bowl lightly toss with pesto and divide into your bowls.
• Top with tempeh bacon bits, sun dried tomatoes and more pesto.
• You may add vegan parmesan.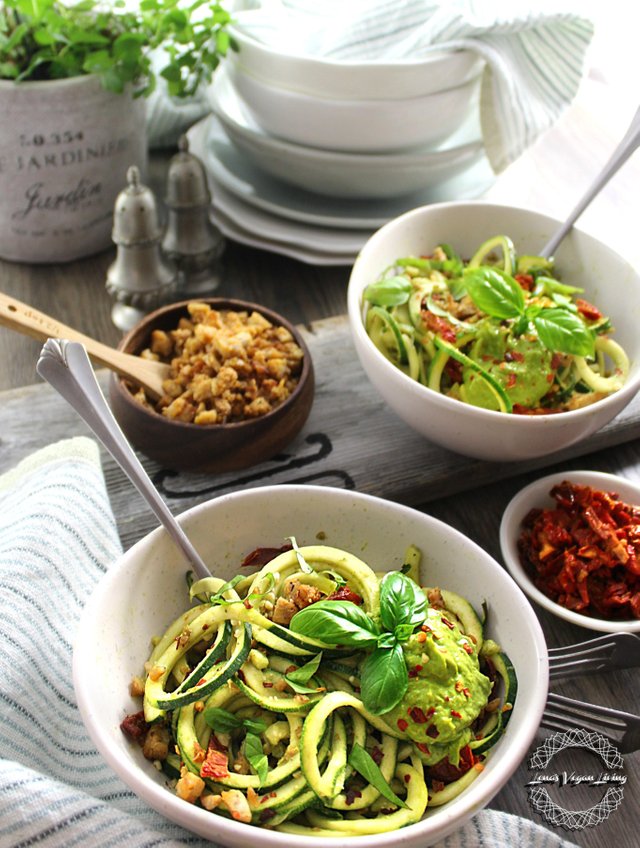 PESTO
• Fresh basil leaves 1 cup
• Avocado 1 small or ½ large
• Juice from ½ lemon
• Nutritional yeast 2tbs
• Garlic powder to taste
• Black pepper to taste
• Himalayan pink salt to taste
• Water ¼ cup (you may add more if needed)
Blend all in a blender until smooth.
TEMPEH BACON BITS
• Tempeh 125gr (diced)
• Low sodium tamari 1tbs
• Garlic powder to taste
• Smoke liquid
• Grape seed oil ¼ cup
VEGAN PARMESAN RECIPE
• Raw cashews ¼ cup
• Raw almonds ¼ cup
• Nutritional yeast ¼ cup
• Garlic powder to taste
• Himalayan pink salt to taste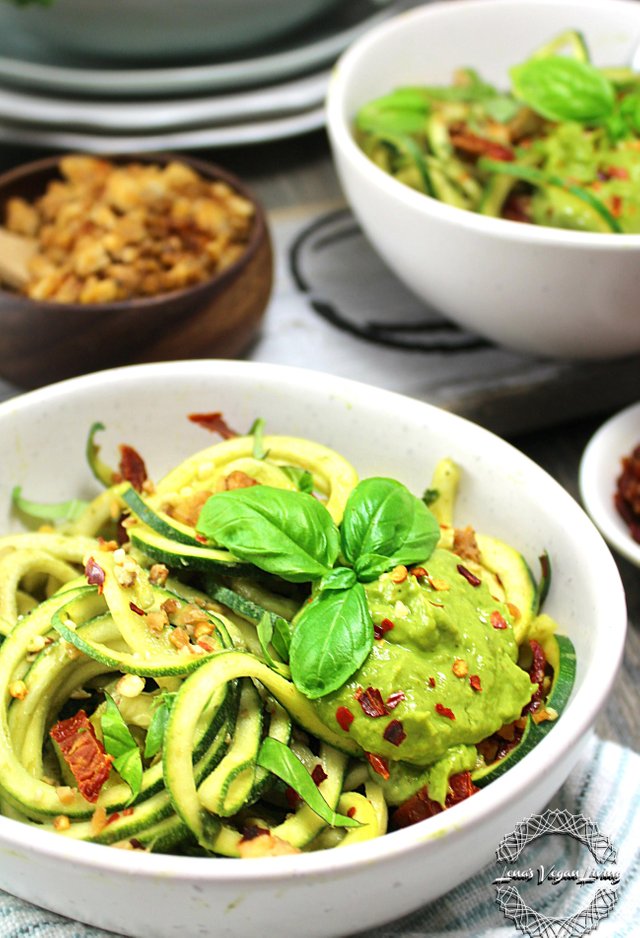 THANK YOU FOR VISITING & BON APPETIT
FOR RECIPES PLEASE VISIT MY Lena's Vegan Living Blog


|