SUMMER CHIA PUDDING PARFAIT 🍒💚🍒
Hello my Dearest Foodies,
Cherries and chocolate is match made in heaven, would you agree? Add chia and quinoa to the mix and you have a superfood delight for breakfast or snack.
I wish you a wonderful week, enjoy the bounty of summer!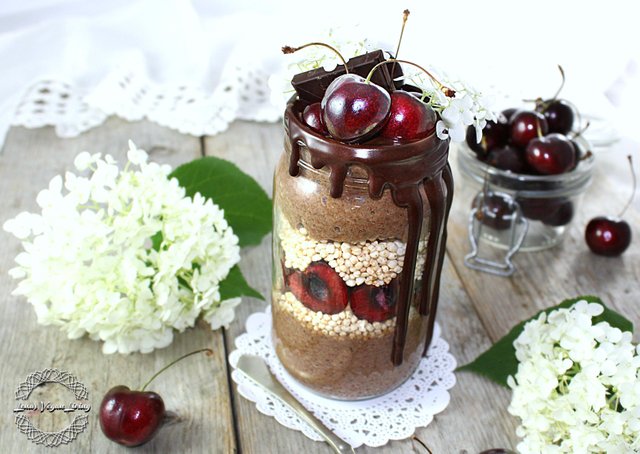 SUMMER CHIA PUDDING PARFAIT
Chia pudding with Cacao powder, Quinoa puffs, Cherries & Chocolate
Vegan – Gluten Free – Refined sugar Free
Author: Lena's Vegan Living
INGREDIENTS for 2 servings
• White Chia 1/3 cup
• Canned fat coconut milk 1 ½ cup
• Cacao powder 1 ½ tbs
• Maple syrup ¼ cup (you may add more if you like)
• Quinoa puffs ¾ cup
• Cherries 1 cup cut in half and pitted (leave few for decoration)
• 2 jars
PROCESS
• Mix the coconut milk with Chia, cacao powder and maple syrup thoroughly in a bowl.
• Leave it in the refrigerator for 1 hour.
• When ready, pour into 1/3 of each jar.
• Add about 2 tbs of quinoa puffs and cherry halves.
• Top with more quinoa puffs and chia puddings.
• Decorate with chocolate drizzle and cherries.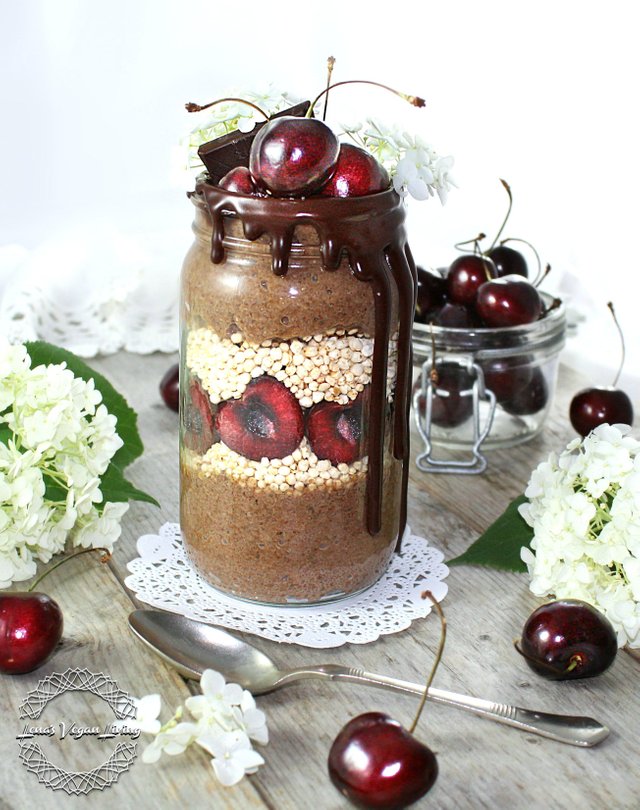 CHOCOLATE DRIZZLE
• Dark chocolate ¼ cup
• Canned fat coconut milk ¼ cup
• Maple syrup 1 tbs
PROCESS
• Melt the chocolate above steam.
• Take it of the heat and the milk with maples syrup and whisk until smooth.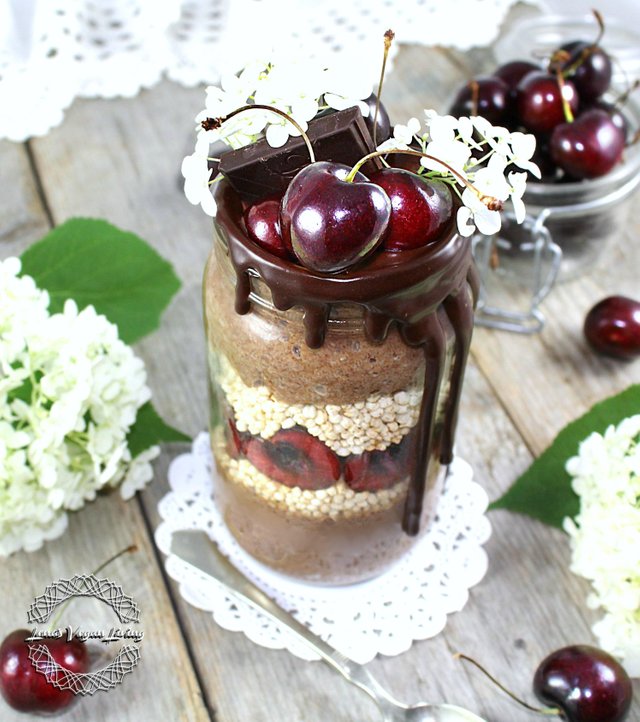 THANK YOU FOR VISITING & BON APPETIT
FOR RECIPES PLEASE VISIT MY Lena's Vegan Living Blog


|