SPRING RAMEN 🌿💛🌿
Hello my Dearest Foodies,
I hope you had a joyful long weekend, lots of delicious food and beautiful weather. Well I can't complain about he food, lol, but the weather was gloomy and rainy. However, today is finally sunny and warmer, but tomorrow is going t rain again. Oh well, enough about weather.
I have this very flavorful with fishy taste without the fish, Ramen soup, lol. It's quite amazing what seaweed can do. Not to forget the tempeh, that is one of the healthiest soy based product, high in protein and tasty.
I hope you try it and I wish you a wonderful week 😃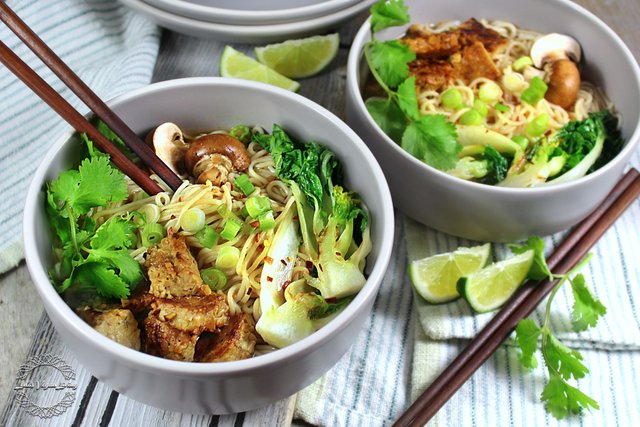 SPRING RAMEN
Ramen with Tempeh & Veggies
Vegan – Gluten Free
Author: Lena's Vegan Living
INGREDIENTS for 4
BROTH
• Low sodium organic veggie broth 4 cups
• Nori sheet 1 (cut into smaller pieces)
• Lemon grass 1 (washed and cut into 1inch long pieces)
• Ginger fresh or powder 1 tsp
• Garlick powder to taste
• Chilli paste to taste
• Low sodium Tamari ¼ cup
• Himalayan pink salt to taste
• Sesame seed oil 1tsp
Bring the veggie broth into a boil and add all the ingredients except oil.
Turn down the heat and let it simmer for 10min, take it off the heat, add the oil and set aside. Remove the Nori sheets and lemon grass before serving.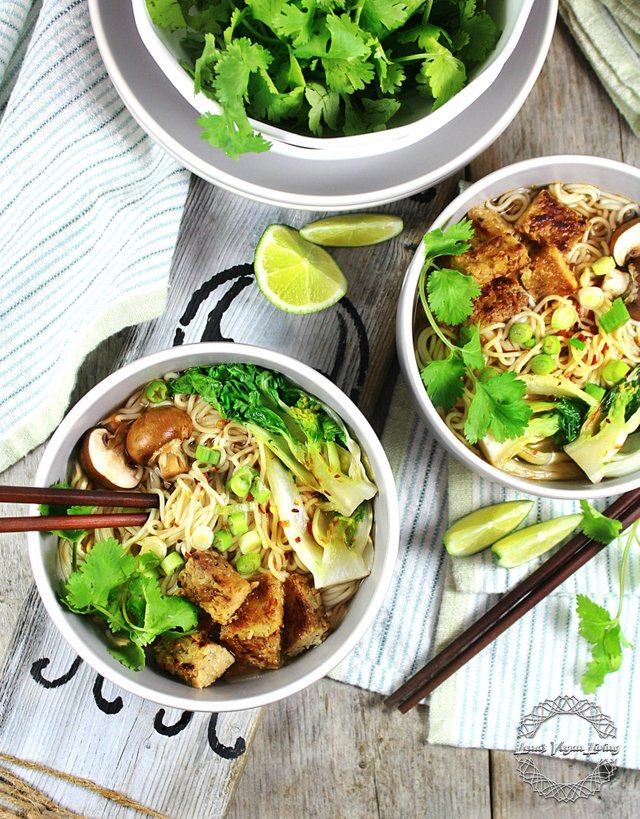 ADDITIONAL INGREDIENTS
• Millet & Brown Rice Ramen (or noodles of your choice)
• Bok Choy 4 (cut in half)
• Tempeh 150gr (cut into slices)
• Mushrooms
• Cilantro 1 cup (large stems removed)
• Scallions 2 (sliced)
PROCESS
• Boil the noodles according the instructions on the package.
• Marinade Tempeh slices in ¼ cup tamari and ½ tsp garlic powder for 6 hours or overnight.
• When ready, sauté on few drops of heated oil, few minutes on each side until golden.
• Cut them into squares before serving.
• Lightly sauté or steam the Bok choy.
• Fill your bowls with noodles, add veggies pour broth on top and serve.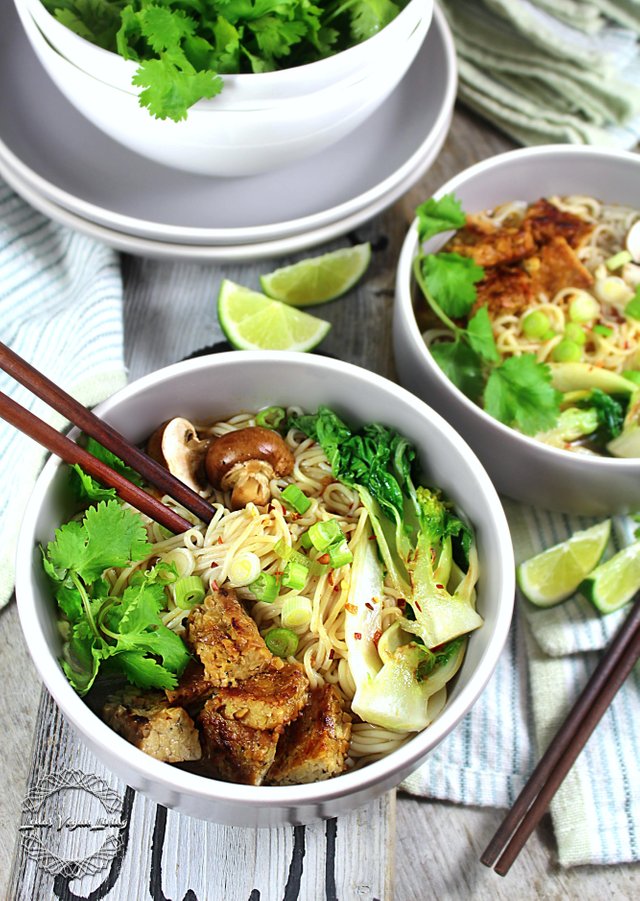 THANK YOU FOR VISITING & BON APPETIT
FOR RECIPES PLEASE VISIT MY Lena's Vegan Living Blog


|