Hello my Dearest Foodies,
Italian food is in season all year round, at least for me, lol. However, lasagna being a comfort food, could be just perfect for the upcoming season.
Lots of people already made their tomato sauce for the winter, I know my neighbors and my sister in Slovakia did, lol. Well I don't have the space in my tiny apartment to store anything for winter, so the sauce I made I used right away for this delicious lasagna.
Maybe you even have tomatoes from your own garden that you can use for this recipe. Or you already made your own sauce, which is perfect as well. It really is up to you. I am sure it will be very tasty either way.
Enjoy your weekend and eat your veggies 🍅🌿🍅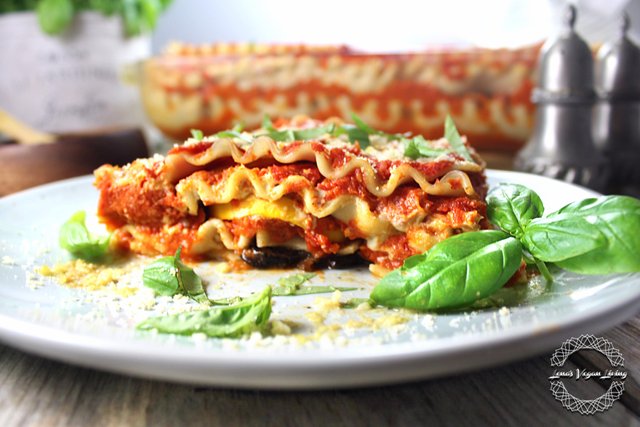 AUTUMN LASAGNA
Brown Rice Pasta with Homemade Tomato Sauce, Zucchini, Mushrooms & Cashew Cream
Vegan – Gluten Free
Author: Lena's Vegan Living
INGREDIENTS
• Brown rice lasagna 9pc (or pasta of your choice)
• Tomato sauce 3 cups
• Cashew cream 2cups
• Large yellow zucchini (sliced thinly)
• Cremini mushrooms 150gr - 2cups (or mushrooms for your choice, sliced)
• Fresh basil leaves ½ cup (diced)
• Vegan parmesan 2tbs
• Himalayan Pink salt to taste
• Black pepper to taste
• Casserole dish (medium size)
PROCESS
• Sauté mushrooms with salt and pepper on a frying pan until golden brown and set aside.
• Preheat oven to 350F (or temperature on the cooking instructions of your pasta)
• Apply a thin layer of tomato sauce on the bottom of casserole dish and three sheets of pasta side by side. Do not overlap.
• Apply another layer of tomato sauce, this time a lot thicker.
• Add basil and mushrooms on top.
• Add a layer of zucchini side by side and cover with cashew cream. You may add little bit of salt and pepper for zucchini. Top with three pasta sheets.
• Apply tomato sauce, basil and another layer of zucchini side by side.
• Cover with tomato sauce and basil again.
• Apply cashew cream on top of tomato sauce and top with last layer of pasta. (You may precook the top layer first, for couple minutes in water.
• When ready, apply thick layer of tomato sauce and cover with lid or tinfoil.
• Bake for 30min (or based on the cooking instructions of your pasta)
• When ready, take off the cover and bake 15 min longer.
• Before serving, let it cool down for 10 min, sprinkle with fresh basil and vegan parmesan.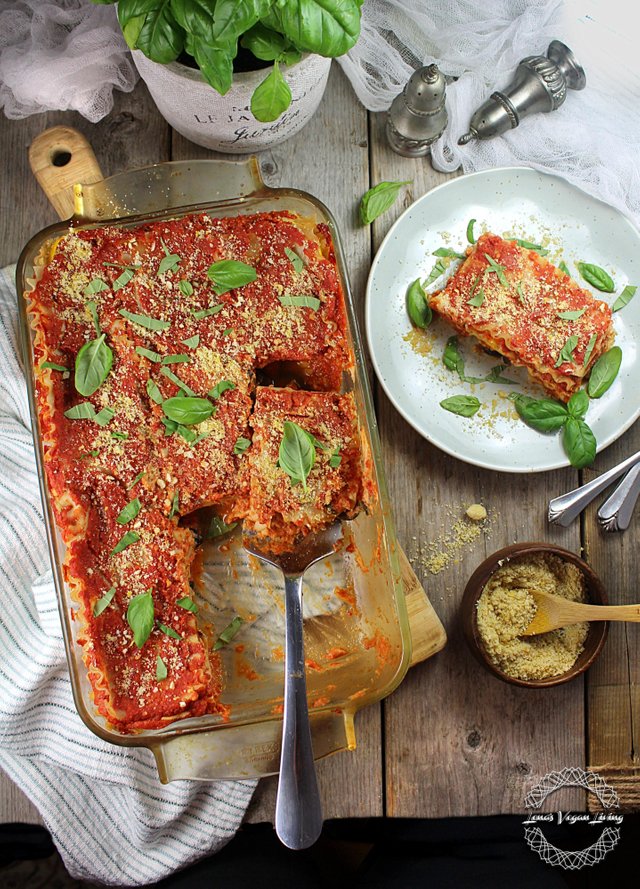 TOMATO SAUCE
• Roma tomatoes or tomatoes on vine 1 kg – 2lb
• Sundried tomatoes 2 cups (oil free, soaked for 15min in two cups of water. Do not rinse)
• Garlic 6 cloves cut in halves
• Garlic powder to 1tsp
• Dry basil 1tbs
• Himalayan pink salt to taste
• Cayenne pepper to taste
• Grape seed oil ¼ cup
• Parchment paper
PROCESS
• Preheat the oven to 320F.
• Cut tomatoes into halves and spread side by side on baking sheet lined with parchment paper.
• Insert garlic cloves in between, add salt and brush lightly with oil.
• Bake for 1 hour.
• When ready, let it cool down.
• In the meantime, blend sundried tomatoes in a blender with water and garlic powder.
• Add the oven roasted tomatoes and blend all together until smooth. You may add water if needed.
• Adjust the taste by adding salt, dry basil and cayenne paper if you like and set aside.
CASHEW CREAM
• Cashews 2 cups (soaked for 4 hours)
• Juice from 1 lemon
• Nutritional yeas 1tbs
• Garlic powder to taste
• Himalayan pink salt to taste
• Water 1cup (you may add more if needed)
Blend all in the blender until smooth.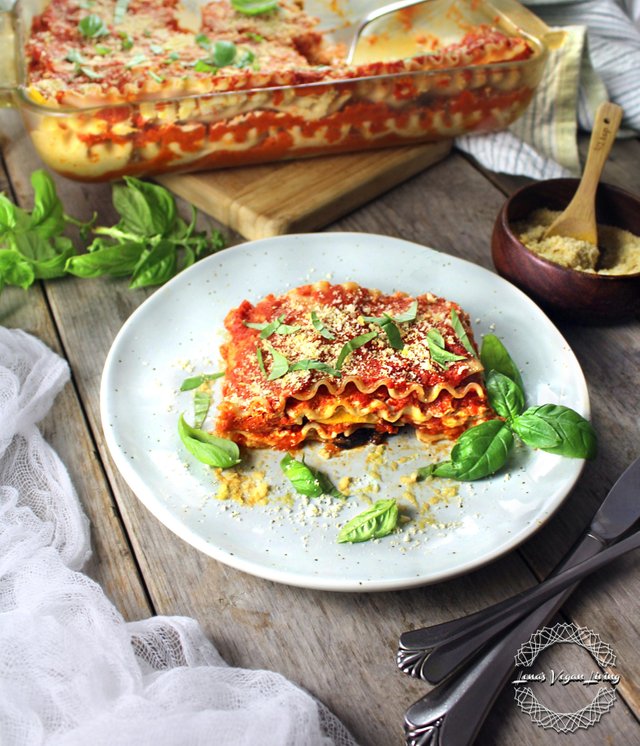 THANK YOU FOR VISITING & BON APPETIT
FOR RECIPES PLEASE VISIT MY Lena's Vegan Living Blog


|