This is my entry for #treetuesday hosted by @old-guys-photos. Wat Samphraya is an old Buddhist temple built on the long neglected small ruin of an old temple from the Ayutthaya Period. But, it became well established and had important renovation during the Reign of King Rama 3, almost two hundred years ago.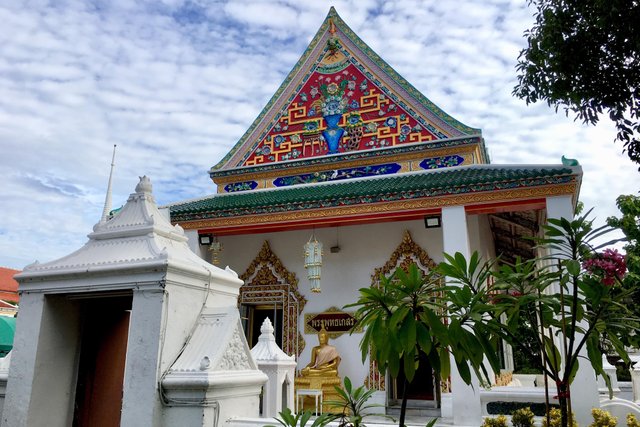 So, the old trees in this temple are very old, some of which had been struck by lightings ten years ago. The enormous branches were broken and fell onto several cars parking under the enormous tree. This tree had been cut down and removed after the incident. But there are still a few huge trees at the other end of the temple ground.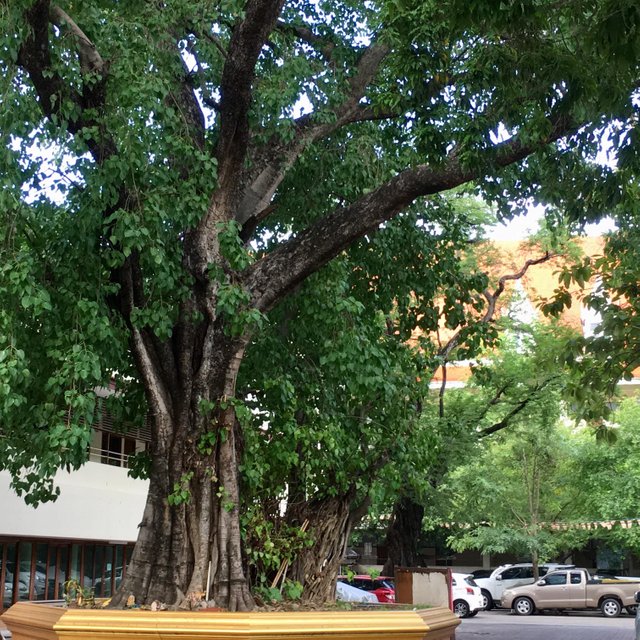 This Bodhi tree or Po tree is over a hundred years old. Buddhists revere and pay respect to Bodhi trees as the Buddha became enlightened while meditating under a Bodhi tree in India over two thousand years ago. In the old days,the seeds from the original or historic Bodhi tree have been given as gifts to various Kings in Buddhist countries. Some Singhalese monks had brought the first small sapling from this histiric Bodhi tree to Siam. That tree died one day, but people saved the seeds from this tree and propagated the saplings in a few temples in Thailand. There was not a comprehensive record of these generations of sacred Bodhi trees. A few temples could claim that the Bodhi trees there are related to the historic tree in India.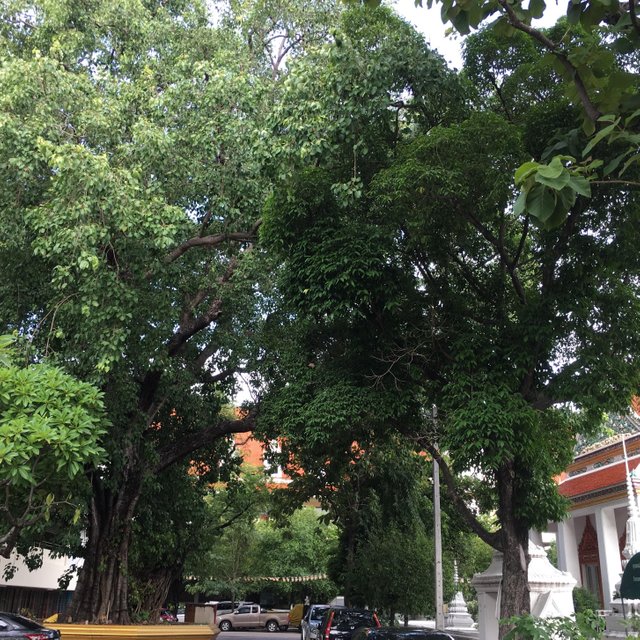 In the past, Buddhists considered Bodhi trees as sacred as if these trees represented the meditating Buddha. They would pay respect to the Bodhi tree as a reminder of the Lord Buddha's compassion and sacrifice for all sentient beings. So, there was nothing superstitious about the Bodhi trees. But the influence of Hinduism in Thailand had changed all that. Perhaps it was partly because of the stress of the Western colonization period in South-East Asia,causing fear and uncertainty among people, which gave rise to the habit of begging deities for help and favour. This relatively new influence on Buddhist practice may have been an emulation of the Hindu rituals to the gods and the Christian practice of praying to God beseeching for blessings. The Portuguese colonisers brought with them trade, food and religious culture to Siam. Furthermore, the Chinese merchants and immigrants also brought their Confucius practice to Siam; their rituals of offering food and gifts to various Chinese gods in return for fortune and success, also crept into Buddhist life style in Siam. So, the Buddhist practice today has become a mixture of Chinese Confucius, Hindu ritualistic belief and Christian practice.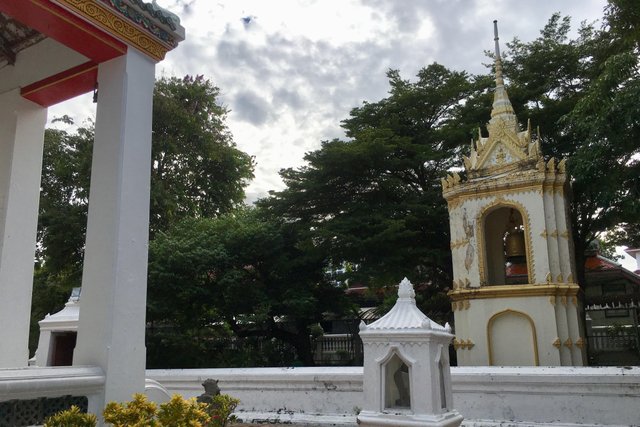 So, during the past three hundred years, a relatively new Buddhist practice has taken root in the psyche of Thai Buddhists; the habit of giving offerings to some deities or higher beings for some favourable outcomes. This is non-Buddhist practice according to the Buddhist teachings in scripture. During Lord Buddha's time, temples and Buddha statues were not permitted by the Buddha. To be a Buddhist is to follow the Buddha's teachings in which ornate rituals are not permitted. The law of karma indicates the 'cause and effect' logic.
The Buddha told his closet monk, Phra Anonda, that one has to be one's own refuge; one has to stand on one's own feet! I think most contemporary Thai Buddhists would be at a loss if they are not allowed to pray or beseeched some higher power. But then, enlightenment can not be achieved by the easy path of exchanges and begging for help. The majority of Thai Buddhists are getting lost in ritualistic practice and quietly ambitious meditation competitions in search of spiritual materialism. None of my friends read Buddhist texts nowadays. Well, Lord Buddha told his monks that Buddhism would last only five thousands years; after which the world would go through a reset! Very biblical in a way!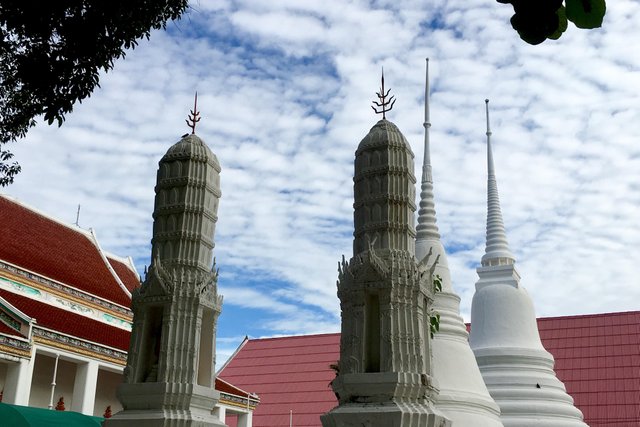 เราชอบต้นโพธิ์ที่วัดสามพระยา ความร่มรื่นและขนาดที่ใหญ่อลังการ ทำให้เราคิดคำนึงถึงอดีตของวัดนี้ ซึ่งมีมาตั้งแต่สมัยอยุธยา แต่มีการบูรณะซ่อมแซมมาเป็นช่วงๆ วัดสามพระยามาได้รับการสร้างและบูรณะอย่างจริงจัง ในสมัยรัชกาลที่3 เราจึงเข้าใจว่า ทำไมต้นโพธิ์จึงได้มีขนาดใหญ่มาก ความจริงมีอีกต้นหนึ่งมีที่ขนาดใหญ่มากขนาดหกคนโอบยังไม่ได้ แต่ว่าสิบกว่าปีก่อน มีพายุฝนและฟ้าผ่าลงต้นไม้ ทำให้กิ่งขนาดใหญ่หักโค่นลงมาทับหลังคารถยนต์ ที่จอดอยู่ตรงนั้นห้าหกคันเลยทีเดียว ส่วนที่เหลืออีกต้นหนึ่งที่ใหญ่มาก ก็อยู่อีกมุมหนึ่งของลานจอดรถ คนไทยชาวพุทธมีความเคารพต้นโพธิ์ เพราะพระพุทธเจ้าทรงตรัสรู้ใต้ต้นโพธิ์
ชาวพุทธในอดีตจะไหว้ต้นโพธิ์เพราะ เปรียบเสมือนได้กราบไหว้พระพุทธเจ้า และเป็นการแสดงความรูสึกถึงพระคุณที่ท่านได้ทรงมีพระธรรมคำสั่งสอนให้เราทำตาม เพื่อความหลุดพ้นจากกองกิเลส แต่ปัจจุบันคนเราได้เพี้ยนจากพระธรรมคำสั่งสอนไปมากทีเดียว นี้อาจเป็นเพราะในอดีตชาวสยามมีความเครียดและหวั่นกลัวจาก การล่าอาณานิคมของตะวันตก และพ่อค้าชาวจีนที่มาเมืองสยามก็เอาวัฒนธรรมการกราบไหว้เซ่นเจ้าแบบจีนมาด้วย ไหนจะพวกตะวันตกที่เอาบาทหลวงคริสต์และวัฒนธรรมการสวดมนต์วิงวอนขอพรและความช่วยเหลือมาอีก แถมวัฒนธรรมฮินดูที่ฝังตัวอยู่ในหมู่ชนชั้นสูงอีกเล่า สามวัฒนธรรมนี้พากันมา ผสมผสานกับแนวคิดแบบพุทธ ทำให้คนเรากลายเป็นพุทธแบบจางๆ ที่แย่คือ คนไทยไม่อ่านหนังสือ ไม่ค้นคว้าหาความจริง ชอบทางออกง่ายๆ เช่น การแก้กรรมเก่า ซึ่งขัดกับหลักพุทธศาสนาอย่างแน่นอน พระพุทธเจ้าก็บอกพระอานนท์ ว่าพุทธศาสนาจะมีอายุแค่ห้าพันปีเท่านั้น แล้วทุกอย่างในโลกก็มีเสื่อมสลาย ถูกกวาดล้างไปหมด จึงจะเริ่มยุคใหม่ของพระศรีอาริยเมตไตรซึ่งจะเป็นพระพุทธเจ้าองค์สุดท้าย เราอยากให้เพื่อนสนิทของเรา เริ่มศึกษาพุทธศาสนาอย่างจริงจัง เขาจะได้เลิกงมงาย และไม่โดนหลอกให้เสียเงินไปทำพิธีแปลกๆเรื่อยเลย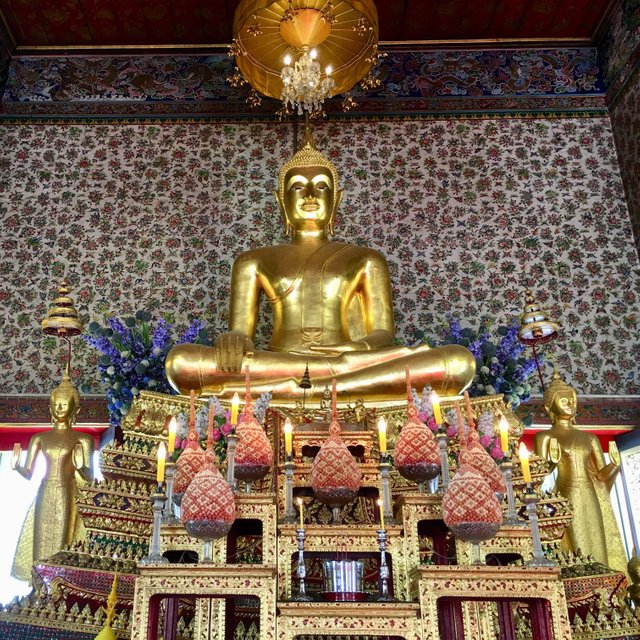 Wishing you all a very nice day!
Cheers.
My previous posts
Have a look at Prince Palace Hotel for SteemFest 4
Boat trip from SteemFest hotel venue to Siam Center