This is my entry for #thaiphotocontest35 on countryside lifestyle photography. Last Monday, we had very simple lunch for our visitor from Bangkok at the country cottage in Nongkhai.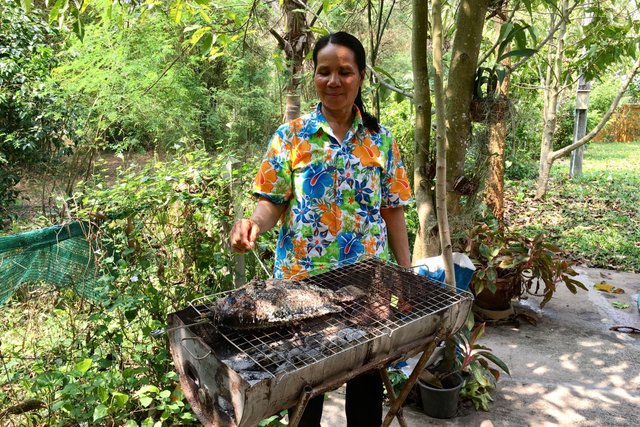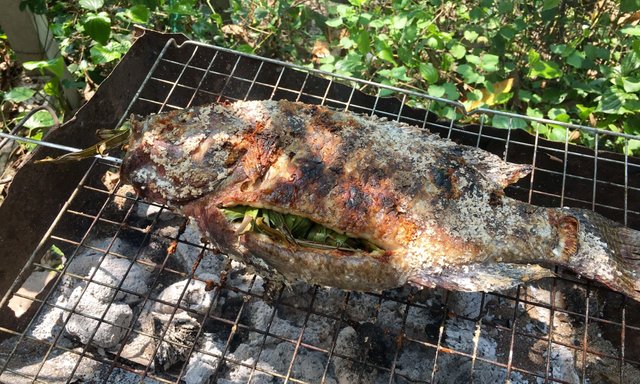 Being near the river, it's easy to get fresh river fish locally. We had two kinds of fish, the really nice one we had as sour soup or tom-yum on Sunday. Monday lunch was charcoal grilled fish and papaya salad (or som-tam in Thai). We ordered a big fresh water fish and it was delivered promptly. We put a thick layer of sea salt on the skin of the fish and stuffed herbal leaves inside the stomach of the fish. The charcoal grill has been at medium heat so we didn't burn the fish. The whole process took about an hour as we wanted to make sure the fish was thoroughly cooked.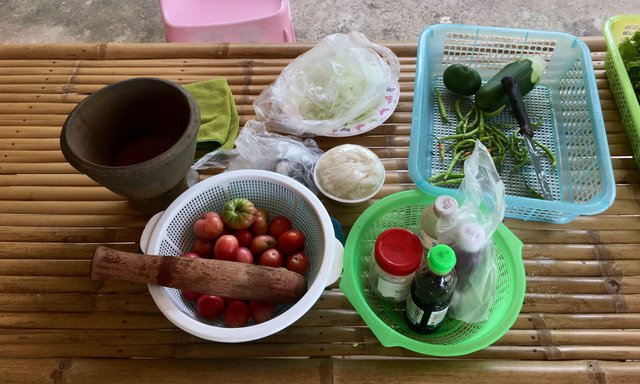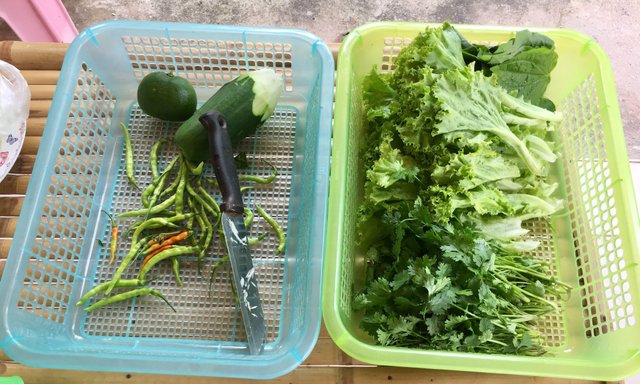 We also had home grown tomatoes and coriander and some green salad from local villager's garden. We already finished all our green salad in the garden. The raw papaya was grated into stripes for making papaya salad. This is a very simple meal of fresh salad, som-tam and grilled fish. The papaya salad was prepared by pounding the grated raw papaya with tomato, chili, long bean, with some fish sauce, a little bit of sugar and lemon juice.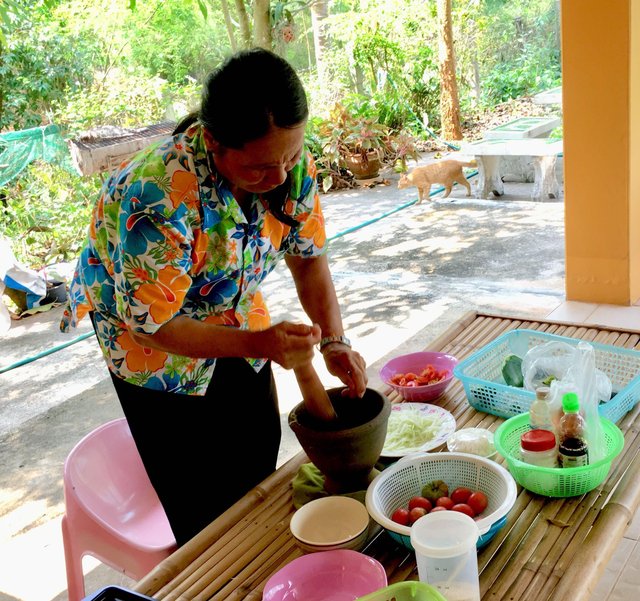 สุดสัปดาห์ที่ผ่านมา เรามีแขกมาเยี่ยมจากกรุงเทพฯ เราได้พาไปเที่ยวตามที่ต่างๆ พาไปเดินเล่นริมแม่นํ้า และปั่นจักรยานไปตามถนนเลียบแม่น้ำด้วย ที่บ้านได้ปลาเนื้ออ่อนที่ชาวประมงจับได้จากแม่น้ำมาตัวหนึ่งหนักเกือบหนึ่งกิโล มาทำต้มยำปลาเลี้ยงแขกวันอาทิตย์ วันจันทร์ตอนเที่ยงจึงทำปลาเผา กับส้มตำ และหาผักสดมาเป็นเครื่องเคียง เราต้องคิดสูตรทำน้ำจิ้มปลาเผาเอง เพราะที่เขาทำขายมีรสหวานไปหน่อย ปลาเผาหรือปลาปิ้งด้วยเตาถ่านมีรสชาดดีกว่าปลาทอดหรือปลาอบ เขาจะเอาเกลือแกงมาทาให้ทั่วปลาให้หนาๆ แล้วเอาใบเตยหรือตำผักสมุนไพรใส่ในท้องปลา ทำให้มีกลิ่นหอมเวลาย่างเตาถ่าน ย่างไฟอ่อนไปก่อน แล้วค่อยเร่งความร้อนตอนหลัง ปลาตัวใหญ่นี่ใช้เวลาย่างเกือบสี่สิบนาที ก่อนปลาสุกสักสิบนาที เราก็เริ่มทำส้มตำ และเตรียมผักสดมาจัดที่โต๊ะอาหาร คนที่บ้านเอาขนมจีมมากินแกล้มด้วย ก็อร่อยดี และเอาใบชะพลูมาห่อเนื้อปลา ทำเป็นเมี่ยงปลาเผาก็ดีไปอีกแบบหนึ่ง ตอนแรกคิดว่าจะกินไม่หมด แต่แทบไม่มีเหลือให้แมวกินเลย แมวเดินไปมาเพราะได้กลิ่นปลา ตกเย็นจึงให้ปลาที่เหลือกับแมวทั้งหลาย ทุกคนอิ่มหนำสำราญในวันนี้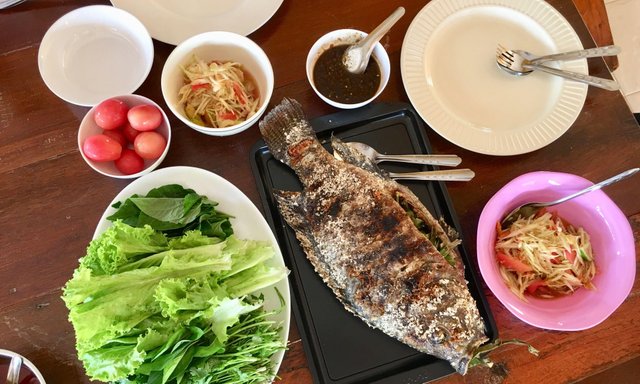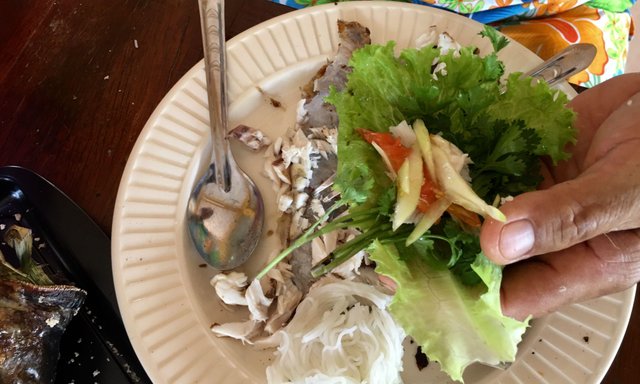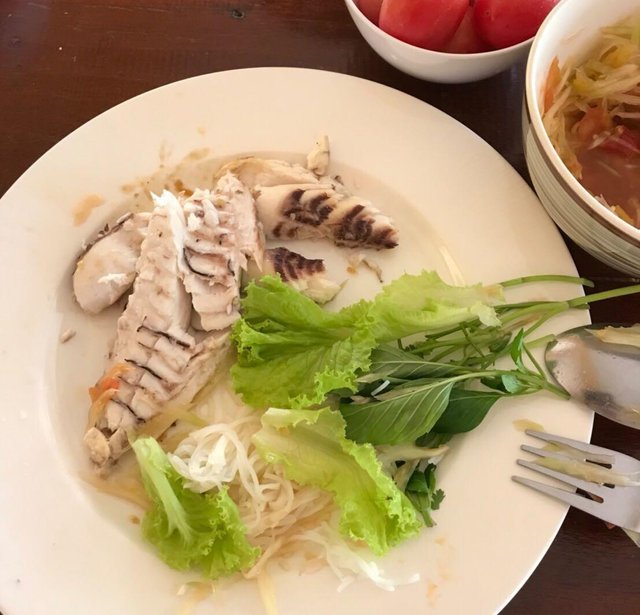 Wishing you peace, good health and prosperity.
Cheers.