The growth of the steem blockchain ecosystem is so fast, no exception in Indonesia. At present, Indonesia is the region with the largest number of blockchain users in this case steemit user. The presence of blockchain technology is well received by the people of Indonesia. Even this blockchain technology will be applied in in Indonesia to improve the quality of the university and economics as written by @ Anarco_Tech on his Twitter account.
@Oracle_D_com and Aspekti sign MOU to work together to create national #blockchain #technology #institute in Indonesia. I am honoured and blown away by what has just been achieved here today.[Source]
Interestingly, Indonesia in this case Aspekti and @Oracle_D_com have collaborated to create a national blockchain technology institute with the signing of the MOU of cooperation to create a blockchain institute between Aspekti and @Oracle_D_com.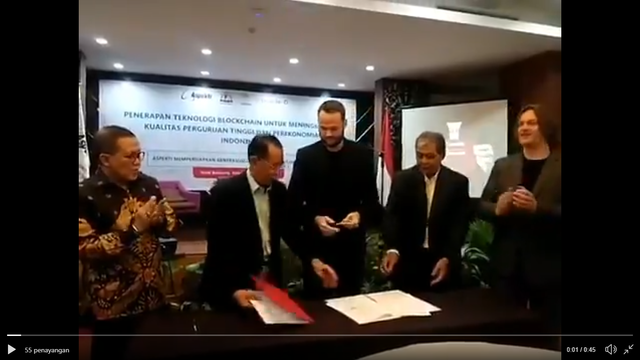 [Source: screenshot from video]
For Indonesian society, blockchain is a necessity that cannot be denied anymore. Blockchain technology has had a big influence on the people of Indonesia. Most Indonesian people are active in trading activities of cryptocurrencies on blockchain based platforms such as indodax.com, bitrrex, poloniex, and others. Most others also actively engage in blogging activities on blockchain based platforms such as steemit, scorum, and weku.
With there this MOU and cooperation, it is expected to have a positive impact on universities in Indonesia, especially in terms of improving the quality of education and economics through the application of blockchain technology in universities and institutes in Indonesia.
This will be a good start for steemit and the blockchain steem to achieve a far better market value than today. As we know, there are still many Indonesian people who are not familiar with blockchain and blockchain's steem. So the presence of the blockchain institute in Indonesia is the answer to this problem in the sense that in the future later that steem, steemit and blockchain are no longer be something new and foreign to the people of Indonesia. It even makes Indonesian people more familiar and more understand about blockchain technology and cryptocurrencies.
Seeing developments in the field of technology that is growing increasingly rapidly, ideally, material about blockchain technology must be included in the education curriculum at the university especially in Indonesia so that be a lesson. So therefore the presence of blockhain technology must be appreciated well because this technology has had an impact and has a significant influence on the world community in general and especially the Indonesian community.
In addition, I think, creating a blockchain institute is one of the new ways to safeguard the steem blockchain ecosystem to continue to grow rapidly in Indonesia considering the number of users of the steem blockchain (steemit user) is very extraordinary (biggest) in Indonesia. Blockchain technology also has great potential in order to improve the quality of education and the economy in Indonesia.
Beside, when viewed from the sophistication of blockchain technology today, that blockchain technology is great potential in order to improve the quality of education and the economy in Indonesia.
So the signing of the MOU Cooperation to create the blockchain is a good start for Indonesia, especially in the aspects of education and economy in Indonesia. and I, as an Indonesian community, hope that it can be realized as soon as possible.
Thanks For Your Time
The Best Regards, @ijoel


---
---