Recently, @good-karma made a post about Top 5 Features of eSteem Surfer 🏄; in that post, he requested eSteemians to comment/make a post about Top 5 features they love on eSteem Surfer.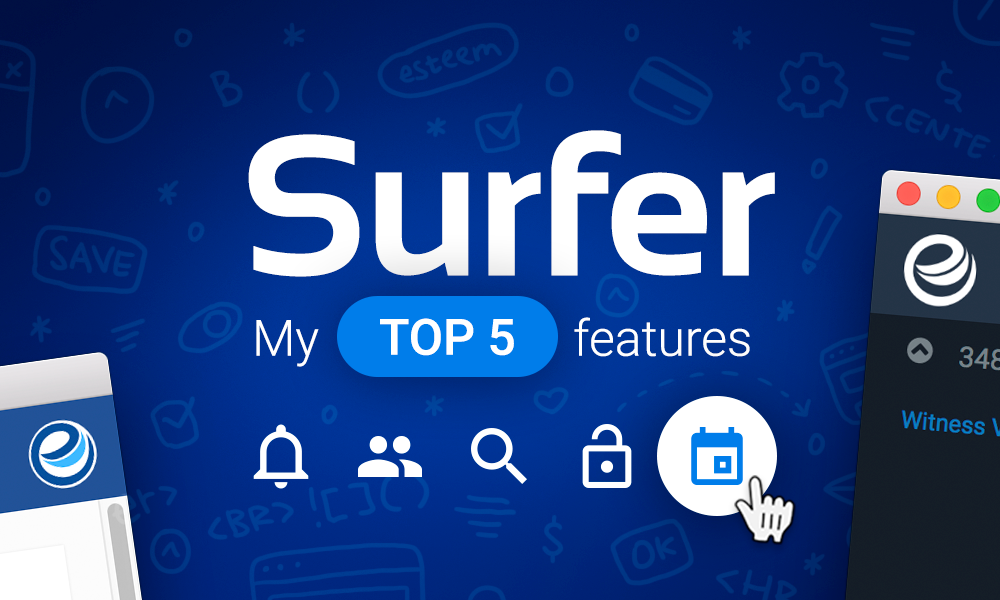 Recaptulate
---
eSteem is a Mobile and PC 💻 application built on Steem blockchain used to Surf 🏄 Steem ♨.
There are two variants of eSteem;
eSteem Mobile
---
This is mobile application builds on Steem Blockchain to surf Steem comfortably on mobile phones with lots of wondrous features. It is available on Android and iOS device.
eSteem Surfer
---
This is a Desktop/PC application builds on Steem blockchain with magnificent lineament to Surf Steem on PC 💻 on different Operating System, Windows, Linux and Mac OS X.
Surfer is an incredible Sofware! and lately, it was added to https://app.co Decentralized Apps Catalogue. The developers are working day by day; bugs fixing and more features are being added in the different release.
Back to the Main Topic
My 🔝 5 Features on Surfer
The features I enjoyed on Surfer are more than five but this post restricted me to only mention five of all.
🏅Post Schedule
---
This feature allows users to schedule posts to be published at a later date and time.
You might want to travel and realized you will not be chanced to write a post, instead of missing that day out, you can simply make a post with Surfer and make it publish at the specified Date and Time. Time is in UTC
🏅Favorites
---
This feature allows users to navigate to their favorite Steemian blog quicker instead of searching for their username or writing their blog URL.
We follow many people and their recent posts appear on our Feed page, in that process, we might have missed our favorite authors' blog posts! To navigate/access their blog swiftly add them to Favorites
🏅Private comments (encrypted)
---
This feature allows users to communicate with steemian's through comment which is encrypted, meaning only you and the steemian can see the comment.
Use this to chat/discuss private convo with fellow steemian
🏅Post Edit After Payout
---
Prior, we know we can't edit a post after post-payout/7 days but with Surfer you can edit post after post-payout.
Cool Huh!
🏅Notifications
---
With Surfer you get instant push notifications of activities upvotes, reblog, transfer… performed on your blog.
We all love to see what's happening on our blog. isn't it? Surfer brings you this feature!


Thank you for reading, Download eSteem enjoy Steem! ♥

| iOS | Android |
| --- | --- |
| | |

info@esteem.app
🌐eSteem.app | 👨‍💻GitHub | 📺YouTube
✍🏻 Telegram | 💬Discord