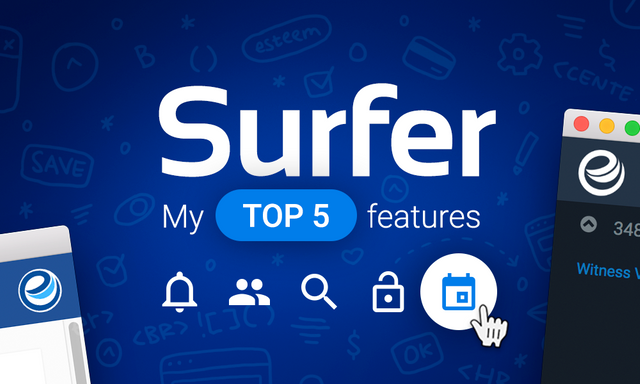 If you have been following development of eSteem. We have released number of new features for last couple month that will change your Surfing experience on Steem. Here are my top 5 picks to use Surfer daily.
Notifications - activities tracker and push notification directly on your desktop/laptop/pc is great way to stay engaged and know what's happening with your account.
Multi-account access - This allows me to monitor multiple accounts, personal and project related.
Search - Surfer has intuitive search engine that will not only search for relevant accounts but also posts with right keywords and soon we are improving it even for better.
Private comments (encrypted) - This is one of the great feature if you want to engage with author of post/comment in complete privacy, nobody but except you and author of content you commented on can read messages.
Scheduling posts - Our team uses this feature extensively to plan ahead of time to give constant update about our progress on project. If you haven't tried it, you certainly should!
That's it!
exe file for Windows users
dmg file for Mac users
deb and rpm files for Linux users
Source code: https://github.com/eSteemApp/esteem-surfer
Report bugs: https://github.com/eSteemApp/esteem-surfer/issues

Let me know, what are your top 5 features on Surfer!