Curiosity Killed The Cat
I propose that organisms that see reality are never more fit than organisms of equal complexity that see none of reality and are just tuned to fitness payoffs. - Donald David Hoffman, Professor in the Department of Cognitive Sciences.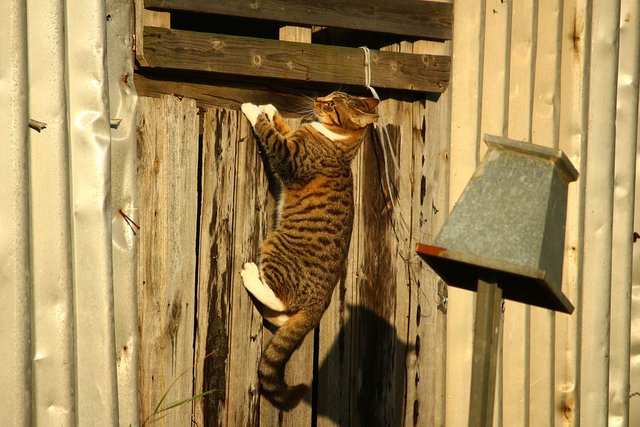 Rihaij, Pixabay
Greetings Steemians,
I hope you're all doing well and the new year is off to a great start.
I enjoy science for a plethora of reasons. One of these reasons being the philosophical insight that comes with the research. After all, we are a curious species, and it is the philosophical questions that mankind proposes which ignites the flame to seek the truth.
A well versed scientist (or philosopher) might say:
"The truth is subjective, and our faculties do not allow us to see even half of the truth."
This would probably be more opinion based than provable fact, but.. It's a sound statement in my opinion, due to how we are able to prove (in one form or fashion) that different organisms have different perceptual abilities, based on their "interface(s)."
Professor Donald D. Hoffman proposes that (from an evolutionary standpoint) seeing the truth in accordance to our objective reality is detrimental to our existence/evolution.
The sole reason being survival and procreation. If we look at our species in a more simplistic form, we can propose the question of:
"Which of the two is more likely to survive and continue their genetic line?"
The thinker who spends no time interacting with others, spends no time hunting/gathering/farming, may have above average problem solving abilities but uses none of those abilities for fitness payoffs.
Or..
A social alpha male who competes for mate(s) and focuses more on fitness payoffs.
From a scientific perspective, the thinker is less likely to reproduce. (Unless he finds a mate who is very similar, but assuming this is a minority in this setting the odds are still in favor of the alpha male.)
It could be that the thinker has a much more sound idea of what reality is. It could be the thinkers intellect far surpasses the alpha males, but none of this matters if the thinker cannot function or procreate.
A great analogy that professor Donald D. Hoffman uses is the graphical user interface of a computer, and specifically a video game.
Imagine you are competing in a GTA game with someone, but for you to compete you must input the associated code into the computer instead of using a simplistic game controller.
Who is more likely to win?
Well that depends on if you know a "cheat code", but assuming the variables are strict and you can only use code for the game engine, good luck..
That is to say complicating the uncomplicated will screw us over!
Sure that game is very complex beneath the surface, in fact the entire graphical user interface is an illusion. What is going on beneath the surface is much more than the pixels your are viewing on the monitor.
I'm gonna go a little deeper, but first, here is the YouTube link where you can watch the professor discuss these concepts.
https://youtu.be/dd6CQCbk2ro
If it doesn't work, search for:
The Case Against Reality | Prof. Donald Hoffman on Conscious Agent Theory
, in YouTube, or go to
ZDoggMD's
videos
(the interviewer)
to find it.
Professor Donald D. Hoffman asserts that this is more than just an idea or a theory, and that scientific tests with organisms have been conducted that prove fitness payoff specific organisms have a staggering success rate in comparison to those who saw the "truth". (whatever that truth may be, he did not go into specifics of the experiments.)
This interview was inspired by his book The Case Against Reality, and in all fairness he may discuss the experiments in the book. I don't know yet, but this is now on my reading list.
Now to the point of this entire post.
I like to consider myself a problem solver, and throughout the entirety of my life this has come at a cost. I'm often told that I overthink things, that I pry for answers that are not there or do not matter.
As much as this is cringe worthy to hear people say (because I often interpret it as dismissive and a lazy way to think) I have found that when I question things less, I am far less stressed out (depending on the nature of the "question.") than when I continually search for an unclear answer.
Hearing the professor say this was sort of an "aha" moment for me. I had not watched this to search for philosophical insight into my life stresses, but that statement jumped out and slapped me right in the face. I even stopped the video just to ponder that idea for a little while.
It seriously makes sense to me. I search so hard for answers to things sometimes that it becomes stressful to others. They simply don't want to hear it or talk about it. It can cause others to feel smothered or interrogated, even when my intentions are to "solve" problems, it doesn't always come across that way, and in the end I am even more frustrated because they are not "seeing" where I am coming from.
I can run my own "experiment" on myself for this. A thought experiment, where I make comparisons of different times in my life where I questioned things less or more.
When I was in my late teens and early 20's I didn't question much. I was military enlisted, followed orders without question, frequented social gatherings, went to pool halls and bowling alley's with the boys, and in many respects lived a much less stressful life.
I think back to the analogy I presented. The thinker versus the alpha male. When I was younger I was more the alpha male who really didn't care to question things as long as I had that fitness payoff!
When I started questioning things later in life I encumbered some serious issues. Addiction problems, coping problems, legal problems, ect. Much of this had to do with childhood trauma and healing, but the point is very sound here in my opinion. When I cared less, I benefited more, and not just financially. I genuinely lived a happier and more social life.
The takeaway with this concept might be comparable to mindfulness concepts. Perhaps it is better to question things less sometimes, to just be and accept things as they are. Of course that is not applicable with everything, but sometimes there is no clear answer to certain questions and if you are losing sleep because of the lack of that answer, well your "fitness" might suffer a bit.

This whole concept makes me think of the saying:
"Curiosity Killed The Cat."
For anyone who took the time to read, I really appreciate it! Please feel free to share your thoughts on this topic in the comments section below. I hope you're all having a wonderful day!

Much love,
@futuremind



Posted with eSteem Surfer