Week 6 already. The first portfolio update of the month. So, I will add the coins which are earned via blogging or otherwise to the portfolio. Possibly it will change some things around.
So let's start with the new additions!
New additions
Steem
In the first month of 2019 I was capable to add a little bit more than 372 steem to the portfolio. Possibly this will change some things with in the share chart. Most coins are gained because I did swap Scorum Coins for Steem. I do hope that this was worth it!
Scorum coins
Of course also scorum coins are added to the portfolio. In the first week of the year this resulted in an extra addition of 3307 scorum coins.
KCS
And yes I still have some Kucoin shares. The value of this in the portfolio has dropped a lot. Even so much that I am thinking about doubling it up!
But I will wait with doing this.
Only 0.68663 KCS were added to the portfolio!
Winners and Losers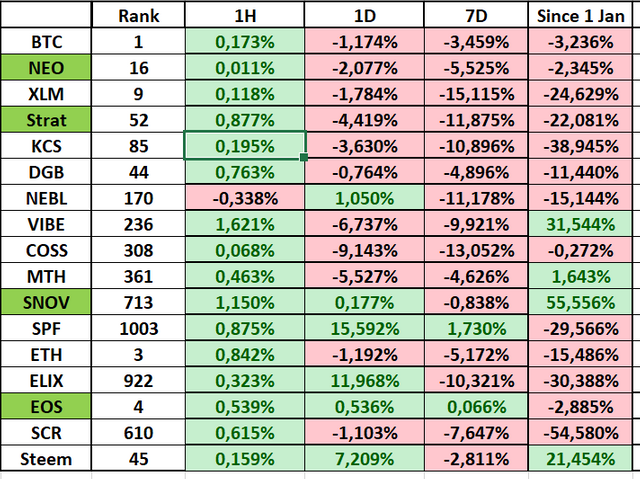 The table for the past hour looks great. Also some green in the last day, but if we look at the 7 day change we only have two coins in the green. Sportify and EOS.
The number of coins which are green compared to the beginning of the year have dropped to 4. Snovio and Vibe are leading the pack, closely followed by steem with an increase of 21%!
Portfolio share
Last week the top 3 was:
BTC 26,3%
Steem 19,53%
NEO 13,12%
I do think that Steem will come a lot closer to BTC. Probably in the first report of March it will be the leader!
This week top 3:
BTC 25,31% (-0.99%)
Steem 24,9% (+5,37%)
NEO 12,33% (-0.79%)
As you can see, it is close. So close that it is even possible that Steem will have the lead next week. Guess most of us wont mind this!
Overall
Nothing much to say about the overall chart. It looks sideways, but that it thanks to the new additions.
Scorum Coins took another drop and it now only worth 0.043 per coin. Really hope that this one will take off again!
Curious what next week will bring us!
Cheers,
Peter