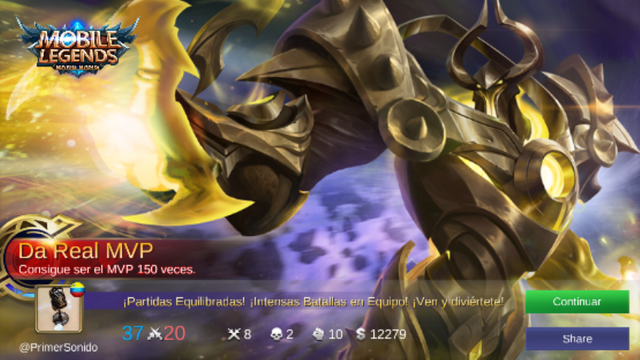 🎼🔹🌐Iniciativa"Crypto-Sports:Mobile of Legends Torneo Piloto(Invitación #5,Segunda Ronda)+Canal Discord||por @criptosonido🎼🔹🌐
-(Segunda Ronda de reclutamientos)Actualmente Estoy desarrollando una iniciativa para un torneo piloto descentralizado(Modelo inscripción/apuesta),una especie de "Cripto-Sport" relativamente (con premios pagados en criptomonedas por participar).
Características:
-Primeras Rondas piloto Financiadas Con criptomonedas steem/Sbd (próximamente WLS) desde(0.1$)(Gratis)
(Es decir ,al inscribirse usted recibirá 0.1$ steem +Recarga de saldo correspondiente)
-Se necesitan 10 participantesDiscográfica activos y listos.(Con celulares gama media/Baja mínimo(1 RAM,4 núcleos y 4GB Disco Duro),Juego Mobile of legends instalado y jugable.
-Las Inscripciónes van desde 0.1$(Steemit/Sbd)a través de la cuenta discord.(Recuerden Prueba piloto gratis).
NOTA:Recibirá una recarga de saldo Gratuita al inscribirse en el servidor discord(envíe su numero celular en el canal Recargas Saldo).
Solo disponible para Venezuela(Temporalmente),Red Digitel y Movistar.
-+30 post de invitaciones.(1 mes)
Interesados Pueden inscribirse en el Servidor Discord aquí:
Próximamente más detalles...

""LA TECNOLOGÍA BLOCKCHAIN ES UNA TECNOLOGÍA DEL FUTURO...iY EL FUTURO,YA ESTA AQUÍ!"


🎼🔹🌐Y recuerden🎼🔹🌐...
"No hay virtud más importante que la Paciencia y La Perseverancia"
(Esto es un principio para avanzar en Steemit)
"Si mejoras 1% todos los días,en 365 días habrás mejorado un 365%!"