Recently I saw this boy climbed over a trash bin to scavenge for trash that he can sell off. At that tender age, he should be in school, but instead had to this early in the morning before other scavengers arrives.
---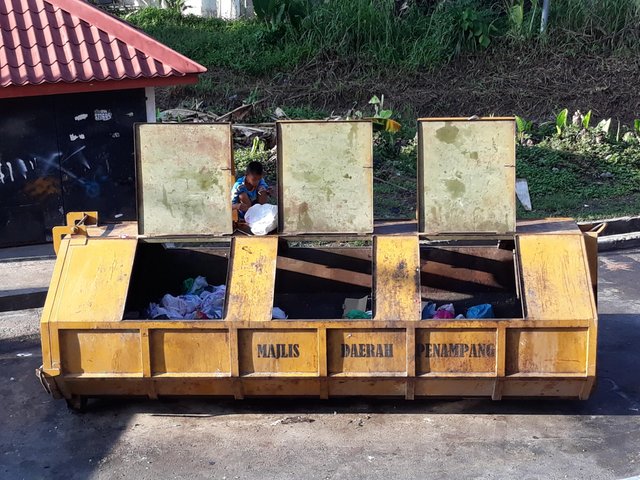 ---
I am not going to pass judgement on his parents and this boy himself, as I know he and his family must be having a hard time just to get through their daily lives. Ironically, this trash bin is just about 20 meters from the nearest restaurant. While others were having their breakfast, this boy is looking for trash to be sold and get a few cents from his effort. And the money might not even be spent or enough for him to buy a decent meal.
For us who are fortunate to have a meal three times or more in a day, I really do feel sad when seeing something as pitiful as this. I wish I can do more to help, but my effort alone won't be enough. It is the responsibility of the government and the public to raise awareness about this problem.
There are many rich people out there who has more than enough money to support their family of 4 to 5 generations, but for them it is always not enough. And then there are people who are so poor who can't even have a decent meal for days.
Many people presume that life is not fair, no matter if you are poor or rich. Whatever material you possessed or how many relationships or friends that you have, it will never be enough. You will always want more and more, and when you did not get or receive what you think you deserve, you will start to think that life is not fair.
So, back to the title of this post of mine. Is this young boy living a fair life? Most of us will definitely say "NO", and I don't think anyone will dare to say "YES". I believe, if given the opportunity, this boy will definitely grab a helping hand and will try to change his life for the better. But once he had a better life, will he finally feel that life is fair? Or is it still not fair as he still hasn't had enough of what he wishes for?
As a conclusion,this is my honest opinion, as long as we are a human with lots of desires,life will never be fair. If we desires materials and filled with lust, we will never be happy with what we have. But if we desires peace of mind and happiness within our spiritual being, a meal a day will surely be more than enough.