In order to participate with the #monthlyachievement challenge, I started my big plan for 2019. Like the old saying goes, fail to plan is the plan to fail. Special thanks to my good friend @chann who initiate this program in the CN community, her original link of this challenge as below.
为了响应@chann 的每月小结,我开始了今年2019大计。工欲善其事必先利其器。每个月回顾自己过去一个月的成绩就是进步的最好工具。大家有兴趣的请到妹妹的贴子去支持一下。
https://steemit.com/cn/@chann/2019
全年大计 The big plan
29/11/2019 我要达到 3600sp
Minimum 3600sp by this date!
每日一更
To update my blog on a daily basis
每日花不超过两小时在 steem 上
To avoid more than 2 hours steem time
减肥目标70公斤,体脂20%以下
To lose weight down to 70kg and body fat 20% and below
每天留言给 5 个新人
Leave atleast 5 comments at #introduceyourself
目前进度 Current progress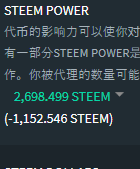 From last recorded in 1st February, I was 2043.221. If in doubt, kindly visit my previous blog post about my monthly achievements. So, it was a small jump due to some extra income from curation project which I prefer not to name it. I have less than 9 months to go, which make a month I need about 100sp in order to acehive my target. It's no big deal for 100sp a month, but it will be a different story when Steem price keep going up, which means we need more SBD to exchange for less Steem.
从上一次月结到现在,这个月算有点小进步。主要是最近加入了某团体当审查员,有工资一直支持者,所以看起来比较丰裕不过也是吃力不讨好每天审查审到半夜三更,至于是替谁做我就不说了,免得你来撸我。屈指一数,离开目标的日子也不够九个月了,换句话说每个月只要维持收入100sp应该就问题不打了。可是,现在币价低还能说容易,不过如果币价继续上涨那么到时就需要更多SBD来换更少的Steem了。
The rest, I will just answer everything in one paragraph. I am still producing atleast one post a day, at times 3 to 4 times. I was going to limit my Steem time to 2 hours aday, but now it seems like 24 hours, especially after I took the curation job, which brign this entire ordeal to the next level. Bodyweight is now 74.5kg, last month was 75.2, and the beginning of this challenge wwas 76kg. Surprisingly, I am clam, the result is satisfying so far. And finally, daily comment 5 newbie is the worst idea after HF20. I just realized the newbie would have not enough RC to reply all welcome bot, and those are before I can put down my helping hand. Nevertheless, I am still happy and satisfy with my current progress.
其他的我就将全部资讯用一篇短篇浓缩起来了。到目前为止,我还是坚持每日最少一贴,有的时候甚至三或四贴。至于要我每天限制上Steem两个小时好像不大可能,尤其是现在当了审查员以后,24小时都不够用了。再回来减肥那一单,目前体重是74.5公斤,比起上个月的75.2更有进步,何况开始时就是76公斤。让我自己吃惊的是,我竟然没有吃惊,不过就是有一种满足感。然后,定下每天给最少五个新人留言交朋友,原来是我自己笨。自从硬叉20以后,新人进来还没留几个言就把RC花完了,还怎么当我女朋偶啊?总结来说,这个月还挺便宜的。加油啦!
---
I would like to thank all my friends and family who has been supporting me. Feel free to leave me feedback by clicking below yellow banner.
> 谢谢大家一直以来的支持和对我疼爱有加。如果方便,请你点击下图到我的个人资料网页为我留言请我吃星星哈。

CREATE YOUR OWN @REVIEWME PROFILE TO START EARNING CREDIBILITY STARSFROM THE COMMUNITY! CREATING YOUR PROFILE IS EASY! JUST FOLLOW THE STEPS HERE ☜(ˆ▿ˆc)