With Epstein's new arrest, it gives the so-called "justice" system a second chance to actually enact justice. But seeing as how they failed the first time around, it's reasonable for us to have our doubts about the end result of the new investigation and trial.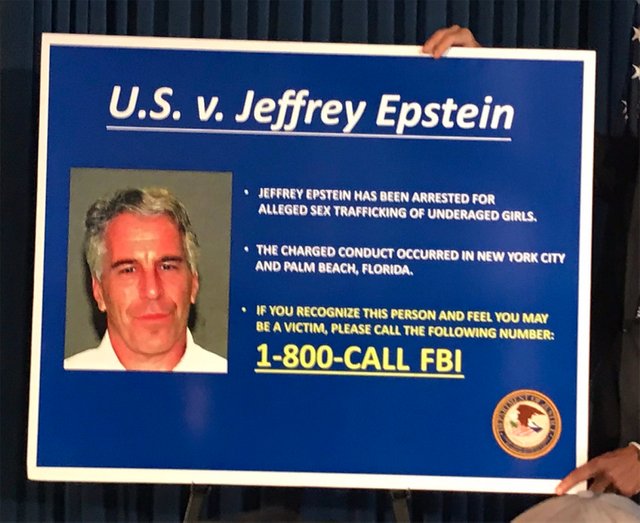 Source
The FBI is asking anyone who "feels they may be a victim" of his sex trafficking to call the FBI if they recognize his face. More victims may come forward to build a larger case on this whole affair.
Even if they do push forward, and no compromised U.S. attorney gives Epstein a sweet deal to practically walk away from any serious consequences, how far will the investigation actually go?
Epstein has apparently offered to name names in order to make a deal. We know of many high profile connections he has had, or still has. This includes, most notably, former U.S. President Bill Clinton.
Daughter of Speaker of the House Nancy Pelosi, Christine Pelosi, mentioned on the weekend that there may be shocking revelations to come forth about politicians being involved, even "some of our faves", which could reference Bill Clinton among others.
This Epstein case is horrific and the young women deserve justice. It is quite likely that some of our faves are implicated but we must follow the facts and let the chips fall where they may - whether on Republicans or Democrats.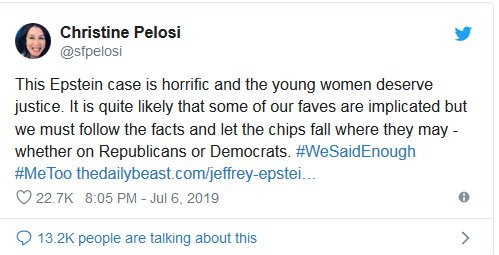 Source
Realistically though, if Epstein does start naming anyone, how high will hebe willing to go? Maybe there will be some local favorite politicians, but will there be any long running or high profile ones?
Think about it. The highest we can think of is Bill Clinton. But crimes that his "charity" have done in Haiti, and the Uranium One scandal with his wife Hillary Clinton, have just been buried without any real investigation or charges laid against them.
The criminal elite have immunity and are untouchable. This is the reality we see before us. Epstein could try to name them, but nothing would happen in any event.
Let's say he does name them, and pushes to get them exposed to take the weight off himself. What happens then?
Cover ups of past government exposure in drug dealing has led to people like Gary Webb being silenced. No justice has been done. The government war crimes of the past 18 years and longer have never had people brought to justice.
The DC Madam, Deborah Jeane Palfrey, had a client list that allegedly included John McCain, Dick Cheney, Dick Morris, and other DC notables. But this went nowhere, and she paid with her life too, found hanging despite repeatedly saying she would never commit suicide.
Even other sex criminals like the Franklin cover up have been dismissed as mere hoaxes while at the time garnering real media coverage. The media is complicit in the cover ups to keep a veil over the elite's activities.
Epstein could try to out his elite compatriots for their involvement, but he would likely meat the same fate as many others who dared to out high level political figures. He might be allowed to name some lower level people in order to throw some under the bus and give the appearance that justice was done. Then he either gets a reduced sentence for cooperating with the FBI, or gets a nice country-club prison sentence.