Topping the mainstream media news coverage of the Epstein arrest is the recent resignation of Labor Secretary Alexander Acosta. He made the plunder of hosting a press conference earlier this week on Wednesday to deny fault in the lenient sweetheart deal for child molester and sex trafficker Jeffrey Epstein in 2008.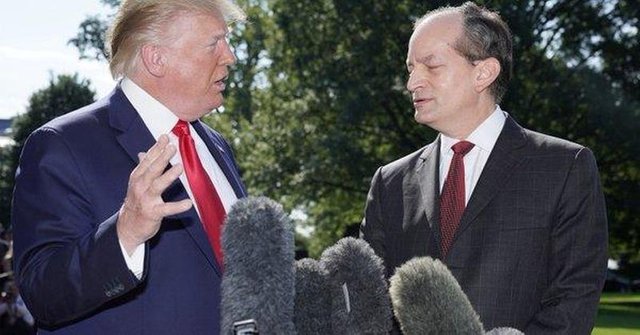 Source
Epstein was saying it was the fault of the judge, prosecutors, any one but him. It backfired, and now he's out of a job. But the deal was made by him despite all his claims that he did all he could to get Epstein in jail for a mere year and registered as a sex offender.
The the FBI making a poster of Epstein and calling for any victims to come forward, the call has been answered. The successful plea for victims to have the courage resulted in more than a dozen women approaching lawyers that represent Epstein's victims.
And a more hidden revelation is that Accost was apparently told to back off Epstein in 2007. Why? Doing shadowy work for intelligence groups. Espstein was too wealthy and well-connected to get proper justice thrown at him.
Vicky Ward of the Daily Beast recently wrote of this connection:
"Is the Epstein case going to cause a problem [for confirmation hearings]?" Acosta had been asked. Acosta had explained, breezily, apparently, that back in the day he'd had just one meeting on the Epstein case. He'd cut the non-prosecution deal with one of Epstein's attorneys because he had "been told" to back off, that Epstein was above his pay grade. "I was told Epstein 'belonged to intelligence' and to leave it alone," he told his interviewers in the Trump transition, who evidently thought that was a sufficient answer and went ahead and hired Acosta.
Independent journalist Joachim Hagopian also connected Epstein with another rich clothing maker, Leslie Wexner who has ties to Israel, the Mossad and MI6.
The report serves as confirmation that Wexner and his charity organization called the Mega Group provided the cover as a Zionist Mossad front actively influencing and dictating US war policy in the Middle East. Wexner's Mega Group consists of about 20 fellow Jewish American financial titans who use their Zionist power to manipulate and control Washington into fighting illegal wars for Israel against the Islam religion and people in Iraq, Afghanistan, Syria, Libya, Yemen, and eventually Iran, using their US-Israeli creation of al Qaeda/ISIS terrorists as proxy war allies to justify their prefabricated US "endless war on terror." Wexner and company worked hand in hand with the neocons and Israeli first dual citizens behind the Project for a New American Century calling for their "new Pearl Harbor" 9/11 to justify US-Israeli global hegemony.
Former CIA and military intelligence officer, Robert David Steele also spoke of the MOssad/CIA connection:
*"[Lolita] island was rigged with video recorders. Many politicians have been compromised. It was a Mossad/CIA operation… There are videos of some of the most powerful players in the most humiliating positions. If this gets out, not only are the politicians ruined, but the extortion game is over and suddenly, the influence CIA and Mossad wield over Washington, is gone." *
But the mainstream media won't talk about any of this. They will just dismiss any of it as conspiracy nonsense, like Pizzagate. Epstein's controllers operate above the paygrade of people like Accosta, but that doesn't mean they can stop legitimate sex crime complaints from making their way to the FBI for investigation, nor silence journalists from talking about it in the mainstream press. It does seem like more will come about from this second attempt to nail Epstein.
---
References:
---
Thank you for your time and attention. Peace.
---
If you appreciate and value the content, please consider: Upvoting, Sharing or Reblogging below.


me for more content to come!
---
Like what I do? Then consider giving me a vote on the Witness page :) Thanks!

My goal is to share knowledge, truth and moral understanding in order to help change the world for the better. If you appreciate and value what I do, please consider supporting me as a Steem Witness by voting for me at the bottom of the Witness page.