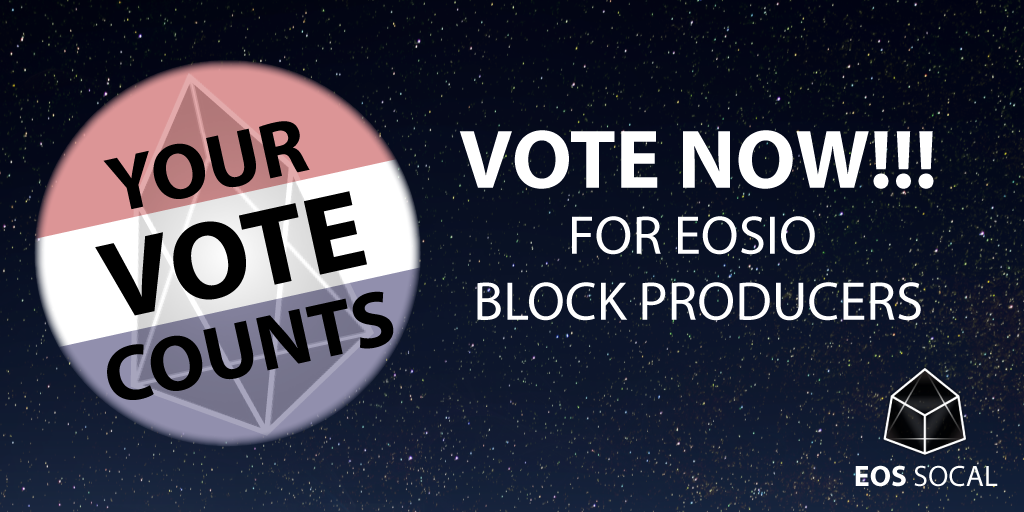 THE RECAP
EOSIO token holders elect block producers by casting votes for up to 30 unique block producers with each token. For example, if you have 100 tokens, you can cast 100 votes for each of 30 different block producers.
The top 21 block producer candidates with the most votes will be active block producers who maintain the EOSIO public main net. Candidates who do not receive enough votes to be within top 21, may still receive enough votes to become backup block producers.
Note that votes depreciate in "weight" after one week, so cast votes weekly to maintain maximum influence.
Votes can be changed at any time by voters; therefore, block producers are not guaranteed a position for more than 126 seconds, the time it takes 21 block producers to each producer a round of blocks in sequence.
12 Blocks Per Producer x .5 Seconds Per Block = 6 Seconds Per Producer
21 Block Producers x 6 Seconds Per Producer = 126 seconds Per Round
WARNING WARNING
During this voting time, many scammers will be out there trying to steal your tokens by misleading you to malicious websites and mimicing trusted websites that ask you for your private keys. This leaves you vulnerable to token theft; therefore we do not recommend voting online.
VOTING ONLINE IS NOT RECOMMENDED
If you still choose to take the risk and vote through online portals such as http://eosportal.io/ - It is recommended that you use Scatter to avoid entering your keys into any website or online portal. Scatter is a browser extension that manages your keys and allows you to vote online without having to expose your private keys.
Here are instructions for voting through eosportal.io using Scatter (Not Recommended)

A SAFER WAY TO VOTE USING EOSIO COMMAND LINE INTERFACE - CLEOS
(ADVANCED USERS)
Using EOSIO CLEOS requires advance knowledge and requires you to create a node, create a wallet and account, stake tokens and vote using the command line interface within the software. This requires multiple steps, high system hardware requirements and advance knowledge of the EOSIO software.
Here are instructions: https://steemit.com/eosio/@chitty/eos-how-to-vote-for-bp-candidates-on-cleos
For help voting or if you have any questions or need support, please feel free to contact EOS SOCAL
Join our telegram channel: https://t.me/eossocal
Email us: connect@eosocal.io
Twitter: https://twitter.com/eos_la
Call us: (Send us a message through any of the above and we'll reply wit our phone number or visit our website: https://www.eosocal.io/
Be safe!!
Please support us by voting EOS SOCAL as block producer