We have recently published our take on recent emergency freezing of accounts, and for the sake of clarity decided to do a more in-depth write-up on our vision of arbitration, so here it goes…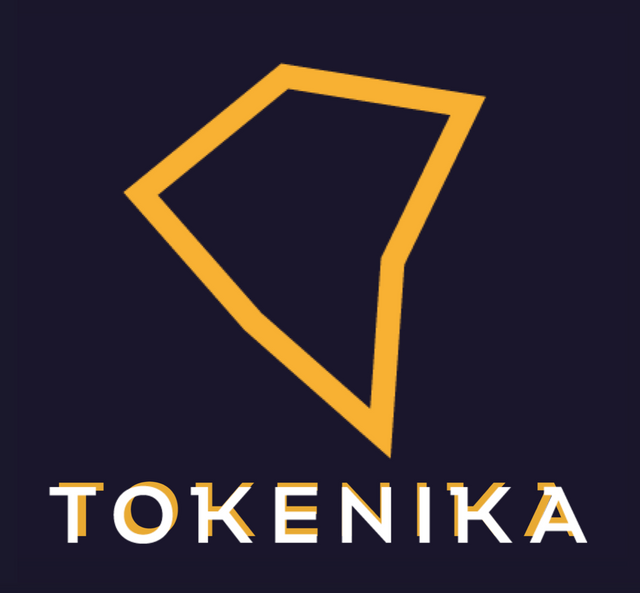 Arbitration - the make it or break it in EOS
Since early on, we have been quite worried about the proposed arbitration bodies in EOS. We felt it was an extremely difficult task to get right, and it could be philosophically argued that in decentralised systems one cannot instate legally binding external rulings without disrupting the system's decentralised nature.
That said, since there seem to be a lot of proponents for arbitration in EOS and some maiden verdicts seem to be out already, we would like to lay out a few guidelines which we think would help to make proper arbitration possible.
Source of the actual arbitration mandate
As a standby Block Producer, we are opposed to self-appointed, or instated through "friends or families", type of arbitrators. We understand most of the community agrees with this viewpoint, but still want to stress how important this is. A make-shift solution could backfire on the EOS ecosystem, as it is not justifiable and brings a lot of bad press to EOS. Thus appointment of arbitrators needs to be a part of smart contract that is voted upon, as only then a given arbitrator has any mandate to operate.
Rules of engagement
In our view, 99% of the times ECAF arbitration should be willingly agreed to by both parties. The remaining 1% we will discuss later. Taking a step back, the word arbitration itself is defined as:
arbitration
noun [ U ] US /ˌɑr·bɪˈtreɪ·ʃən/
the formal process of having an outside person, chosen by both sides to a disagreement, end the disagreement
The current EOS ECAF arbitration alignment resembles a court in which we can unilaterally sue someone. In our view, this approach opens a can of worms, as the arbitrator engages on behalf of one side of the dispute, albeit without direct executive powers, held only by Block Producers. Currently, this might seem benign, as EOS does not process any real business volume, but at scale, when complexity hits, we see no applicable way to sustain the "blockchain police" model. Let's imagine the intricacies of more complex cases. Suppose funds gets stolen and transferred further, taking part in legitimate transactions. Scenarios are numerous, and each one of them could turn the arbitration process into a legal spaghetti. Also note that freezing of accounts (executed by BP's) until resolution is found could be used as an attack vector, not to mention that any such intervention puts finality of EOS transactions in question.
Thus, back to the 1%, one sided "arbitration" resulting in freezing of accounts and other heavy interventions should be considered only if:
there is a legitimate risk for the integrity of the whole network.

15 or more BPs agree that that is the case, and work together with the arbitration body, publish their intent, etc. The exact mode of operation could be ironed out, but the general idea of no overreach is the only thing that we see as workable.
Scale
Another thing worth mentioning is the volume of arbitrated transactions at hand — a cut-off point should exist, below which no case can be filed. This addresses a vector of attack on the network, where arbitration cases are purposefully too numerous to be handled by anyone. Think arbitration DDOS.
Recap
Only arbitrators elected through a smart contract by the community have any mandate to operate. This smart contract should be crafted carefully, and it is better that we take the time and effort to do this well, even at the expense of a fraud or two in the meantime.
EOS ECAF Arbitration should only apply if both sides agree to it. There should be no unilateral freezing of funds, except in most extreme cases, with network's integrity at stake. There are many reasons for these constraints, from scalability to actual implementation of dispute-settling, when claims become too numerous and complicated.
There should be a cut-off point below which no case can be filed. This does not prevent people running their own multisig or escrow contracts and coming up with their own arbitration techniques, but that is their internal business and has nothing to do with EOS ECAF governance. We are sure there will be a big market for this kind of insurance and auditing agencies on EOS, where smart contract expertise and dispute resolution can present added value and create jobs in the system.
Below, see a short table, suggesting the mode of engagement of Block Producers and EOS core arbitration in problematic situations: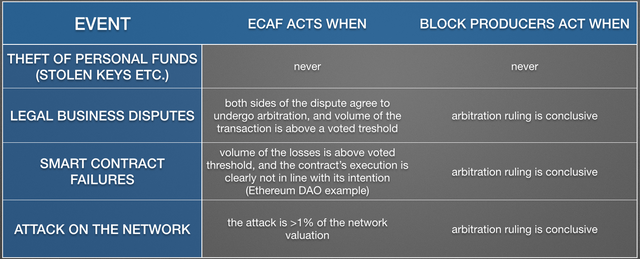 We, at Tokenika, see little room to manoeuvre around these constraints. As experienced crypto-libertarians and long-term DPOS advocates, we would be concerned if this was to be taken lightly, as it's the actual foundation of a stable building we're helping EOS to become.
Final words
This post is not meant to be inflammatory in any way, or question whatever happened so far. We believe everyone is acting out of their best intentions, will, and knowledge and the whole EOS community is performing a near-miracle, navigating this uncharted territory with a lot of grace. However, sorting these things out early on is very important in our eyes, as it orients the community in the right direction and sets up precedents for a sustainable implementation of EOS. We understand that some of our views may come across a bit radical, but think that the spirit of crypto was originally derived from self-responsibility and self-governance. We are open to discussion and will double our efforts to represent the EOS community to the best of our abilities.