Hello EOS community!
We are Paytomat, and we promote our company as candidate for EOS Block Producer.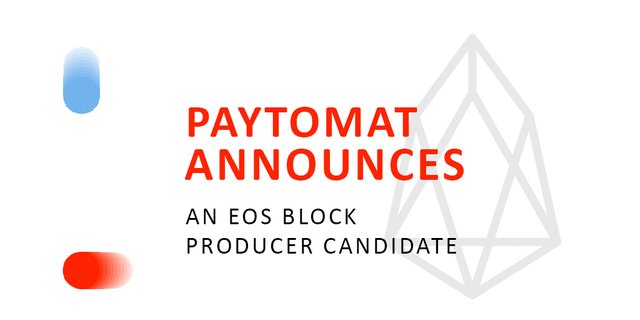 Mission Statement
We aim to be the first EOS-based payment processor active in the retail sector ("real life" payments).
We are moving our proprietary payment solution to on-chain and EOS-based core.
Public website and social media
Website - https://paytomat.com
Telegram - https://t.me/paytomat
Twitter – https://twitter.com/paytomat
Facebook – https://www.facebook.com/paytomat
Github - https://github.com/Paytomat
Steemit - https://steemit.com/@paytomat
Information about the company
A) Official block producer candidate name
Paytomat
B) Location of company headquarters
Tallinn, Estonia
C) Expected location of servers
Primary node: Tallinn
D) Type of servers
Dedicated Root Server EX42-NVMe
Intel® Core™ i7-6700 Quad-Core Skylake
64 GB DDR4 RAM
2 x 512 GB NVMe SSD
1 Gbit/s bandwidth
E) Our team
Yuriy Olentyr – CEO
Security professional for almost a decade, with the skills to compete with some intelligence agencies

Alexandr Baranovsky - Co-founder
Marketing and promotion expert with 20 years of field experience

Yuriy Savchenko – CTO
Software industry veteran with strong background in web applications architecture, machine learning and blockchain

Eugene Shimalsky - Director of Product
All-seeing manager, VP Products and technology at age 27 with dozens of people under his leadership

Andriy Velykyy - Business Development Director
Founder and leading mentor of 20+ businesses with diverse experience all around the globe
Overall, we have a team of almost 50 people, more info about the team is on our website.
F) Paytomat contributions to EOS
integrated EOS payments into Paytomat Core - allows to make payments to hundreds of merchants in Eastern Europe, Venezuela, US and South Korea
created PTI token based on EOS to support the project
integrated EOS in Paytomat Wallet, including EOS resource management
implemented Simple Wallet protocol into Paytomat Wallet for dapps login and trading
created a cross-chain token migration protocol (ERC-20 to EOS tokens)
participated in EOS Community Conference 2018
made several interviews with EOS community members: EOS World Tour, EOS Ignite, Acro EOS
Coming soon
Large catalog of EOS-based dapps and exchanges inside the wallet, marketplace.