Why am I investing in EOS? (SWOT analysis)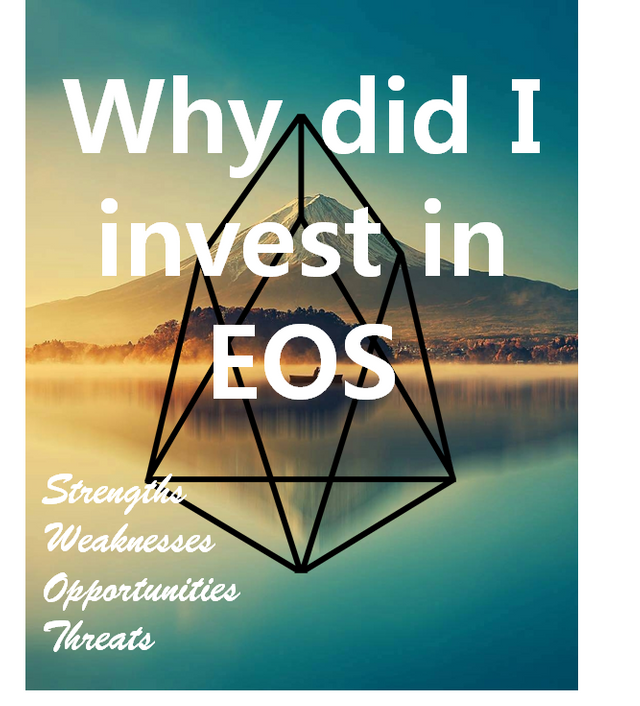 As an ordinary person, I have gone through many failures and regrets in my life until 2012. Luckily, failures turned into great lessons, and I started to make great decisions since 2013. One is start investing in CryptoCurrency. As of now, I am holding 30K EOS and my ultimate goal is to accumulate 100K EOS before main network launches.
Based on my research on EOS, I would like to share EOS SWOT analysis. Please note this is my personal opinions.
Strength:
Transaction per second (we all know EOS can potentially offer millions+ transaction per second)
No transaction fee for end-user (this is game changer)
High latency (Dan mention on 09/20/2017 London meetup - sub-second interval time)
Huge fund up to 1 billion dollar (block.one has huge fund and CEO-Brendan mention on 10/07/2017 that they will leverage some portion of their capital for the entrepreneurs)
EOS has many projects being developed already (according to CEO-Brendan on 10/07/2017)
Bitshares and possibly Steem will move to EOS
Overall technologies and utilities are superior to others - competitors in current blockchain space
EOS being able to support million+ transaction per second as well as providing zero transaction cost for end user is what makes EOS the best. EOS will be the only platform that is able to support commercial scale dapps.
Weakness:
Time (many things can change until June, 2018)
EOS is already late to the market and EOS do need to build strong community fast before Ethereum and/or other competitors take over majority of the market
Opportunities:
CryptoCurrency has no upside limit (human being never had dealt with such thing in the history)
CryptoCurrency had exponential growth in market cap as well as awareness in 2017. This will bring more Dapps and ICOs to the market in the future
Major blockchain companies could not deploy their projects due to low technical specifications on current blockchain space. These companies more likely to join EOS community
Threats:
Vitalik is too genius. He may solve and implement Sharding technology on Ethereum and improve overall Ethereum technology before EOS build strong community
Overall CryptoCurrency market crash and never recover (this can happen by major countries such as US and/or Europe decide to ban overall CryptoCurrency)
EOS network can be launched by anybody and EOS ERC-20 token holders don't have guarantee receiving real network tokens
I personally don't worry about last bullet item, because block.one also holds 10% of the coin and they will only support (with up to 1 billion dollar fund) the network that gives real network tokens to EOS ERC-20 token holders. Also, Bitshares and possibly Steemit will also move to EOS network that block.one support.
With this analysis, I believe risk/reward ratio is extremely high. I believe there will be a strong demand for the coins since coin guarantee the utility and network capacity proportionally. Therefore, I am extremely bullish on EOS for long-term and I am personally expecting for at least $5 per coin in 2018 and at least $20 per coin in 2019. I believe EOS can reach top 3 market cap by early 2019, and also may surpass Ethereum by 2020. I welcome readers to leave comments not only asking questions but also providing other opinions to me and to all readers.