EOSIO Block Producer Alarm - Get alerts when your favorite Block Producer changes rank on the EOSIO Main net!
Hi everybody,
As many of you might know, the first EOSIO public network was activated yesterday on 14th of june 2018 after 15% of the tokens were staked to vote for block producers. What a historic date!
I have been following the development of this project since its inception, since the day I watched the presentation Dan Larimer and the team did in Consensus on may last year. It has been a nice journey since then and it has been amazing to see the community grow and develop with the passing of time.
Different tools have been developed by the community and block producers: voting portals such as eosportal.io, block explorers such as eostracker.io and wallets such as eos-voter just to name a few.
The idea
I have been active in the eos sw/eden telegram channel where the idea of a tool to follow the rank of a block producer was born. Members of the community wanted to track how their favorite block producer was doing during the initial 15% voting period and in a brainstorming session everybody started inputting different ideas about how this tool should do and look like. @performatgames proposed to have super mario sounds every time the block producer you followed changed its position in the rank, and so the idea started getting some shape!
I have learned a lot from the community so I wanted to give some back! That's how the EOSIO Block Producer Alarm was born, a project that aims to alert you directly from the web browser when your favorite block producer goes up or down in rank, reaches the first position or goes in standby mode, i.e. rank > 21.
The project was forked from the LiquidEOS voting portal and adapted for the purposes I mentioned before, using eosjs to fetch data from the eosio main net.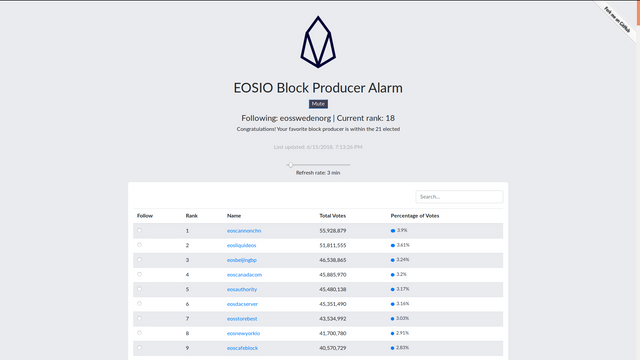 Features
Customizable refresh time between 1-60 minutes. Default is 3 min.
Displays when the rank table was refreshed last.
Search to filter your favorite block producer.
Super Mario sounds in addition of a browser alert when the block producer changes rank.
Ability to mute the sound, which is useful if your favorite block producer is #1 since the audio will be looped until that changes :smile:.
Contribute
This is of course a community effort. If you find this useful feel free to use it, share it or fork it from Github ! Have found a bug? Create an issue or a pull request on github :blush:.
This is just getting started
EOSIO was just born, and now it's time to build dApps on it! If you are a developer, take a look at the EOSIO developers portal for more details on how to get started.
Special thanks LiquidEOS for the base of this project, to eos sw/eden for hosting this project and to all the member of the community who gave feedback and tested the code, specially you @performatgames!
GO EOS!