Stan speaks at the China International Big Data Industry Expo 2018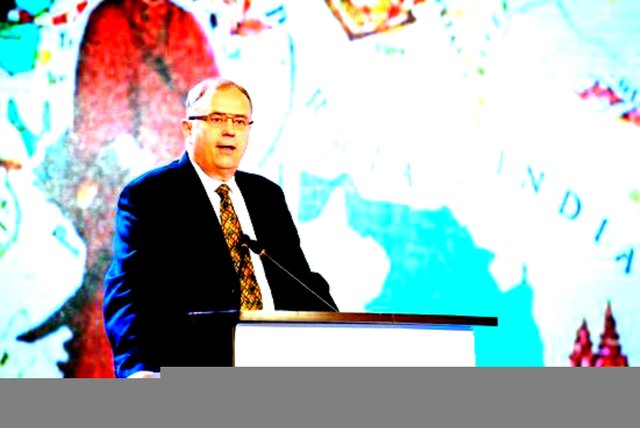 Blockchains enable the sharing of development in remote areas - Stan Larimer, Cryptonomex.
The 2018 China International Big Data Industry Expo officially opened in Guiyang. At the high-end dialogue forum on the theme of "a new blockchain-value-connected order" forum, Stan Larimer, the father of EOS founder Dan Larimer, compared the blockchain to "Silk Road", "it is the interconnection of the infrastructure at sea and on the road. , there is also space, there is cyberspace, all the space, all places will be fully connected." He believes that blockchain can make people from remote areas, or areas where connectivity is not good, to enjoy more development opportunities.
TRANSCRIPT OF STAN LARIMER'S SPEECH (As translated by Google)
Thank you very much for being able to come here to speak. Every time I give a speech, I like to use this slide to start the game. This one, don't mix me up with my son. I'm his father. There's always someone who tells me how old you are, I think you Very young. Dan invented many of today's technologies that I wanted to talk about. Today I mainly talk about the benefits of these technologies. There is now my son, Dan, who wants to support any technology that you have heard about the blockchain. He hopes to be able to Give support to everyone so that they can build their own blockchain project, and I think my son can actually be said to be the creator of the real-time blockchain, real-time means that it can happen immediately It can be recorded and may only take a second or even less than a second. This is what my son Dan is doing. There are many interesting new discoveries about the blockchain in the future.
Dan's system is processing 70% of all blockchain transactions, which can be said to be 5 times as much as Bitcoin transactions. Actually, their market value is currently several times that of Bitcoin. It should be said that it is very promising next time. project. Also consider what your needs are. If you give your customers real-time business transactions, you can think about my son's project.
First of all, let me start with a concept that is economic superconductivity. What does the superconducting economy mean? That is to say, on the entire planet, we can communicate with each other very seamlessly without any resistance on the whole earth. Then everyone knows what the concept of superconductivity is, that is to say, we need to completely eliminate people now. With regard to the resistance of trade, we can recall the famous Silk Road in history. What is the most special point of the Silk Road? We all know that the Silk Road can be said to have changed the history to some extent, and that Marco Polo also came to China through the Silk Road. This Silk Road is equivalent to saying that it is an effective link between two different regions of the economy. Eliminate the obstacles between economic exchanges.
The blockchain that connects us now is also able to help us to effectively eliminate some of the economic resistance to the transaction. Moreover, the "Belt and Road Initiative" put forward by China also made me feel very impressive, including the construction of infrastructure and the cooperation with many countries along the route. This is actually a very good initiative to reduce economic resistance and economic friction. This will bring greater prosperity to all of us.
The third area that can be used in the blockchain is the "Silk Road" that I would like to say. The Silk Road can be said to be the interconnection of infrastructures at sea and on the road, as well as space and cyberspace. Space, all places will be fully interconnected. But in some particularly remote areas, even the Arctic, we can all realize interconnection. Now we see that there are many regions because the Northern Hemisphere is doing a better job of interconnecting and interconnecting, the economy is more prosperous, and the Southern Hemisphere economy is lagging behind because of the Internet. Interoperability is not very good.
However, if these areas are not well connected, they can actually be changed later. For example, the blockchain can create such an impact, so that these remote areas, or areas where connectivity is not very good Can enjoy more development opportunities. This is a very good trend that I have seen. It is using technology to connect people through land, sea, and sky satellites using the "Silk Road."
This is Dan's innovative invention of some technologies, first of all from the Belt and Road initiative proposed the same period, that is, starting in 2013, he began to invent the real-time blockchain technology, put it on the exchange. At the same time, there is also a smart coin factory, there are bit stocks, and then upgraded, upgraded to a faster system, while there are some companies using the same technology, including the development of EOS today. At the beginning, the technology can be said to have been very big development. Now in the four most active blockchain technologies, you can see the relevant comparative data, for example, STEEM is the second one he made. The project, which occupies half of the transaction volume, you can get the workload of other people, as well as the bit stocks, and there are also 2/3 of the blockchain transaction volume, so this is also to make us better It is clear how the future trend is, and there is also a lagging indicator that the market value data can tell us how well the past few blockchain technologies are doing. Everyone can pay more attention to real-time blockchain technology in the future.
Another very interesting thing is that our new product is a real-time currency. Some of these currencies can be said to be of very high value. These smart currencies can track the value of other assets and can be calculated according to a formula. Track the value of other currencies. For example, we have a gold coin. It is a new type of gold coins that will become very popular with Stokens. There is also a real-time light speed transaction. Now you can see real-time transactions happening in different parts of the world. There are no mediations, there are no transaction delays, and removing mediations is not necessarily a bad thing. It can help us form new tools and form new rules that can help the government, not the government. There are also gold and silver currencies that can be redeemed at the same time, and these are supported by the currencies of these governments, and transaction costs are now expected to reach zero. So these are a very good development for us.
After summing it up again, I was also inspired by the Belt and Road Initiative. Now that the economic prosperity can be further expanded, we can realize a truly global economic highway that can cross the network, cross the space, and cross the sky. At the same time, we can now realize a speed of light. The transaction, but it is possible to achieve a one-way all the way to the sky.