BE POOR NO MORE: GenerEOS teams up with ZKS to reward POOR token holders!
Team GenerEOS has partnered with ZKS to reward POOR token holders who stake and vote for 25+ block producers (either directly or through a proxy).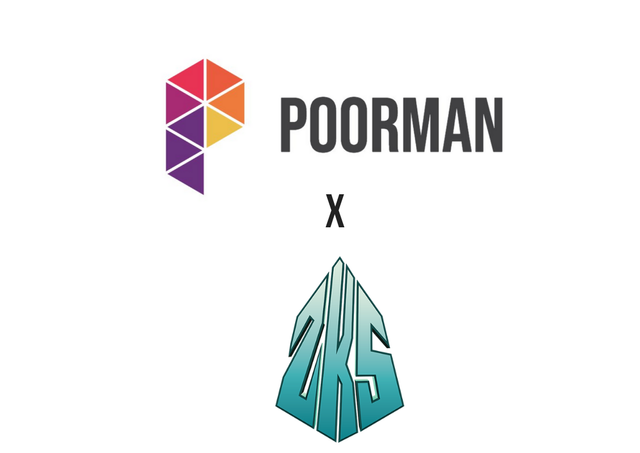 On the 1st of each month, GenerEOS will AirDrop POOR tokens to EOS account holders that meet the following criteria:
Have a POOR balance (either from an existing DROP or AIRGRAB)
Have a STAKED EOS balance.
Have voted for 25+ Producers directly or through a PROXY
Meeting these criteria will give you POOR at a 1:1 rate to your STAKED EOS amount, for more details, read this article.
Now, to reward these loyal stewards of the network, ZKS has put up for grabs, a daily reward pool where POOR token holders can spend POOR in order to receive ZKS tokens (much-needed CPU).
About ZKS
EOS Mainnet users struggle to get enough CPU & NET resources when developing, playing games or using dapps. ZKS tokens solve this problem by offering an easily redeemable token that users can claim for additional resources on the network. ZKS tokens have been designed to be a very simple utility token, that will provide 1 EOS of CPU for 3 hours. There are no complex mechanisms for issuance or redemption. For full details on how to claim please visit: https://zks.one/
How it Works
Starting on December 11th at 19:00 AEDT, there will be a daily pool of 3,331 ZKS to be claimed. To claim your stake in the daily rewards pool, simply send POOR tokens to the EOS account: 'zks4poorswap'. Once POOR has been sent to this contract, it will be burnt from the supply for eternity. The daily rewards pool will reset at 19:00 AEDT each day and is distributed as follows:
3331 ZKS * (my_poor_spend / total_poor_spent)
For example: If you spend 1000 POOR and in total 10,000 POOR were spent in the pool then you would receive 3331*(1000 / 10,000) = 333.1 ZKS
To prevent gaming from whales, we have introduced a cap of 50,000 POOR to be spent in exchange for ZKS.
Claiming ZKS
After you have spent your POOR and the daily round is complete, head over to Eostoolkit.io and navigate to the 'PoorSwap' tab. Simply click on the claim ZKS button ensuring that your correct scatter identity is attached and your ZKS will be sent to your account.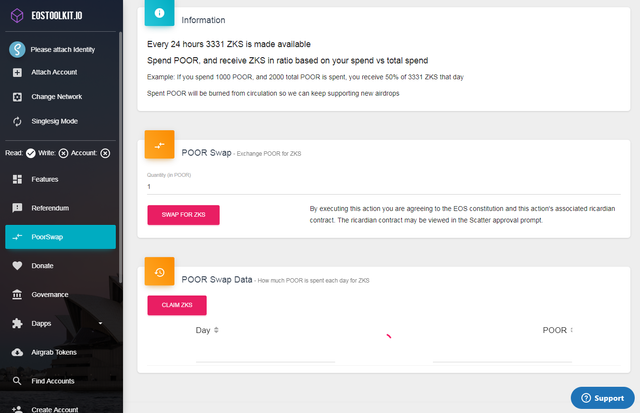 About Us
GenerEOS is a social enterprise block producing candidate with a mission of promoting and supporting scalable and highly reliable block production whilst giving back block rewards to Social Causes.
Based out of Sydney, Australia, GenerEOS is founded by a team of like-minded blockchain enthusiasts with diverse backgrounds and a passion to make a difference in the world and fostering the spirit of generosity by giving back.
Please remember to vote for 'aus1genereos' so we can keep working hard to add value to the EOS community.
GenerEOS: The Future of Giving
Website: https://www.genereos.io
Twitter: https://twitter.com/GenerEOSAus
Steem: https://steemit.com/@genereos
Telegram: https://t.me/generEOS
Reddit: https://www.reddit.com/user/GenerEOS
Github: https://github.com/generEOS
Medium: https://medium.com/@generEOS
Facebook: https://www.facebook.com/generEOS