EOS Tribe Ownership Disclosure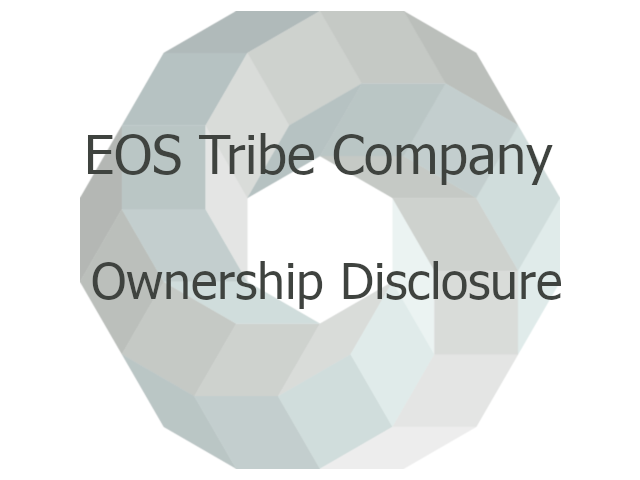 In our efforts to provide full disclosure and transparency to token holders and ensure that our organization in full compliance with the reg producer agreement, we wanted to provide an official release of our ownership structure.
Disclosure
EOS Tribe is the brand we operate under publicly. EOS Tribe LLC, a Wyoming Limited Liability Company, is a blockchain technology company focused on building infrastructure and software for the EOS network.
Our Purpose
Since the inception of EOS Tribe we have always wanted to use it as a platform to promote and grow blockchain adoption. We believe that many inefficiencies and inequities inherent in the world could be solved with blockchain technology, and more specifically - EOS. We believed in it so much, we were the first BP operation to establish our company in Wyoming.
The Plan
When we set out to structure our organization, we thought a lot about offshore trusts and complex shell company structures, but we believed that could look bad to regulators and other government agencies that want to see operators of this new technology stand in the light of day.
EOS Tribe are not pure idealists. We have always been focused on executing on our goals and pragmatic about how we achieve them. It's been a long game for us since the beginning and we knew that going into this.
Wyoming has provided a legal framework for organizations like us to operate and it's a door that is open for those with enough courage to walk through it. We took those steps on May 18th, 2018 officially.
To see mainstream adoption of this technology and more acceptance here in the states among many agencies and industries that would like to see it fail, we have to step up and be the example they want to see.
Our mission & goals were clear...
To engage, foster and help grow any organization that seeks to use the EOS platform.
To improve the quality and stability of the EOS network.
To improve public perceptions and accelerate adoption of the EOS platform.
To educate and elevate the EOS dApp & BP ecosystems.
To improve and protect the EOS network infrastructure from censorship, hackers and other bad actors.
To keep this new innovation and the opportunities it brings for our workforce here in the United States
Company
EOS Tribe, LLC
Legal entity type: Limited Liability Company
Jurisdiction: Wyoming, United States
Established: May 18th, 2018
Primary assets and purpose: Block producing node, block producer security consultancy.
Ownership
Please note ownership of EOS Tribe have changed in December, 2018. We are finalizing our new legal structure. Statement below reflects interim ownership structure
| Owner | Ownership |
| --- | --- |
| Eugene Luzgin | 60% |
| Sam Vetas | 40% |
As many other BP operations come forward to disclose their ownership, we hope that the community can understand why it is so important to vote for truly independent, competent operators - especially here in the United States.
Website | Medium | Github | Telegram | SteemIt | Twitter | Discord
---