RMIT University partner with EOSphere for EOS research and online EOS developer courses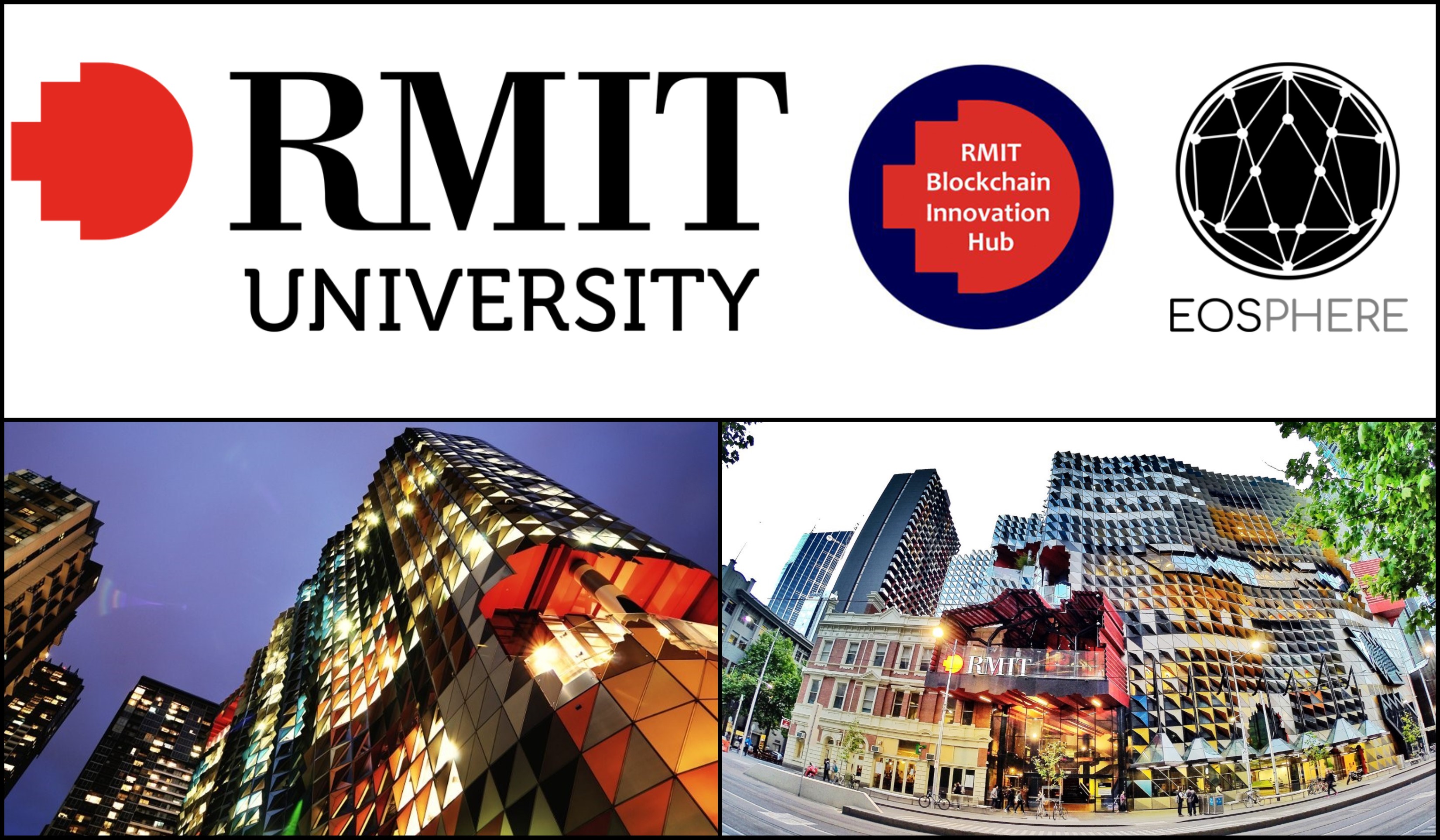 Fri 27th April 2018. RMIT and EOSphere signed a letter of understanding, where EOSphere has committed to fund EOS specific research and online developer training delivered by RMIT's Blockchain Innovation Hub.
Jason Potts, Professor of Economics at RMIT University and Director of the Blockchain Innovation Hub at RMIT said "As blockchain technology seeks to experimentally build collective decision-making into its governance protocols we think there is a wealth of research and understanding that can be mined from the history, theory and models in political economy, public choice theory and new institutional economics (the economics of governance) to help improve the design of blockchain governance and therefore to improve the prospect of success of projects and communities that build on these. We are very excited to work with EOSphere, the only Australian EOS block producer candidate, in examining EOS governance and developing this community."
'Co-Founder' of EOSphere, Ross Dold – "We're delighted to work with such a globally recognised university such as RMIT and publicly commit block producer funds for this important EOS community benefit initiative, covering EOS voting research, charitable application of EOS and online EOS developer training." 
RMIT University is Australia's largest with 84,000 students, and ranks among the world's top 100 universities for Computer Science and Business. RMIT has campuses in Vietnam and maintains teaching partnerships in China, Hong Kong, Indonesia, Singapore, and Sri Lanka. In Europe, it has a coordinating centre in Spain located in Barcelona.
The agreement details several areas for EOS research including:
EOS blockchain enabled voting mechanisms and governance structures. This is envisaged to include an examination of quadratic voting, liquid democracy and futarchy and their possible application to an EOS blockchain.
Examination of new and novel methods of collective decision making including Decentralised autonomous organisations (DAOs) built using the EOS blockchain.
Comparative examination of the impact the EOS blockchain will have on trust in altruistic organisations versus existing business models and the impact the EOS will have on existing governance structures of altruistic organisations.
RMIT have committed to publishing academic papers detailing the research outcomes as well as speak and present the findings as both domestic and international conferences.
Additionally, EOSphere has committed to explore an EOS education and incubator program with RMIT where:
RMIT will deliver online developer courses on EOS blockchain technology.
Work towards establishing an incubator program for charities seeking to use EOS.
RMIT will be joining EOSphere on their upcoming Asian tour to share details of the partnership and what it means for the EOS community. 
---
EOSphere are a passionate group of EOS enthusiasts and data centre professionals campaigning for election as founding block producers for the EOS mainnet launch in June this year.
Based in Australia, EOSphere are focussed on bootstrapping the EOS community and serving the entire EOSphere through provision of infrastructure, governance and community benefit initiatives.
Follow us @eosphere - twitter @eosphere_io - YouTube EOSphere - Facebook EOSphere