Stand-by BPs Standing Out! EOSONE Report on Re-ranking the Top 83 BPs on 5 Dimensions#2
The outline of this report is as follows:


01 Preface
As a non-profit supervisor of BPs and builder of EOS ecosystem, EOSONE has been collecting and analyzing a large amount of data and information in the past month, and finally on September 4, issued our first report on BPs ranking named
Are EOS BPs Really Qualified? Re-ranking the Top 40 BPs on 5 Dimensions!#1.
https://steemit.com/eos/@eosone/are-eos-bps-really-qualified-re-ranking-the-top-40-bps-on-5-dimensions
The report immediately attracted widespread attention and discussion from BPs and EOS fans. CryptoLions, EOS Tribe, EOS Nation, EOS Authority, AtticLab, EOS Detroit, EOS42, and JEDA, have responded quickly and actively, providing the information needed for this report and making useful suggestions to us. After receiving these feedback, EOSONE updated the information and scores of the data sheets in time, and adopted the suggestions as appropriate. EOSONE is very thankful and more motivated about this, and will write more useful articles on EOS problems and contribute to the EOS ecosystem!
02.BPs Name List
The top 40 BPs are involeved in our first report on BPs ranking. But in this report, the top 83 BPs with reward are all included. You should know that the BP ranking is the ranking of voting sites as of 17:00 on August 17th, not the score ranking of our report.
The name list of the top 83 BPs is as follows: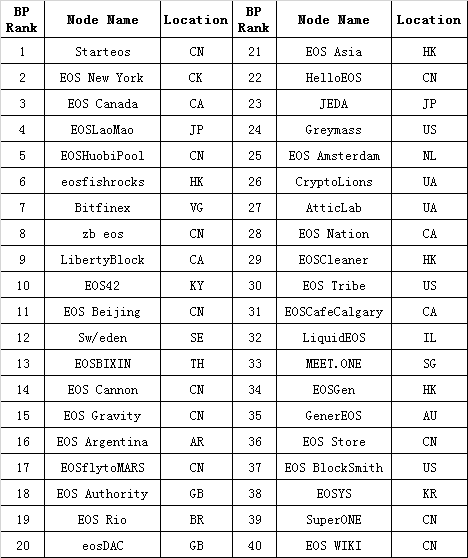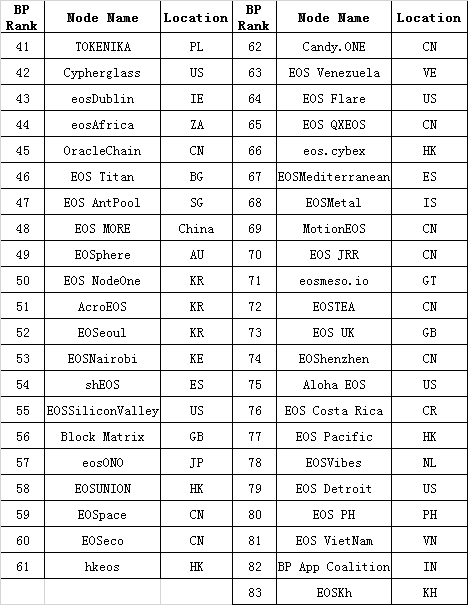 03. Criteria
In order to collect BPs' information before the EOS main net comes online, EOS GO has asked the BP candidates to provide the following six check mark criteria in its series of Block Producer Candidate Report: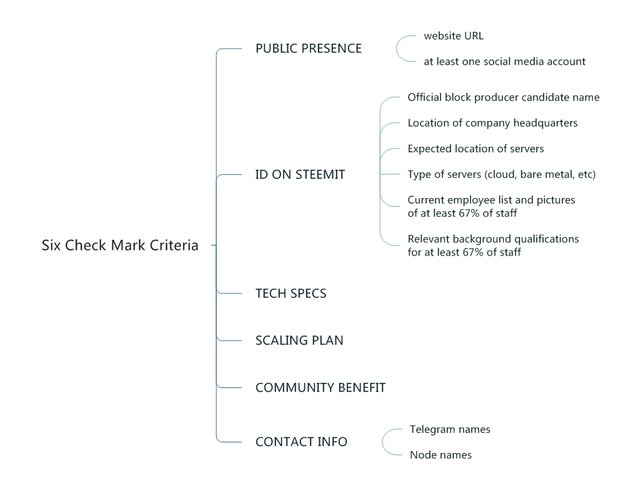 In combination with the above EOS GO criteria, EOSONE intends to review BPs in five quantifiable dimensions, and they are transparency, internationalization, community construction, activity participation, and landing projects with different scores based on their importance. The review dimensions and scoring methods are shown in the following table: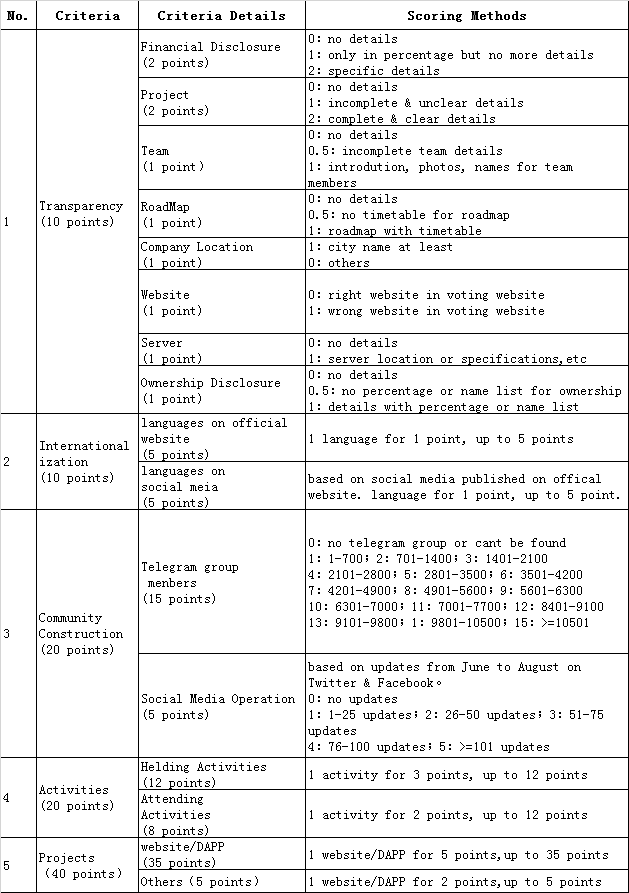 In addition, EOSONE mainly obtains the information from the BPs official websites and their main social mediae published on the official websites. The official websites refers to the ones that BPs actively provided when participating in the BP candidates.
04. Response
(1)Transparency
Although all BPs claim to be transparent to the public, not all of them can be regarded truly open and transparent. Most BPs disclose team information, roadmaps, company addresses, server information, etc., but only
EOSeoul, CryptoLions, EOS Tribe
and so on timely release detailed financial information, of which
CryptoLions
is the first BP to actively publish financial information.
EOSeoul and EOSVibes
regularly update all projects and events on their Steemit, which is very clear and useful.
Conversely, some BPs, such as EOSOE, Candy.ONE, EOSFlare, EOSTEA, EOSflytoMARS, are far down to transparency, because of insufficient information and no social mediae on their websites.
The scores and rankings of all BPs in terms of transparency are as follows: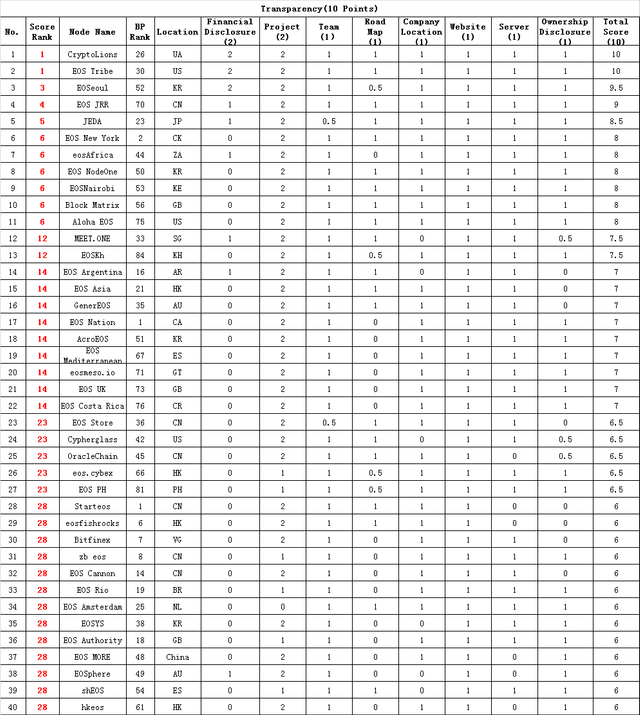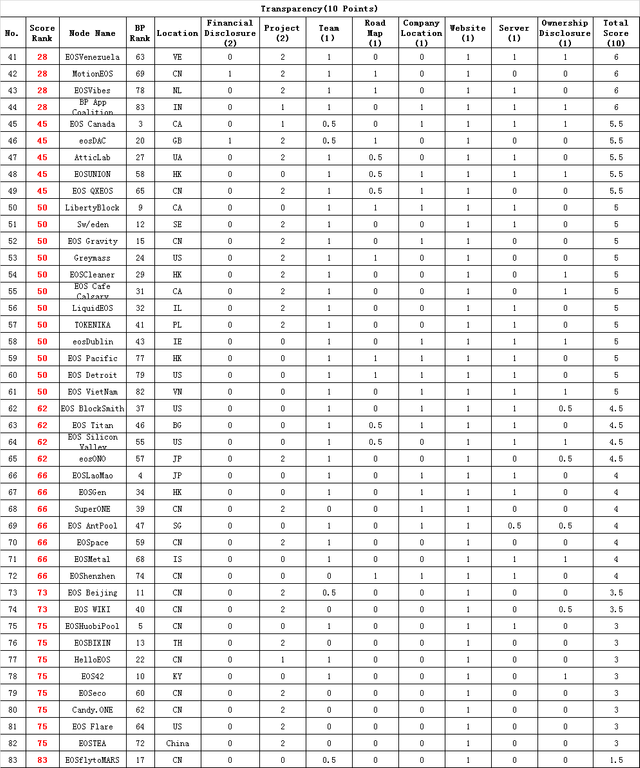 (2) Internationalization
Since EOS is an international project, BPs around the world should also be in line with international standards. The most obvious assessment standard for internationalization is the language quantity of official website and social media.
In terms of official website languages, the languages number of
eosDAC, EOSeco, EOSGen, Candy.ONE, and Aloha EOS
is more than 6, and the languages number of
EOSGen and Aloha EOS
is even more than 20. In terms of social media languages,
EOS AntPool and EOSAsia
social media languages are available in 4 languages, and
EOS42
with staffs in 6 countries and 3 continents works in at least 5 languages. It can be seen that these BPs are highly international in languages.
The scores and rankings of all BPs in terms of internationalization are as follows: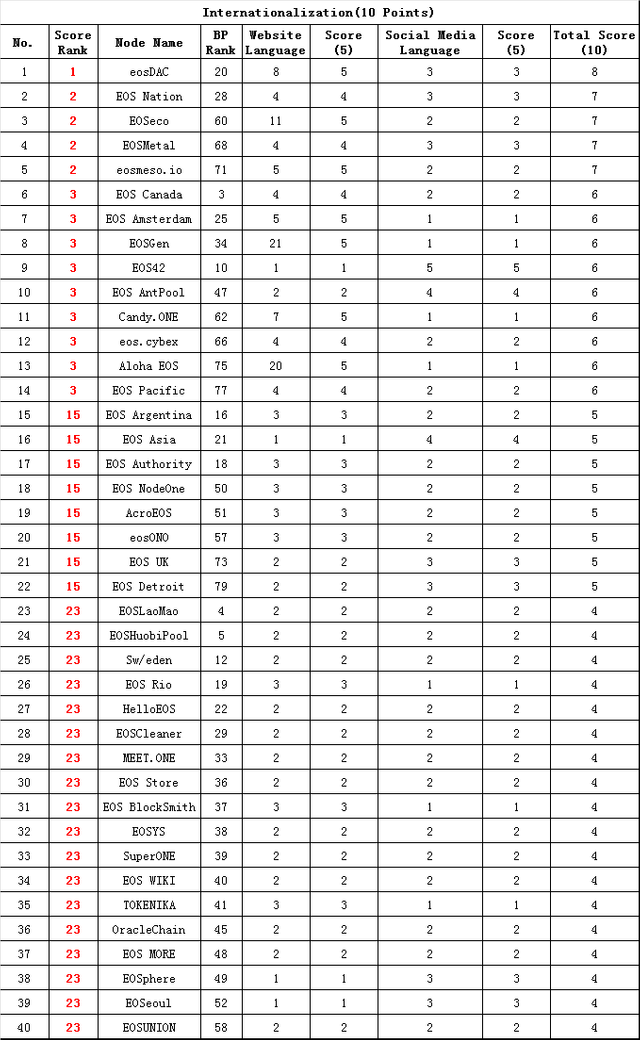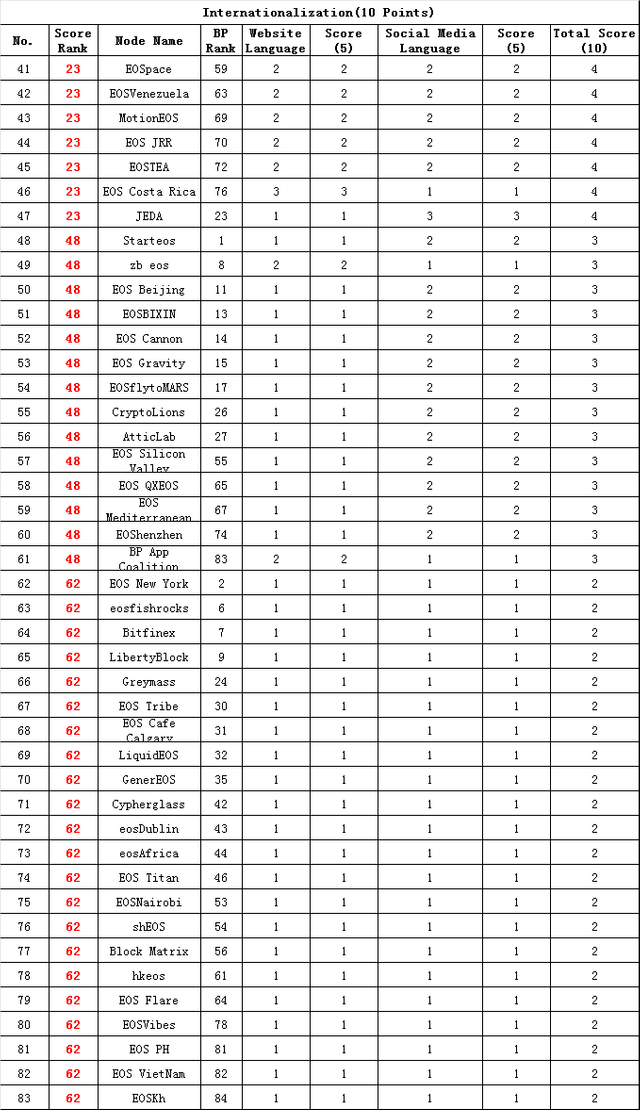 (3) Community Construction
The telegraph channel is just like the ordinary social media such as Twitter and Facebook, and only the administrator can publish news and without instant interaction between members. Therefore, only the number of telegraph group members is considered in this item, instead of the number of followers of the telegraph channel. In addition, EOSONE searches each BP's telegram group and social media from its official website and Steemit. And social media mainly refer to Twitter, Facebook, and Steemit, which have a large amount of users.
The members number of the Candy.ONE and eosONO telegraph groups exceeds 45,000, while the ones of the MotionEOS and eosDAC telegraph groups exceeds 10,000. Known as the decentralized community, eosDAC has 5 telegraph groups at least in English, Spanish, Italian, Japanese, Korean.
In contrast, 9 BPs, including TOKENIKA, hkeos, EOS Pacific, EOSGen, EOSMORE, EOS Flare, EOS QXEOS, EOSflytoMARS, EOS WIKI, fail to score, for no telegram group information can be found on their official website and social media.
The scores and rankings of all BPs in terms of Community Construction are as follows: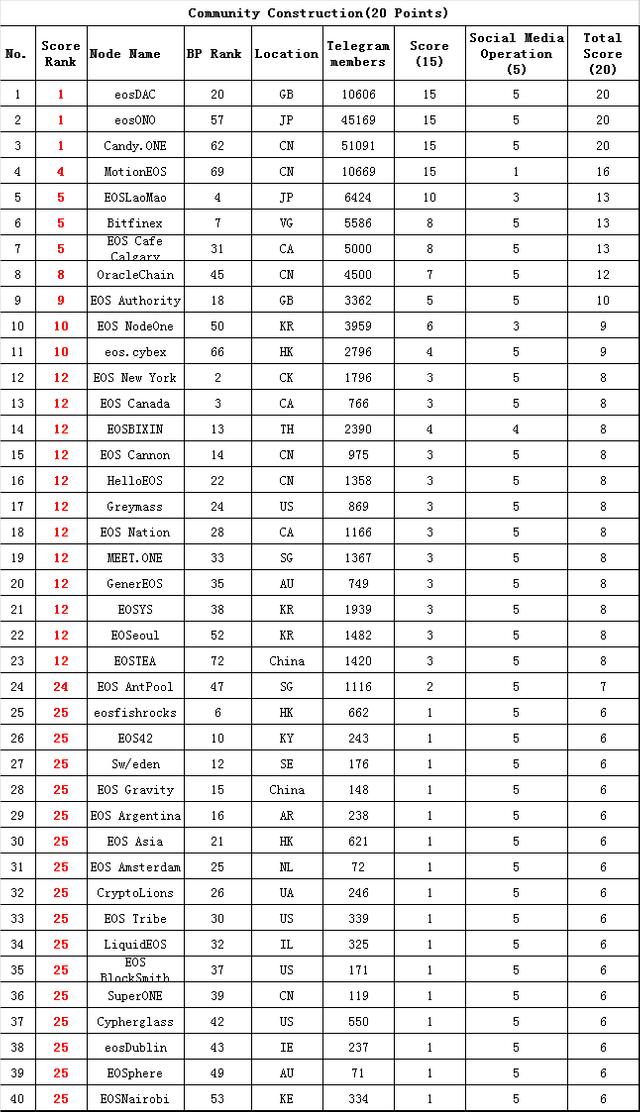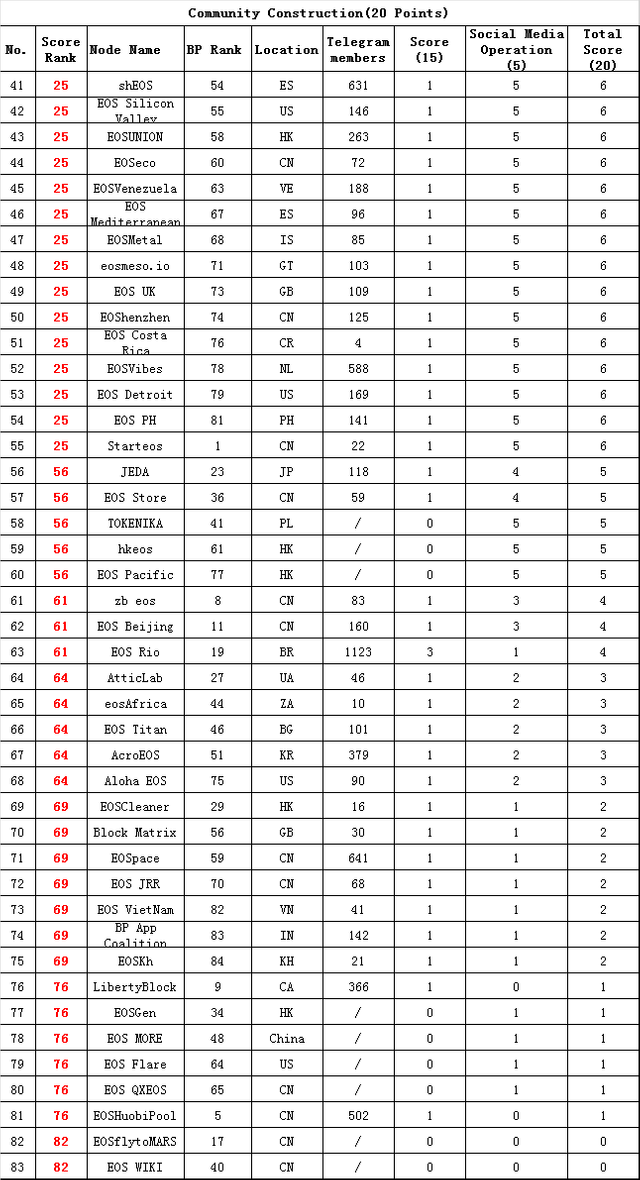 (4)Activities Participation
Since EOS is still in the early stage of development, it is important for BPs to strengthen interaction and promotion. Therefore, EOSONE has listed the activity participation of BPs as one of the important review dimensions.
EOSONE mainly obtains the activities information from BPs' official website, Steemit, Facebook, Twitter, etc.
Many BPs, such as CryptoLions, OracleChain, EOSDetroit, EOSeoul, EOS Cannon, actively organize or participate in various blockchains and EOS activities around the world, successfully uniting more EOS BPs and EOS enthusiasts. In contrast, 23 BPs failed to score in the activity participation because no activity-related information could be found.
The scores and rankings of all BPs in terms of activity participation are as follows:



(5)Landing Projects
As we all know, EOS is one of the blockchain projects, and blockchain is essentially a technology. Therefore, EOSONE believes that the most important goal of EOS is to produce blockchain technology projects, such as blockchain websites and decentralized applications.
At present, most of the landing projects of BPs include wallets, exchange websites, BP voting analysis websites, various game websites or DAPP, EOS knowledge promotion and training materials. Besides, BPs such as OracleChain, EOS Beijing, Starteos, EOSphere, EOS Detroit, EOS PH, and eosAfrica, cooperate with local universities or big technology companies, to cultivate blockchain technical talents and develop blockchain technology.
9 BPs fail to score in the Landing Projects, but it cannot be said that these unscoring BPs have no landing projects, for scores are calculated just based on our collected information.
The scores and rankings of all BPs in landing projects are as follows: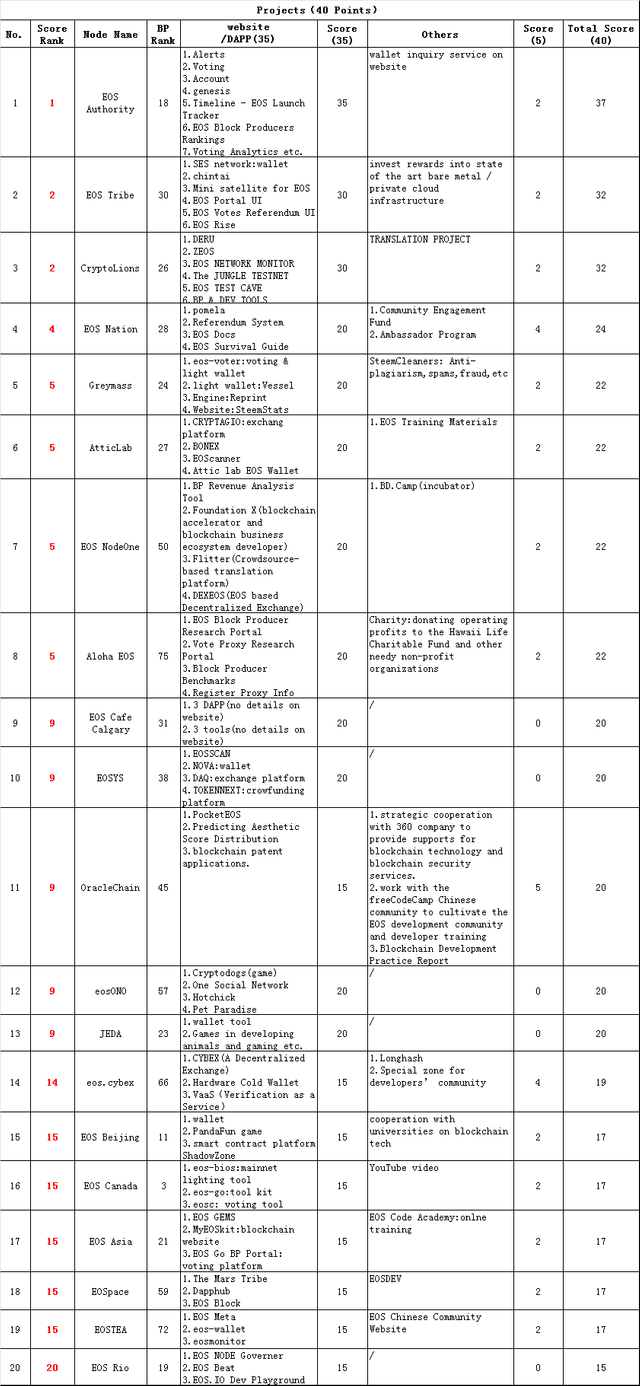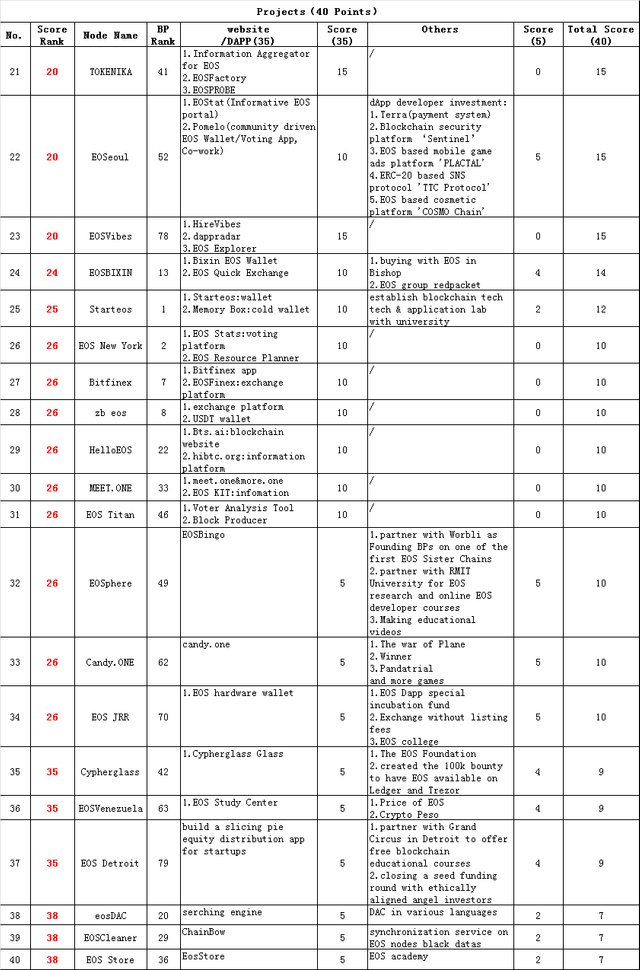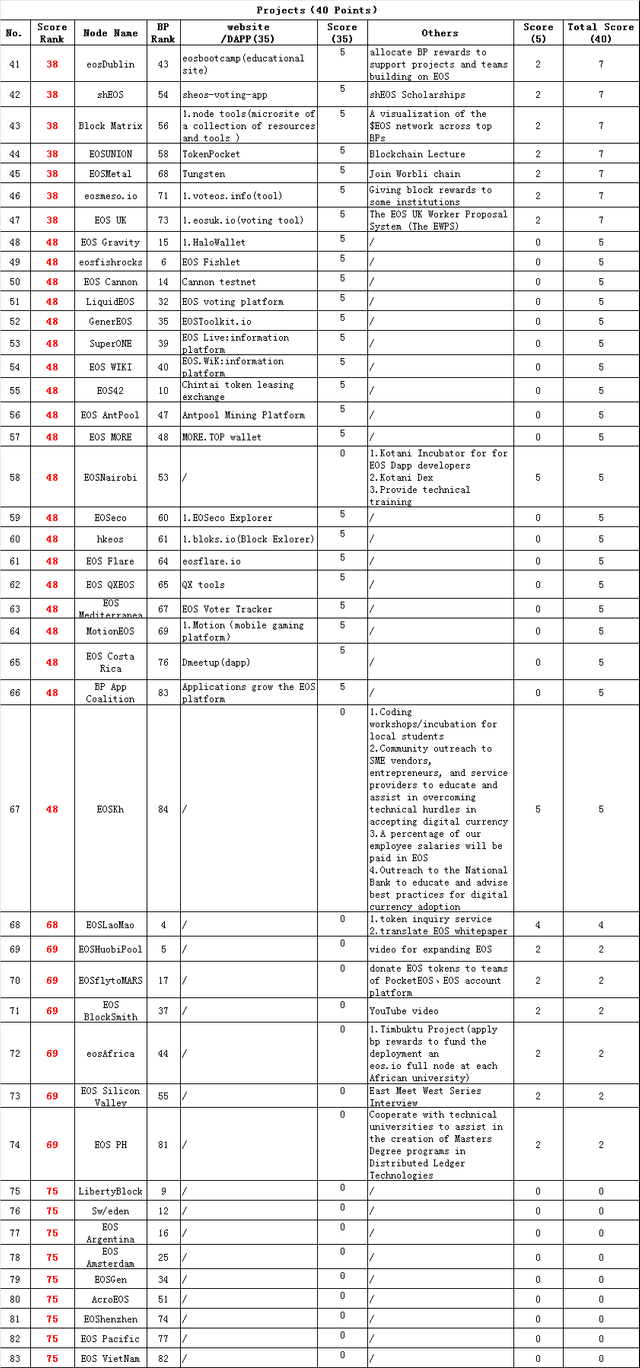 05. Final Ranking
According to our analysis based on transparency, internationalization, community construction, activity participation, and landing projects, the average score of 83 BPs is 30.86 points (out of 100 points), and the highest score is 68 points, while the lowest score is only 6.5.
The scores and ranking of all BPs are as follows: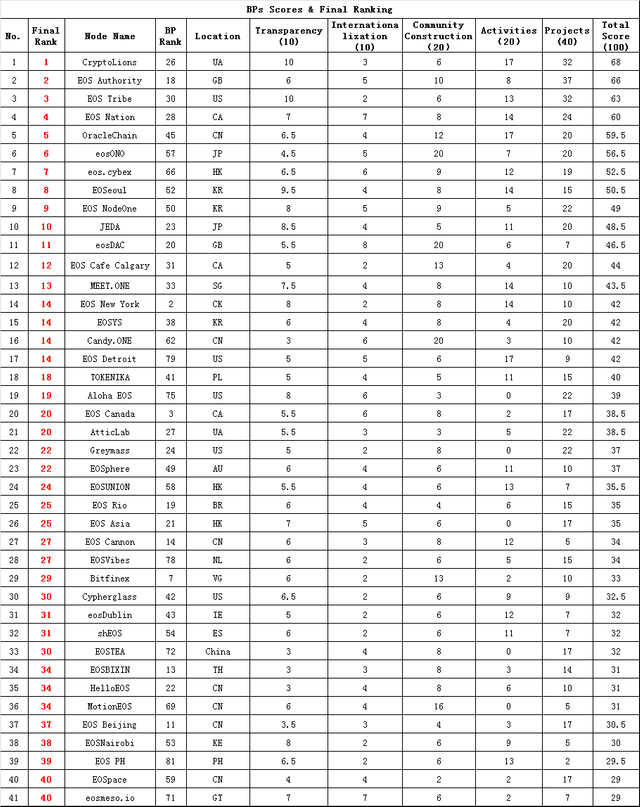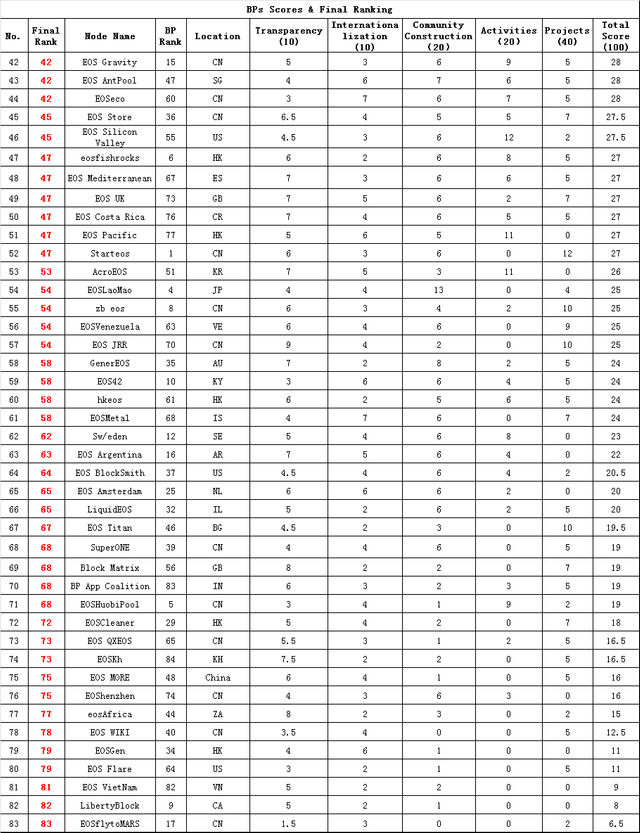 As can be seen from the above table, each BP has its own unique contribution to the development of EOS. First, some BPs develop various landing projects, such as EOS Authority, CryptoLions, EOS Tribe, etc. Second, some BPs are good at uniting members and building communities, such as eosONO, eosDAC, Candy.ONE, etc. Last but not least, some BPs organize or participate in various activities and spread EOS knowledge to the world, such as EOS Detroit, OracleChain, EOSeoul, MEET.ONE, EOS New York, EOS Nation, CryptoLions. In short, no matter what type of contribution, as long as it is beneficial to the development of EOS, it is worthy of appreciation and praise!
06.Suggestions
1. Add social media information.
Some BPs, such as EOS WIKI, EOSflytoMARS, EOS QXEOS, EOS MORE, hkeos, EOS Detroit, have no social media information on their official websites. If the official website information is incomplete and social media accounts still cannot be found with keywords, people have no ways to better understand these BPs, and can not successfully join the community. In order to enhance the understanding between BPs and help enthusiasts join the community, EOSONE suggests that every BP adds its main social media information on its official website.
2. Update information regularly. EOSONE hopes that the BP candidates, especially those who currently getting the BP reward, can periodically update the BP information, including revenue and expenditure, project information, team information, road map, company address, server information, and ownership disclosure. Here are some specific requirment: 1)The team information must include member photos and members introdution; 2)The road map must have a clear timetable; 3)The project information must include project introduction and latest update.
3. Develop project ASAP. In recent years, with the rapid development of blockchain, some people have criticized the blockchain is just the concept without any useful landing projects, and people in blockchain creat a network bubble and steal money from common people. It is undeniable that some people in blockchain use the concept of speculation to make money. But the more important reason is that there is still no revolutionary blockchain or EOS project for now, so the outside world cannot agree that the blockchain is a revolutionary technology. Therefore, only increasing R&D efforts, and accelerating the landing of technical projects, can we eliminate public concerns and promote the development of EOS ecosystem.
07. Limitations
1. Missing Information
. Due to the large number of social media, EOSONE mainly obtains the related information from the BPs official websites and their main social media, which inevitably leads to problems such as limited information channels and missing information. In order to solve this problem, EOSONE called BPs to provide information with a information filling template in the first report. As of September 18, 2018, 8 BPs provided relevant information to us. That is to say, EOSONE collect the information of the remaining 75 BPs (83 in total) manually, and the workload is extremely large. If the information is not collected, the score and ranking of the BP are relatively backward.
2.Doubtful Criteria. Based on the understanding of EOS ecology, EOSONE summarizes the five review dimensions, and assigns different scores to each dimension. These review dimensions and scores are not supported by accepted theories, and are not voted by all EOS members. If the review dimensions and scores are different, then different results may happen. Besides, since the influence of BP activities and projects is difficult to assess, these two aspects in this report are only reviewed in their quantity.
08. Conclusion
Since EOS is still in the early stages of development, all kinds of problems exist inevitably. Only each BP continues to strictly demand itself and take the initiative, and each EOS participant is united and actively involved, can all kinds of problems be solved, and the EOS ecology flourish.
As a non-profit supervisor of BPs and builder of EOS ecosystem, EOSONE always remenbers our initial intention of "only for the facts, not for money", and will continue to analyze and disclose peoblems no matter how long will it take and how hard can it be!
We will be very appreciated if you can send more your information based on the 5 ranking dimensions and other contributions to our email at [email protected]!
PLS contact us at Wechat: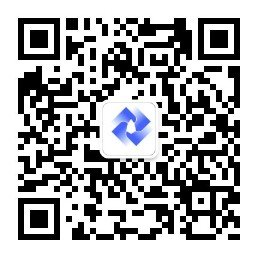 or join in our Telegram group: https://t.me/EOSONE_IO
Wechat Account: EOSONE
Zhihu: EOSONETEAM
Planet: EOSONE
Bihu: EOSONE
Jianshu: EOSONE
Twitter:EOSONE_io