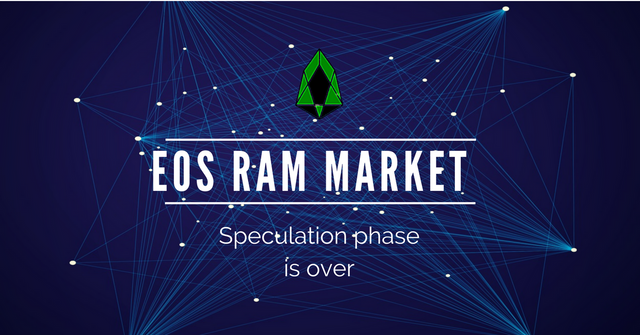 For anyone who has been throwing themselves over EOS these past few weeks, RAM speculation is what has been on peoples minds for at least the past week or so. Around June 20 the price of Ram was around 0,0178 eos/kb and it peaked at almost 1 eos/kb. Many people who dived deep into EOS from the get go made a lot of money. Personally I doubled my EOS portfolio as I bought in from around 0,080 and finally sold the last kb at 0,90.

The way I personally got into this was to consume everything there was to consume on EOS. And I was very early to download the wallets like @greymass wallet (once I knew they were safe enough - no risk no reward) and learn how to use scatter and eostoolkit made by @genereos.
Ram is a commodity
Now, speculating and making money, in this case EOS, is one thing. Another thing is what is good for the space. In simple terms, Ram is basically backed by memory which is a scarce resource.
An analogy would be a real estate market in which property rentals are not possible. In such a market, real estate speculators will essentially own empty properties, adding upward pressure to prices, while decreasing the overall resource utilization as many properties remain expensive and empty.
qoute @bancor-network
Many suggestions has been discussed. Some has suggested dumping more ram, but like @dan says, how will that stop speculation? It will if anything just feed the frenzy.
Dan Larimer explaines in this great and understandable medium article that RAM can be bought and sold, but not transferred from user to user. And he also mentiones that the supply can increase overnight based on community demand or technological advances.
Bancor Relay Volatility
I'm going to qoute @dan here
The Bancor Relay has some parameters that impact how fast the price moves in response to incoming requests to buy and sell RAM. This effectively determines the shape of the orderbook and the degree of slippage someone would see when buying or selling a large quantity.
Due to an unintentional configuration of the Bancor Relay weights on the EOS blockchain, this parameter is set at .05% rather than 50%. This introduces some heavy slippage for buying and selling large quantities and causes more volatility than desired.
Dan then recommends updating this parameter to the intended value of 50% and the immediate effect will be to temporarily lower the spot price offered by the market maker.
Transparency
Dan Larimer understands the free market and is an advocate of speculation - because he understands how speculation helps put fair value on things. But in order for it to be effective, there should be some predictability. People would not like to buy Bitcoin if someone could just suddenly issue another 21 million Bitcoin all of a sudden.
Block.one has created a proposed update to the system contract that will add a fixed amount of bytes-per-block to the RAM supply.
And as Dan Larimer also concludes with is that RAM is what developers need in order to build dapps on EOS. Us EOS holders would like to receive airdrops, yes? And while it was fun while it lasted, and I hope you managed to earn some extra EOS trading RAM,I think the speculative days of RAM-trading is over. Time will tell.
I urge you all to accept that the RAM mania is over for this time. But stay vigilant. Stay ahead. Stay up to date. In the free market opportunities arise all the time. And the most important thing is what EOS is building. Not short term speculation. As fun as it might be, we need to look ahead long term. EOS will airdrop you hundres if not thousands of tokens in the coming year alone. If EOS succeeds with their vision, it can change the world. It has the potential for the first time in Blockchain, to reach the mainstream.