A statement from EOSLaoMao on EOScast Hack
On the early morning of October 31(UTC + 8), a project named EOScast was hacked, resulting in the loss of 72,912 EOS token. ECAF responded timely and made an order freezing the following six accounts: refundwallet, jhonnywalker, alibabaioeos, whitegroupes, 24cryptoshop, minedtradeos.
EOSLaoMao team decided to update these six accounts to our blacklist based on ECAF Order of Emergency Protection.
We noticed that since EOS Mainnet launched , the application development on EOS has become more and more active. Meanwhile, hacking attacks have occurred more often and the losses continued to grow.
However, we believe that the theft related to this EOScast hack is not legally protected under current EOS Constitution.
EOScast project didn't open source their code as required by the Constitution, nor did it add the Ricardian Contract to clarify the code intent of the contract (see Article VII of v1.0 EOS.IO Constitution). Such acts do not comply with the current Constitution.
In the long run, encouraging non-compliance will not help the community to evolve towards a positive and efficient direction. Therefore, for any subsequent cases, EOSLaoMao as an EOS BP will execute the orders strictly in accordance with current(and future) EOS Constitution. Any future cases that don't comply with EOS Constitution will not be taken into enforcement by us.
EOSLaoMao team calls on developers and users in EOS community to comply with the requirements of EOS Constitution, meet the basic standards of arbitration protection, and build a rule-oriented EOS community together.
---
After the announcement, we got a lot of community feedback, Yvonne and ZhaoYu of the EOSLaoMao team responded with their own thoughts and questions: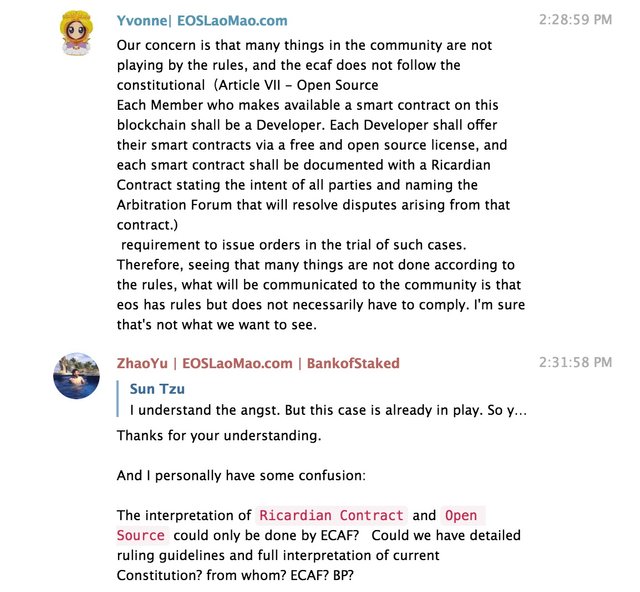 We believe that the community should have more discussion about this matter to regulate the behavior of token holders , DApps, BPs of the community.
More discussions are welcome.
****Updated time: November 3****
---
BP account:eoslaomaocom
Website:https://eoslaomao.com/
BankofStaked:BankofStaked
BiHu:EOSLaoMao
Telegram: EOSLaoMao
Twitter:EOSLaoMao
GitHub: EOSLaoMao
Steemit: EOSLaoMao