How to buy EOS
Hello,
This is Jessica. I'm starting a series for absolute beginners to the EOS network.
A simple approach to buying EOS currently has 3 steps:
Buy Ethereum (which automatically gives you an ETH wallet)
Transfer the Ethereum to an exchange
Use your Ethereum to buy EOS
Today I started my journey with the most basic of actions. How to become an EOS owner and voter from scratch?
In other words, how do I get EOS?
Here's what I discovered (which was news to me!):
You can't just buy EOS.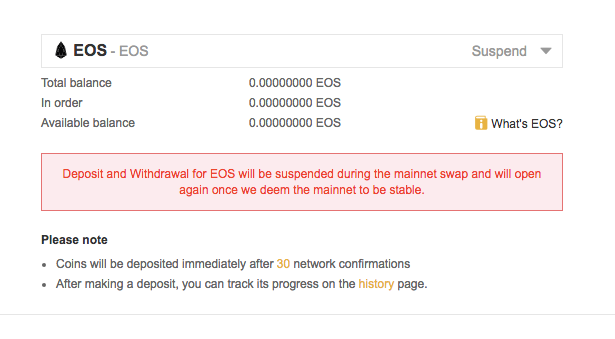 This is a warning page from Binance that explains that EOS are not for sale.
That's right, you have ETH and then exchange those into EOS. Note: every time you use ETH there's an extra fee. This won't be the case with EOS, but for now it seems the only way to acquire EOS is through ETH. We can't use our debit cards to just buy EOS with EUROS or Dollars.
I tested several exchanges for purchase, and realized that Coinbase is the most trustworthy source to purchase. I went to Coinbase, created a user ID, password, and a method for password verification (my cell number). We feel safest recommending Coinbase because this is a service that connects directly to a bank card and therefore your money can be moved from your bank card to a virtual wallet, and (this is key) it can be moved back into your regular bank account.
There still seems to be a fee associated with exchanges, and buying is nowhere near as easy as it should be.
Ok, but back to the question on hand. How to buy EOS.
Once I was signed into Coinbase, I clicked "Buy Sell" at the top.


I made sure that the green checkmark was on Ethereum.


Once I did that, I could fill in the USD amount of ETH I wanted to buy. I chose $8 because, after fees, that's about 1 EOS.
Immediately upon purchase, my ETH currency went into a wallet.
Next, I clicked on Accounts, and I was able to see my ETH in a wallet there. (You can see that my dollar amount was down to $6.95 because Coinbase charged a fee.)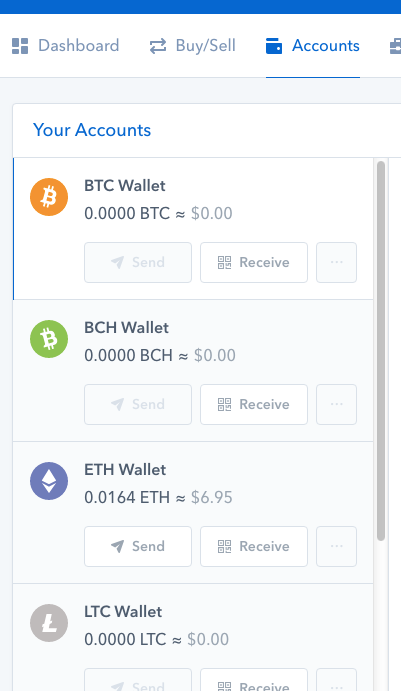 OK. Now I owned some ETH. It was time to transform it to EOS. The next step is to send my ETH to an exchange.
In a new tab, I went to KuCoin, started an account.
In order to join, I needed to download a Google Authenticator app to my phone.
https://play.google.com/store/apps/details?id=com.google.android.apps.authenticator2&hl=en_US
https://itunes.apple.com/us/app/google-authenticator/id388497605?platform=ipad&preserveScrollPosition=true#platform/ipad
Once I downloaded the authenticator, I took the QR code and now my phone provides passwords for KuCoin.
After the ordeal of setting up my KuCoin, I went to the Assets tab at the top. I found Ethereum and clicked Deposit.
KuCoin then issued me a unique wallet address!

I returned to Coinbase again, opened the Accounts tab, and underneath my ETH balance, I clicked "Send."
I pasted in my KuCoin wallet address, and sent the ETH to KuCoin. The Ethereum transfer was pending for a few minutes, but then my Ethereum appeared in KuCoin!



My ETH were visible under KuCoin > Assets.
Now, we're getting close. Onto the final step: Using ETH to buy EOS
In KuCoin, Go to Markets. Search for EOS. Make sure you click on ETH at the top tab, and not BTC, so your exchange is EOS/ETH.

I click the Green Buy. I first mouse over the "Ask" price in blue, since that is the current exchange rate. I also move the blue slider to the right to indicate that I want to liquidate all of my ETH to this purchase of EOS. I also have to use my Authenticator one more time in order to make this purchase, so I have my phone nearby.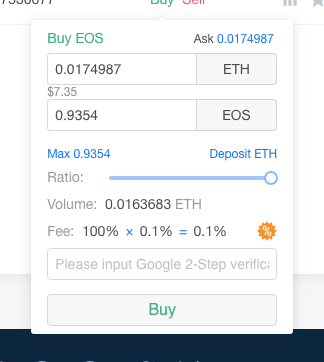 My Buy Order Has been placed! I now have EOS!
But hold up! You can't vote yet, because you don't have a wallet yet.
Up next... Creating a wallet with SimpleEos